Miter saws are extremely handy for woodworking, and sliding varieties expand crosscutting capabilities even more. There's a saw for any budget, but which is our prediction for "Best Bet"?
The crude performance of my first sliding miter saw many years ago gave me reason to believe that "sliders" weren't accurate enough for precision woodworking. But boy have these saws gotten better since then! Today's versions have crisply locking detents for setting spot-on miter cuts, solid tilting controls for dialing in bevel settings and motor carriages that glide back and forth without a hint of slop. In fact, 10″-diameter sliders are a growing category because, thanks to their moving motor carriages, they can crosscut a 2×12 or a 4×4 in a single pass. They will cut 1x or even thicker stock up to about 8″ wide when set to maximum compound miter/bevel angles. Then, when cutting is done, most are reasonably easy to lift and carry from one job to the next. They just might be the perfect miter saw for both jobsite and woodshop.
We last tested 10″ sliders in 2008, so it's time to take an- other look. I installed a new Freud 80-tooth Thin Kerf Ultimate Cut-off Blade and put today's models through a brutal test, making 50 crosscuts and 50 compound cuts through 1-3⁄4″.-thick, 10″- wide hard maple. It offered me the chance to examine many attributes: motor power, smoothness of cut, accuracy of the rail systems and locking settings and ease and convenience of other important features.
Dust collection on a miter saw is important — they produce lots of it — so I connected an empty shop vacuum or dust extractor to each one during cutting. The saw's dust port size deter- mined which vac I could use with it. Once done sawing, I swept up and weighed what didn't get sucked away.
VIDEO: Watch the Miter Saw Dust Collection Test
After my maple plank was chopped to bits, several of these models tested impressively, but only one earned our "Best Bet" honors. Here's how they sized up.
Bosch CM10GD
Street Price: $699
Bevel Tilt: Left, Right
Motor / Soft-start: 15 amp / Yes
Miter Detents: 0°, 15°, 22.5°, 31.6°, 45°, 60°(R) Weight / Laser Guide: 64 lbs / No
Base Width / Height: 26-7⁄8″ / 3-7⁄8″
Web / Phone: www.boschtools.com / 877-267-2499
It's easy to warm to Bosch's unique CM10GD miter saw, because it's loaded with friendly features — starting with the controls. Just a quarter twist of the front lock knob releases and swivels the table for setting miter cuts, and it snaps firmly into 10 detent positions. Or, squeeze a release below the knob to override the detents, then lock the override on by thumbing a switch ahead of the twist knob. Even more helpful is a front-mounted lever on the left that locks or unlocks the saw carriage so you can tip it off of vertical for making bevel cuts. Most saws locate this control in back of the machine, so you must reach in back to find it. The up-front convenience makes setups a breeze.
Powering up this saw's 15-amp motor is easy for either lefties or righties: the trigger is ambidextrous, with dual safeties. A broad fence with milled texturing supports tall workpieces securely. Since the motor tips both ways, the fence "wings" slide open easily for blade clearance.
Bosch broke from convention by doing away with the usual two-rail style for sliding the motor carriage back and forth. Instead, there's an Axial-GlideTM system: four beefy control arms fold open and closed on six pivot points. The sliding motion is silky smooth and rock-solid.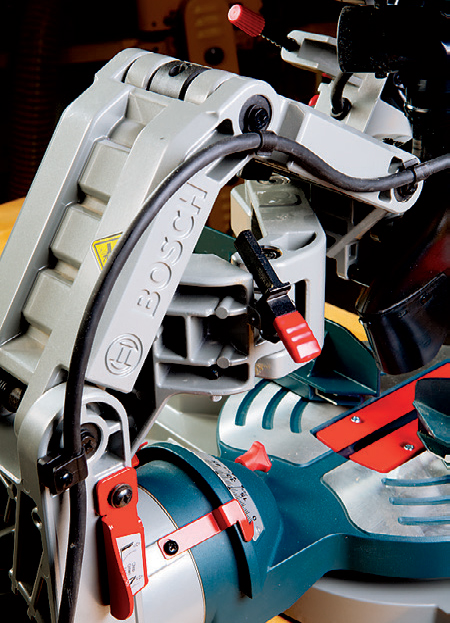 During my tests, the CM10GD sliced maple with verve. Cuts were flat and glassy, and the saw held its miter and bevel settings precisely. Axial-Glide also eliminates the long rail projection behind the saw when ordinary sliders are pushed fully into a cut. Since all the sliding motion happens ahead of the control arm mount, this saw's base takes up just 21″ of workbench, from front to back. That's good, because at a hefty 64 lbs., you may want to leave this saw in one place.
Even with a dust extractor's help, the CM10GD spat a rooster tail of dust into the air with every cut. Here's why: the dust port is separate from the upper guard instead of being part of it. It seems to be too far away from the blade to capture the spray effectively. I collected about 13.40 ounces of sawdust from on and around the saw — the poorest performance here.
Dust collection aside, this is a fine saw. But, some others cut just as well and keep the work area much cleaner while costing less.
Craftsman 10″ Compact Sliding Miter Saw
Street Price: $249.99
Bevel Tilt: Left
Motor / Soft-start: 15 amp / No
Miter Detents: 0°, 15°, 22.5°, 31.6°, 45°
Weight / Laser Guide: 43 lbs / Yes
Base Width / Height: 20″ / 3-1⁄2″
Web / Phone: www.craftsman.com / 800-843-1682
Released just last summer, this new Craftsman 10-in. Compact Sliding Miter Saw is taking compactness seriously. The motor carriage rides on a pair of tubular rails that are fixed in place and project forward over the saw's base to save front-to-back space. Tucking the rails this way enables the saw to sit on a work surface just 19″ deep, and since they don't slide back, they can't bang into a wall like other moving rail designs. Very nice. They're also offset from one another vertically instead of aligned side by side, to help stiffen the motor carriage against twisting when you bear down and push through a big cut.
This saw's base also saves bench space left-to-right: it's just a hair over 20″ wide. When you need to cut long workpieces, a pair of table extensions pull out on steel rods to offer 40″ of overall support. A tip-up red stop on each one helps you set uniform cutoff lengths.
If you need to move this little saw around, its cast- aluminum frame keeps the weight manageable at 43 lbs. There's one downside to compactness, though: the table surfaces at the end of the fence are pretty small, which can make wide workpieces like my test lumber feel tippy. So, be sure to use the hold-down clamp that comes standard with this, and every other saw here. Also, while the fence has a tall wing on the left, it's very short on the right side of the blade, which limits vertical support there.
I noticed a bit of side-to-side play when snapping this saw's base into nine detents for setting up miter cuts, but once the lock knob is tightened, the slop vanishes. A plastic throw lever in back allows you to release and tip the motor up to 47° left for bevel cuts. Tighten the lever, and the angle setting stays put.
In my cutting trials, the Craftsman managed hard maple well. Its sliding system produced offcuts that were uniform, indicating that the blade was tracking straight and true. The cut faces on my maple slices weren't glass-smooth, but still very acceptable. With the saw's 2-1⁄4″ I.D. dust port connected to a vac hose, this system channeled dust very well, rating third best at 1.30 ounces.
A laser with simple, tool-free dial adjusters is provided to help align the blade to a pencil line, and its crisp beam hits the mark where it should. It's not often that a laser feature actually works so well for me. A zippered dust bag rounds out the standard goodies. For $249, Craftsman packs a lot of value into this space-saving slider.
DeWALT DW717
Street Price: $449
Bevel Tilt: Left, Right
Motor / Soft-start: 15 amp / No
Miter Detents: 0°, 15°, 22.5°, 31.62°, 45°, 60°(L) Weight / Laser Guide: 51 lbs / No
Base Width / Height: 22-3⁄4″ / 3-1⁄2″
Web / Phone: www.dewalt.com / 800-433-9258
Unlike some companies that pack their tools with every imaginable feature, DeWALT knows what the contractor or serious woodworker wants. You may not get oodles of extras on this DW717, but what's here brings solid performance when cutting wood. I like the 4-1⁄4″-tall fence: its textured faces keep workpieces from slipping during cutting. If you're trying to hold the narrow edges of crown molding against it when cutting them in the "nested" position, you'll appreciate the extra traction that provides.
Setting up compound miter cuts is easy: DeWALT locates a big bevel tilt lever on top of the rail assembly. It's a better position because it's easier to reach. Give it a turn and flip up a second pair of throw levers, and the saw tips left or right up to 48°. In addition to 0°, it also has preset detents at 22.5° and 33.9° to suit typical crown molding angles (most saws have one or two bevel presets for crown).
To adjust the miter angle, there's no twist knob: just thumb a release and swing the saw table to any angle left or right. Let go, and the table will stop squarely on 10 detents. Push the big front lever down to lock it, and the angle won't budge.
DeWALT provides a traditional dual-rail sliding design. When fully pushed through a cut, the DW717 requires about 26″ of bench depth to fit the base and those jutting rails. It's not the biggest bench gobbler of this test group, but other compact designs take less space. Still, the motor carriage glides on the rails smoothly, and they helped the saw's powerful 15-amp motor peel off one slice of maple after the next cleanly and consistently. You'll be pleased by the results.
This saw had flat-out impressive dust collection: after 100 cuts, I gathered just under an ounce (.80) of residual sawdust. The rest of it was drawn away efficiently through the machine's 13⁄8″ I.D. dust port, using a dust extractor. If you work in a basement shop with limited fresh air sources, the DW717 will definitely help you breathe easier.
You can buy lots of extras for this saw: table extension, crown molding fence, a laser or an LED task light system. In its basic form (shown), it sells for $449: not cheap, but still fair for a pro quality tool.
Kobalt SM2507LW
Street Price: $179
Bevel Tilt: Left
Motor / Soft-start: 15 amp / No
Miter Detents: 0°, 15°, 22.5°, 31.6°, 45°
Weight / Laser Guide: 36 lbs / Yes
Base Width / Height: 20-1⁄2″ / 3-1⁄2″
Web / Phone: www.kobalttools.com / 888-356-2258
If you frequent the tool aisles at Lowe's®, you've probably seen Kobalt's SM2507LW. And if you were curious about its performance, or wowed by its super-low price of just $179, you might have checked the Lowe's website to read customer feed-back. Many rave about this bargain-priced saw. On the whole, I found myself agreeing with them after putting this saw through its paces.
It is left-tilting, with a traditional rail system that projects back. That travel, plus the saw base, will require about 24-1⁄4″ of bench depth. The motor carriage tips down smoothly, but on my saw the return spring felt stiff. It pushed through cuts pretty smoothly on linear bearings. A large wing knob in back locks bevel tilt settings securely, and there are presets at 33.9° and 45°, too.
My test saw had a few idiosyncrasies: the factory setting for the fence was too far back, which prevented the blade from fully cutting through the maple at the bottom inside corner. Loosening the fence's mounting bolts and shifting it forward corrected the problem. When I swiveled the table and attempted to lock the table off of the nine detents, twisting the knob made the table creep to the right. That would be cause for me to return the tool and get another one: a miter saw should lock positively wherever you set it. But, when snapped into its nine miter detents, the lock knob tightened properly.
Kobalt provides a laser feature that comes aligned to the right side of the blade. Right-handers will want it to illuminate on the left side instead. Saw owners have remedied the problem by disassembling the feature and fixing it — it's discussed extensively online in the reviews; the manual's adjustment procedure won't be sufficient. I also wasn't crazy about the trigger's left-side safety switch: it's hard to activate with your thumb without altering or somewhat opening your grip every time.
For plusses, this saw has slide-out table extensions with work stops similar to Craftsman that offer almost 42″ of workpiece support — helpful! It made reasonably smooth test cuts in such dense, hard material, and the offcuts were uniform for the most part. Some, however, showed signs that the motor head might be twisting slightly on its rails when starting wide cuts. Dust collection through Kobalt's 2-1⁄4″ port was decent when connected to a standard shop vac, placing it mid-pack at 2.10 ounces of debris left behind.
Kobalt makes transport easy, too: the tool weighs just 36 lb. and has two sturdy carry handles on top. My sample saw needed a few tweaks, but it was no lemon.
Makita LS1016L
Street Price: $499
Bevel Tilt: Left, Right
Motor / Soft-start: 15 amp / Yes
Miter Detents: 0°, 15°, 22.5°, 31.6°, 45°
Weight / Laser Guide: 52.2 lbs / Yes
Base Width / Height: 25″ / 4-1⁄2″
Web / Phone: www.makitatools.com / 800-462-5482
Makita builds tools for pro users, and this LS1016L saw is designed with features that should be very appealing to them. For starters, the tool has a generously wide and deep table area in front of the fence for better than average workpiece support, and a pair of nearly 5″-tall fence facings will lend good backup for cutting crown and wide base moldings.
The LS1016L has a unique rail style, too: instead of two long tubes, Makita provides four in shorter lengths. The bottom pair slide in and out from under the table, and the top two move the motor carriage on its mount. The combination creates a telescoping "stairstep" when pushed through a cut. It doesn't really save space — the saw measures about 26-1⁄2″ from the table's front legs to the back of the posts when extended — but Makita says shorter posts help ensure against deflection. And in my cutting test, the motor tracked straight and true: both square and compound angle-cuts were polished smooth, flat and uniform.
I love the soft-start feature on Makita's 15-amp motor. When you squeeze the trigger, the motor comes up to full power smoothly instead of jerking your trigger hand like some do. Makita also tips the motor up at a steep angle, relative to the blade; that helps it clear the tall fence when tilting to the right (it tips both directions). The design also allows the motor to drive the blade directly. It's different from other dual-bevel miter saws, which have a drive belt between the motor and blade arbor that will eventually wear out.
In order to swivel the table to set miter angles, you must push the lock knob in and twist it right to loosen; it's counterintuitive to the usual right-tightening approach, but the design is quick and effective once you get used to it. Miter angles lock securely both on and off the detents. Makita provides two overlapping bevel scales in back, too, to help make settings easier to see from in front of the saw without craning your neck.
Rounding out the accoutrements is a hold-down clamp and a laser guide, which was crude to fine-tune. Unlike the other saws, the Makita's blade does not come installed. Make sure you look in the packaging! You do get a dust bag, the tool's port was slightly undersized for my Festool dust extractor, but it fits Makita's dust extractor hoses. Once I got mine connected, this saw delivered a mediocre dust collection performance, leaving 4.45 ounces around the work area. But, if you don't mind extra dust, this LS1016L saw made first-rate cuts and was pleasant to use.
RIDGID MS255SR
Street Price: $399
Bevel Tilt: Left, Right
Motor / Soft-start: 15 amp / Yes
Miter Detents: 0°, 15°, 22.5°, 31.6°, 45° Weight / Laser Guide: 59.6 lbs / Yes
Base Width / Height: 23-1⁄8″ / 3-5⁄8″
Web / Phone: www.ridgid.com / 800-474-3443
Slicing through hard maple 100 times over is a taxing job with any of these saws, but I have to say, it was enjoyable with RIDGID's MS255SR. That's because RIDGID's engineers have gotten just about every aspect of this tool right. Its pair of etched fences are a generous 43⁄4″ tall and slide easily open or closed, depending on whether you need to tip the saw left or right for bevel cuts. When you do, that task is simple: the bevel tilt lock is right in front on the left, next to the miter lock lever. No reaching around needed. I wish the bevel scale were easier to see from in front of the saw — it's tucked under the saw's dual rails — but once you find your angle, the lock lever holds it securely. Miter settings either on or off the table's nine detents are easy to set as well: thumb a slider knob ahead of the miter lock lever to swivel the table, then push the lever down to lock.
The over-molded and comfortable grip on this saw is smartly designed: its trigger stretches the full width, and there are easy-to-reach safe- ties on both ends. The grip is also centered behind the motor carriage, making pushing easier. One downside, however, is that at full throw, you'll need about 30″ of front-to-back bench space to keep from banging these rails into a wall. The saw is also a bulky 59 lbs., but two handles on top of the tool make lifting it less burdensome.
RIDGID equips the 15-amp motor with both soft-start and feedback circuitry, so you won't be startled when you squeeze the trigger and wake this beast up. The motor comes to life gently, and no matter how forcefully I pushed through the test cuts, it didn't bog down. Cutting smoothness, flatness and off cut consistency was exceptional. Had I opted to use these saws' standard blades, RIDGID equips their saw with a good quality Freud Diablo® 40-tooth blade.
Dust collection via shop vac was extremely effective here through the tool's 2-1⁄4″ port. It scored just behind DeWALT at only .75 ounces — second-best in this test.
Other amenities include an articulated hold-down clamp with a quick-adjust button, cord wrap, dust bag and a dual-beam laser that is mod- erately helpful. Its beams project a path wider than the blade, so this laser will get you close but not spot-on to your layout line. RIDGID also includes a gimbal-type LED task light that swings freely inside its housing and settles by gravity. No matter what angle the motor carriage may be at, you'll get helpful illumination in the general cutting area. I wish all of these saws had a useful task light, too!
For $399, this affordable, accurate and clean-cutting saw is a bargain among its peers here. Check it out at your local Home Depot store.
RYOBI TSS102L
Street Price: $199
Bevel Tilt: Left
Motor / Soft-start: 15 amp / No
Miter Detents: 0°, 15°, 22.5°, 31.6°, 45°
Weight / Laser Guide: 34 lbs / Yes
Base Width / Height: 19-7⁄8″ / 3-1⁄2″
Web / Phone: www.ryobitools.com / 800-525-2579
If affordability is the deal- maker for you, RYOBI's TSS102L is priced to please at $199. The saw is appoint- ed similar to the comparably priced Kobalt saw here. When you need to cut long workpieces, RYOBI provides a pair of steel bar workpiece supports on either side of the table that extend its overall platform to about 30-3⁄4″. They don't retract. A zippered dust bag helps to corral sawdust, or you can connect the 1-5⁄16″ I.D. dust port to an extractor.
The table on my test saw swung easily up to 47° left or 52° right and locked crisply into nine detents. Or, skip the detents by squeezing a release lever under the knob with your index finger. A second lever below that locks this override on. A twist-type knob holds your miter setting. It's also simple to tip this saw's rail assembly left for beveling once you loosen a large wing knob in back.
RYOBI's twin-tube rails will require about 281⁄2″ of workbench depth for full front-to-back travel. It's one of the longer saws here but still lightweight, weighing an easy-to-tote 34 lbs.
For other extras, you get a twin-beam laser guide, but I found it difficult to align accurate- ly with the blade, because the beams move off mark as you lower the blade into a cut. And the motor, while plenty powerful for all my cutting needs, doesn't ben- efit from soft-start. When you squeeze the trigger, it snaps to life abruptly with a jerk at the grip (so do Kobalt and Craftsman). I also noticed, about halfway through the cutting test, that the saw's electric brake was fading and taking much longer to stop the blade. The brake's effectiveness didn't improve afterward.
I'd like to have at least one taller fence facing here for more workpiece backup; as is, the fence is a one-piece casting that's 3-1⁄2″ tall at just three narrow peaks. You can, of course, screw a scrap facing to this fence to make it taller or to help close up the gap behind the blade (you can do that with the other test saws, too).
Curiously similar to Kobalt, the fence on this RYOBI saw was also bolted just a bit too far back on the table. I needed to loosen and slide it forward a nudge so the blade would cut completely through the bottom back corner of the maple.
For dust tidiness, the TSS102L finished in fifth place at 2.35 oz. All in all, this wallet-friendly saw, which is available at Home Depot, neither wowed nor disappointed me. It seems right-priced.
Who Gets Top Billing?
I often struggle between several deserving tools when selecting a "Best Bet" winner, but not here. With a clear conscience, I think RIDGID's mid-priced MS255SR leads this pack. It is feature-rich, cuts beautifully and keeps the bench area cleaner. Even better, it costs $50 less than DeWALT — a saw I also really liked — while offering more standard goodies. RIDGID also backs the tool with a Lifetime Service Agreement that covers all defects in workmanship or materials and normal wear items for the lifetime of the original purchaser.
Another Great 10″ Slider Option: Festool Kapex
For more than a year now, I've had the good fortune of using Festool's sophisticated Kapex 10-1⁄4″ sliding compound miter saw in my shop. It has a powerful, variable-speed, soft-start motor, a compact design with forward fixed rails and large, easy-to-set and easy-to-read miter and bevel scales. It also has the best laser guide for lining up cuts that I've ever used. Why didn't I test it here, you might wonder? Well, at $1,400 street price, this saw is twice the cost of Bosch's CM10GD and multiples the price of the three budget-friendly models here. I felt that cost disparity was too great to make it a fair comparison. But make no mistake about it, Festool offers a premium quality slider that would be tough for a 10″ competitor to beat.