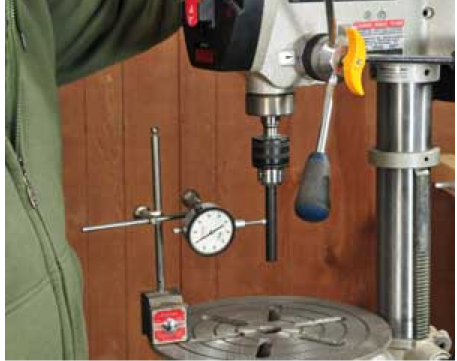 A drill press is a pretty simple looking machine: just a chuck at the end of a spindle that holds a drill bit and allows it to move up and down while it's spinning. But there are a number of things that can get out of kilter that compromise drilling performance and accuracy. These include issues with the machine's pulleys and drive belt, spindle and chuck and the table and column. Fortunately, it doesn't take a lot of time or effort to do a few basic maintenance tasks that help keep your drill press running smoothly. Unless otherwise specified, all the procedures described in this article should be performed with the drill press unplugged from electrical power.
Lubricate the Drill Chuck
Lubricate ChuckTo keep the chuck's jaws operating smoothly essential to proper bit centering apply a little drying lubricant, such as Boeshied T-9®, inside of the chuck: First, turn the chuck's shell until the jaws are fully open and blow the inside clean with a burst of compressed air (wear goggles to keep flying dust out of your eyes). Spray or squirt some lubricant up inside and tighten and loosen the jaws a few times while the excess lube drips out. Wipe off any residue with a clean rag.
Vibration and Belt Wear
A worn belt or bent or out-of-balance pulleys can be a source of annoying noise and vibration. Check the belt by unplugging the drill press, removing the machine's head cover and doing a visual inspection of the belt while rotating it by hand. If it has any cracks, ply separations or lumpy sections, replace it right away. If the belt appears normal, check to make sure its tension is correct. You should just be able to deflect it slightly (about 1/4-inch to 3/8-inch) by pressing in the middle, between the pulleys. If it's too loose or too tight, reset the tension following the directions in your machine's manual (Note: belt tightness on drill presses with mechanical variable speed isn't adjusted this way; consult your machine's manual).
Now, with the head cover still off, plug in the drill press, don a face shield and run the motor on its highest speed. Look carefully at the belt and pulleys: They should run smoothly and not generate significant noise. If the belt oscillates excessively, causing periodic vibration, check its tension again and reset it if necessary. Watch the rim of both pulleys as they spin. If there's a visible wobble, turn the drill press off and unplug it, then make sure the setscrew(s) that secure the pulleys to their shafts are tight. Also do a visual inspection to see if the rims on one or both pulleys are bent. If they are, replace them. If a rumbling or growling sound is coming from the pulleys, the drill press's bearings may be worn or dirty and should be replaced a job best done by a machinery specialist.
For more great tool maintenance tips, PLUS complete step-by-step video instructions of how to:
Check the Spindle and Chuck
Checking for Runout
Set the Table Square
Aligning Laser Sights
CLICK HERE to take a closer look at this DVD.
This interactive DVD-ROM will show you the fundamental maintenance procedures for seven major woodworking power tools: the table saw, jointer, drill press, dust collector, air compressor, pneumatic nailer and even a moisture meter. You'll get step-by-step instructions, over 150 photos and over 60 minutes of video from experts Sandor Nagyszalanczy and Chris Marshall, Senior Editor of Woodworker's Journal magazine.