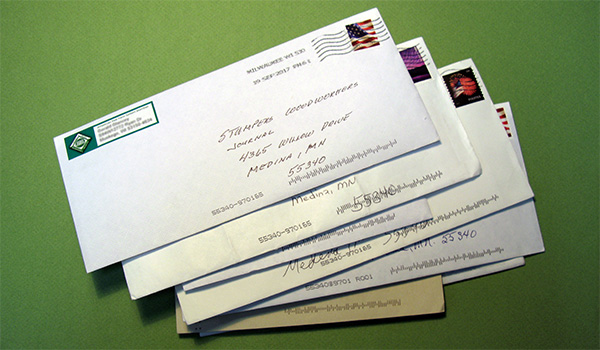 Tool Preview
A Saucy Aussie
Our tool preview of the new Triton router prompted Bill Esposito to write in and share a review of the same tool he prepared for his own web site.
Questions & Answers
He's Got a Router Table … So Does He Need a Shaper?
Rocco Cipriani, the author of the original question, reports that our experts convinced him he needs a shaper and he will use their answers to convince his wife.
Bill Jordan empathized with the frustration in Rocco's question over the time and knuckle busting required to change bits and adjust heights on most table-mounted routers. Bill's solution? The aforementioned Triton router, According to Bill, it provides easy and fast bit changes from the top side of the table … with only ONE wrench, and height adjustment with just the turn of a knob. It handles both 1/4″ and 1/2″ shank bits and with 3 1/4 HP it will do most shaping jobs as well as router jobs. He's had good results cutting 1/2″ dadoes in oak and pecan as well as raised door panels with large diameter raised panel bits. With a circle-cutting jig/edge guide and a 1/2″ carbide straight bit as part of the basic package, he feels that the $319 he paid for it on Amazon is considerably less than a decent shaper would have cost.
Reader's Response
Bosch Critique
You may recall Jon Rufenacht's complaint that poor design was the cause of four of his five Bosch random orbit sanders being in the repair shop. Well … a Bosch representative responded to his comments, and in Jon's words, "went the extra mile to correct the problems". Now he wants to send a public thank you to Bosch Tools and parent company S-B Power Tool Company!
Industry Interview
Mule Cabinetmaker: Selling Progressive Tools to a Conservative Market
Now that it's outfitted with a Mule square fence, Paul Street would stack his homemade table saw (top is made of plywood and hardboard with a plywood base and contractor saw carriage) up against most any saw on the market today. When the standard-size fence he'd first ordered was too short, the company promptly sent him a replacement. He'd recommend the brand to anyone considering purchasing an aftermarket fence.
Craftsman Tools – 75 Years Old and Still No. 1
After seeing our article, Ron Robert wanted to share his disappointment with his Brantford, Ontario, Sears. Looking for information on a band saw, he'd waited in vain for someone in the department to appear and answer his questions. After 20 minutes, he asked a salesperson in another department for assistance, only to have her reply she hadn't a clue, disappear into the back and reappear, but then, without a word, walk away. Though he has a shop full of Craftsman tools, he declared all future purchases would be elsewhere.
Web Surfer's Review
DIY Air Filtration
Michael B. Ryan, MD, had some concerns about using box fans for dust filters. Because the smallest particles (less than 5 microns) are the ones that become deeply embedded in the alveoli or smallest bronchioles (smallest air sacs of the lungs), he worried about the adequacy of using plain furnace filters. Even an additional allergy filter would have to be installed just right to be effective. For the bare minimum, the good doctor declared that a homemade system would need to be two-stage and incorporate an electrostatic medium of some sort.
Other Reader Comments
Circuit Breakers
Frequent correspondent George Lathbury noted that a built-in circuit breaker is vital to prolonging the life of hardworking power tools. When the motors heat up on his 4-1/2″ and 7″ grinders, for example, the circuit breakers prevent the motor from burning up. Keep 'em coming George!
Workbench Idea
Recently retired union carpenter Jim is just getting started on his own woodworking shop. For a workbench, he went online to eBay and purchased an oak desk for $20. It already had 6 drawers, and he added a top made of 1 x 4 poplar with two 1 x 4 maple strips for bench dogs.