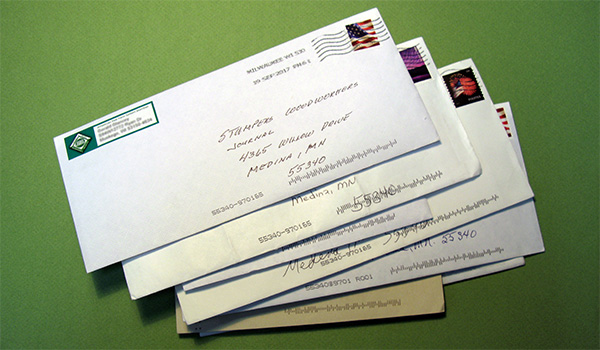 We began April, of course, with the annual April Fool's Day edition of the Woodworker's Journal eZine.
As usual, some folks were – at least briefly – "fooled." – Editor
"At first, I look shocked at sections to 'make your own popsicle sticks," "whittle your own dowels," etc., and then remembered the DATE, 1st April…..Keep up the good work." – Len Morris
"Genetically modified wood! Good one! You had me all the way until 'April 1 2015'!" – Stan Bouma, Illinois
"You had me going there with Spolir Floa wood. Then FDA and THC entered into the picture and finally todays date. You got me." – Rich Flynn
"I love these. I always forget about them, but remember right away when it comes over. I need a couple Oomzi's!!" -David D'Ortona
"I did not get to read the journal for several days, and when I did I was wondering what was wrong with you people. Until I notice the date. Very funny." – Donald Bakke
Others had their own suggestions regarding the "products" and "techniques" highlighted in the April Fool's edition. – Editor
"You have truly outdone yourself with the latest issue. By the way, I have a full 55-gallon drum of Cabeza's noggin wax if you need to borrow some. Mine has been aging for about 58 years and is as smooth as butter! And the aroma is truly breathtaking." – B. J. Wollard
"Just a quick email to say thanks for the laugh and the fond memory: how to make a popsicle stick. I was an apprentice to a builder and in one of my first laughable experiences as a young apprentice eager to please, I was asked to make these as a apprentice joke. I was given strict instructions as to how to make them and a quick drawing and told that I had to have at least three by day's end. So instead of making them, I ducked down to the local milk bar, bought three icy poles, ate them, and washed the sticks clean. At the end of the day, I proudly handed them to my boss. To this day, I thought I got away with it, but I guess he had the last laugh after all. That was 45 years ago." – Alan McIndoe
"Thank you for issue 348.5. I was looking forward to the April 1 rendering for several months now and wasn't let down. The content was excellent, and the free plans for the popcicle stick was just in time. My granddaughter was needing some for a school project and this saved them from having to go buy some. I sure wish I could have gotten some of the Spolir Floa® with which to make them. Its ease of machining would have really help out, plus I could have used the sawdust to make the brownies." – Greg "Pop" Smith
"Man, I'd like to get my hands on some of that Spolir Floa!!! I've downloaded the popsicle stick plans and that Spolir Floa sounds like the perfect material for the kids' popsicles! Maybe that will keep them quiet for a while. But will they cause the munchies? By any chance do you have a set of plans for tongue depressors?" – Owen O'Neill
"Thank you for the article on Spolir Floa. You'll be happy to learn that Colorado has named it their official state tree. You can purchase the wood at any of the state's official cannabis stores. They are especially popular for humidors." – Colonel Ed
"If you whittle the dowel so it is too small, you can always make a toothpick from what's left. It seems such a shame to waste all that wood. I am improving on my whittling and can now get one whole toothpick from a large tree." – Edward DeLong
"LOL! I love the sock monkey, I think I'll steal one from the grandkids!!" – Bill Dalton
"I am a little disappointed that the Pro Ductility Power list of ingredients does not include dusts from the Spolir Floa tree. I would think with that essential ingredient you would be at your highest." – Todd Brooks
Some readers, of course, were not thrilled by the whole concept of an April Fool's eZine. – Editor
"Please stop with the childish April Fool's edition. As soon as I get it, I delete it. It's a total waste of time. It's not even funny." – Robert O.
"Time is the only thing we truly have, and you jerks just wasted a lot of mine. Children and IDIOTS do April Fool's jokes; grown men and women ACT like it." – Bill Sellers
Whereas others eagerly wait for it to appear in their inboxes. – Editor
"Been waiting all day for this, and it was worth the wait!" –  Garrett Nanninga
"I gotta tell ya, I've been getting the eZine since issue one, and every year I look forward to your April 1st issue. Once again, you did not disappoint. Thanks for the great eZine, magazine and all you and your crew does to promote woodworking. Much thanks for the many laughs."  – Marc Hall
"Congratulations. I was looking forward to your annual April edition, and you impressed me again! Laughter is the music of the soul, and this one is another symphony. Enjoyable and relaxing – Thanks!" – Larry G. Canton, OH
"I would like to say a great big 'thank you' for this edition of the Woodworker's Journal eZine. I love it every year. I can't wait. As a matter of fact, when it came late in the day, I was afraid you weren't doing this wonderful edition this year. Keep up the great work on April 1. While I thoroughly enjoy all the rest of the editions, this one is my favorite!!" – Harold Stone
"I look forward to your annual April 1st Woodworker's Journal eZine. It is always very entertaining, educational, and informational. Please keep it up. I am already looking forward to next year's issue!" – Rob Scharf
"I finally sat down to read the latest issue: April 1st. It was GREAT! I wish I had a chuckle like that at the end of EVERY week. Keep up the good work." – Beth Rowland
More Shop Pets Followup
The last "regular" eZine also saw further comments about pets, particularly pets in the shop –and that issue's replacement for Rob's photo in his editorial. – Editor
"You mean that's not your photo? Huh, didn't really notice the change. – Robert Hoyle
"This is 'Fritty,' my workshop cat! A couple of years ago he showed up at my house in the countryside. I gave him a little food and he decided to stay. So I made a flap door and arranged a couple of cat beds inside the workshop. His favorite place is this spot between the window and the vise. He likes to sleep while I am around, even if I make a lot of noise with some electric tools!" – Roberta Salmaso
This dog photo is from reader Bill Ritter.
We also heard some tips and comments on woodshop safety for pets. – Editor
"If a lot of the exotic wood dust is toxic to humans, wouldn't it also be toxic to animals? That is why I wear a respirator when sawing, sanding, planing, etc. And is also why I don't let either of my dogs into the shop, even though they would very much like to be there. Just my opinion." – William "Rip" Van Winkle
"Back in the day when I did abrasive woodcarving, my dog hung out a lot in my shop. With the wisdom of hindsight, I am pretty sure that the lung cancer that killed her was probably the result of breathing too much sawdust. Most woodworking shops do not generate even a fraction of the sawdust (30 to 50 gallons in a busy week) that I did then. Since then our dogs are encouraged to leave the shop when any sawdust is being generated." – Robert Brandt
"Many years ago, I had a dog who loved to keep me company in the workshop. Unfortunately, when he was about five years old, I started to suspect that he had become quite deaf. Initially, my veterinarian thought that he had a brain tumor or similar, but when he found out that the dog had spent many years in the workshop, he diagnosed 'industrial deafness.'
"The lesson learned: Dogs love to accompany their human boss in the workshop, but if they do, then you need to provide them with hearing protection. Dogs' ear canals are a significantly different shape compared to humans, so most earplugs designed for humans don't seal well, or fall out easily. One type of earplug that seems to work well on my particular dog are wax type plugs for humans. These mold to the dog's ears easily. I started my current dog using earplugs when she was only 10 weeks old, and she now expects me to put them in when she goes into the workshop. She's now eleven years old and shows no signs of deafness — other than selective deafness when you call her for her bath.
"I've heard that security organizations who use dogs in noisy environments (e.g. around jet aircraft on military bases, etc.) use a special type of earplug for their dogs, but I've never been able to confirm exactly what they use. Anyway, keep enjoying the company of your dog in your workshop, but remember to protect their hearing. Either use earplugs on them, or move them outside when you start using noisy machinery. That's my two cents worth." – Roy Gilby
Tip For Removing Rust
Also in eZine Issue 348, there was a Question and Answer on Cleaning Off Jointer Rust. This reader had an additional suggestion. – Editor
"I have used a product called Sandflex Blocks (or they are also called rust erasers). They really do a good job of removing the rust and not the metal. I have seen articles on old tool restoration blogs that indicate this product is the only way to remove rust when restoring tools and not damaging the patina like sand blasting." – Terry McLean