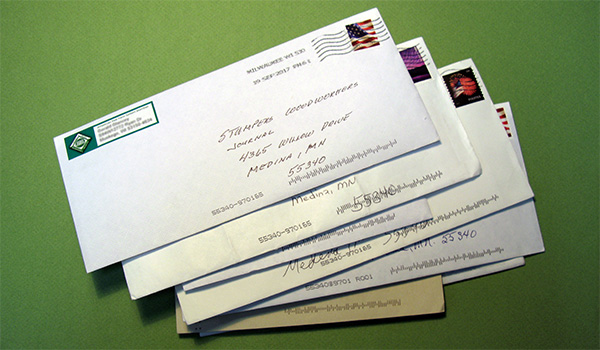 In the last issue, Rob asked how you cut your box joints.
Some, like Rob, like to make their own. – Editor
"I have 4 box joint jigs that I made over the last 30 years as needed (1/8-in., 1/4-in. 1/2-in. and 3/4-in.). I use them with my carbide stacked dado blade set, except for the 1/8-in., which takes a flat tooth ripping blade. All with no shims. Adjust the jig, not the blades." – Bruce Vincent
"I used to do them by hand. Like you, I've made my own jig for cutting them on the table saw. I've tried several of the jigs designed for router tables and find them to be inaccurate and tricky to operate with good results. I'm not convinced, and neither should you be, that you are working harder with a homemade table saw jig." – J.B. Fisher
"I, like you, prefer to make mine using a personally made jig for my table saw. I have a two-blade flat-top stacking combination blade set that will butt either ¼-in. or 3/8-in. slots, depending on which way the blades are oriented.  My best work has resulted from this combination. Yes, I have router jigs and a fancy table saw aluminum jig, but I prefer the homemade unit. I also have several spiral cut router bits I can use in my table with a sliding jig. If my wife were reading this, she would tell me to 'venture outside the box' and explore the other methods. Perhaps it is time for all of us to be adventuresome!" – Lincoln Scafe
"I made two jigs, one for 1/4-in. and one for 3/8-in. joints, that I use on my router table. Simple to make and very effective." – John van Veen
"I am a make-your-own kind of guy. There are many plans and designs for box joint jigs. You can make them micro-adjustable with a guide screw. Or you can do the micro-adjusting I used to do: tap the jig with my large screwdriver handle, my medium screwdriver handle, or my small screwdriver handle. Replication was often difficult, but it generally worked. I am a hobby woodworker and retired, so I've got time. The only problem with the homemade jig is getting that little guide peg exactly the right size. That's an item I would be tempted to buy. The commercial jigs are nice, and I have one. But I really prefer the homemade one.  It really works out nice when the joint is non-standard." – Don Gwinn
"I've made several different types of table saw jigs and the best one, in my humble opinion, was one that rode in both of the miter slots and straddled the blade. Then I upgraded to a SawStop and decided to add the sliding arm. Here's a couple of my blog posts where I discussed the process I went through creating a finger joint jig for it. Router setups work, but they are so noisy and dusty, plus I always feel there is more tearout with them." – John G. Eugster
"My answer is 'it depends.' For 1/4-in. stock, I usually use my router table and homemade jig. For 1/2-in. and thicker projects, my go-to is the table saw with dado stack and, again, a homemade sled-based jig. The table saw/dado setup is easier to replicate and, in my case, the dust collection works better than on the router table." – Dale Smith
"When I make boxes or whatever using the box joint, I make a simple jig to fit the application and attach it to the miter gauge set at 90 degrees. Then I set it up on the router table and proceed. Deciding where on the piece to start the sequence is still a variable. I don't make very many, so the jigs often get lost and have to be remade.  I guess I could use the dovetail jig, but I don't like the constraints, and if I go to the trouble to set it up, I might as well make a dovetail joint." – Doug Mansor
"I make a jig and use my table saw. I have a router set up for this, but I've never used it for some unknown reason. The table saw method has always worked for me, so I just use it." – Steve Kendall
"I also make my own jigs and use the table saw. Only on really large boxes do I use the band saw." – Dave & Marilyn Sweet
Some use a combination of homemade box joint jigs and commercial ones. – Editor
"I only build jigs for specific, unique projects. I was a tool and die designer for years and love to build jigs when required. Having said all that, I don't build what I can buy. I use an INCRA I-Box jig on my table saw and a Freud Box Joint Cutter Set for the common sizes and a Freud Dado set for others." – Keith Wales, Sr.
"I have settled on the INCRA I-Box jig. I now have three box joint jigs: 1) homemade but sized for 1/4-in. only; 2) a commercial one that just didn't work very well; 3) the INCRA, which works very well. I settled on the Incra because I can easily change the size of the joint. I've made a lot of boxes with it. Most of them were large, toolbox sized with 1/8-in. box joints that fit together perfectly. I am glad I made my first box joints with a homemade jig.  I learned a lot doing that." – Bob Mayfield
"I made my own sled, but I bought a set of box joint 1/4-in. and 3/8-in. saw blades. I found that using just one blade is perfect for 1/4-in. plywood." – Tom Hinaman
"Well, here's one you may not have seen before. A few years ago, I bought plans for a box joint jig. It worked great — for a while. After a few months, the wood gears wouldn't hold up to frequent use and began to jam up. Having a bit of metalworking experience and an old indexer, I decided to scrap the whole gears idea entirely and made a new 32-hole indexing plate that I adapted to the carriage I had already built. I used the handle system from the old indexer along with the new plate. The carriage system moves along a 16 TPI threaded rod. Now, one complete revolution equals 1/16-in. Advancing just one hole is 1/512-in., and so on. I can now cut with extreme precision." – Kirby Gaal
And for some, commercial box joint jigs are an answer to prayer. – Editor
"I used to do it the old-fashioned way. I made my own jigs and didn't like it much, but there were no alternatives in past years. I don't want to suggest that it's the wrong way to do, it but there are easier ways. I got tired of making and fine-tuning my own jigs and bought an INCRA Box Joint Jig. The first time I used it, the clouds parted, angels sung on high, and I had a perfectly setup box joint in a couple of minutes and all I had to do was turn two knobs. Very soon thereafter, all my previously constructed box joint jigs left the shelf and can now be found in my scrap lumber box." – Robert Hoffman
"A couple years ago, my grandson wanted to get into carving. My experience is, when a young man has a constructive interest, it should be encouraged.  So, for Christmas I bought him a nice set of carving knives. They didn't come as a box set, so I decided to make a tote to store and carry them. This was the perfect time to invest in an Incra Box Joint Jig. (I had been eyeing one anyway.) My attempt at hand cutting was probably presentable enough, but it was for my grandson! So I scratched two itches. I presented his carving knives in a beautifully made tote with acrylic windows in the sides and perfect box joints on the box." – T. Newman
"I cut box joints using my INCRA I-Box jig on my router table (I do not own a table saw). I built a project for my wife to store her sewing supplies, and used box joints. The jig was easy to set up and use. For the price, it is far better than anything I could have made, given the time and effort it would have taken me to make it. Plus, it offers great flexibility for different size box joints in addition to dual use on a router table or table saw (should I ever get one). My project turned out pretty well, but involved a lot of hand-sanding to knock down the proud fingers and a bit of wood filler due to slightly warped wood. I like it, and she loves it and uses it every day, so: win-win!" – Andrew Beauto
"I went INCRA for dovetails and box joints on my router table years ago. I avoid measuring if possible. Measuring with 'actual' using a story stick keeps my ADHD brain from most math errors. INCRA patterns (story sticks) are 'actual' measurements. Even I can follow 'A' cut then 'B' cut from the patterns once the bit height is set.  It works so well, I put the big INCRA on my cabinet saw, too. Most any size or spacing is possible because of the incredible accuracy and repeatability. Made double dovetail joints with walnut and maple on a 16-in. humidor on my first try! Dad left me his tools 20 years ago. Among them, stuck in the back of a drawer, was an original INCRA jig in its box with instructions. It was a couple of years before I figured out how it worked – instantly upgraded my joinery!" – Bill Hook
If, that is, they cut box joints at all. – Editor
"How do I cut them? I don't. Unfortunately, that is one joint that I have never been able to conquer. I've tried many ways, read/viewed/watched way too many times, and I've spent far too much on gadgets that never get the job done.  The way I cope with that is to not attempt them. [Instead] I use the Festool Domino or the table saw and do tenons. They are a snap for me and have all the joint strength I need for my projects. Don't stop presenting projects with box joints, though. If it is something that interests me, I'll find a way to do it with a joint that doesn't cause me any frustration. I already know enough cuss words, so I don't need any practice caused by box joints." – R.L. Hoyle