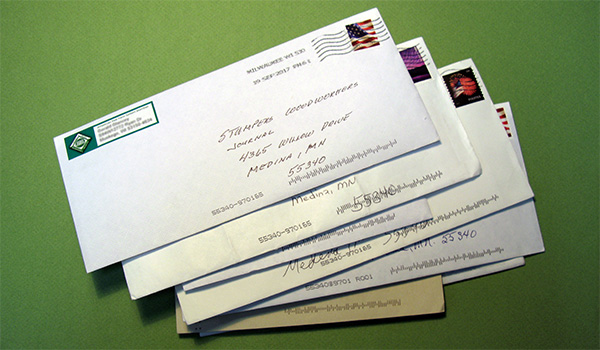 After reading our Carpenter's PAL article, Bob Blubaugh was convinced to make it his next purchase. Though he usually does the math in his head, the angle lock and degree indicator make it a worthwhile purchase. Bill thought the exploding shellac story would be comical except for the danger and the possibility that a fire could result!
As a newcomer to woodworking, retiree Harry Burch has found the eZine very informing and has learned a great deal. We'll try to keep up the good work, Harry!
Our expert's suggestion to try Timber Wolf band saw blades in Re-Sawing Oak On A Band Saw, motivated a reader to describe his experience with the blades. He bought two of the 3/4″ blades for his JET 14″ and found that they didn't last long. With a bunch of oak 6 x 6s, 8 x 8s, and 12 x 12s, he's thinking about turning them over to a professional mill.
New Zealander woodworker, Neville Hope was impressed with Sawmill Creek's Freedom Pens for the troops in Iraq. His grandfather fought at Gallipoli in WWI, his father was a bomber pilot in the Pacific during WWII, and his eldest son is a petty officer in the New Zealand navy, so Neville knows how appreciated these gifts will be by servicemen and women.