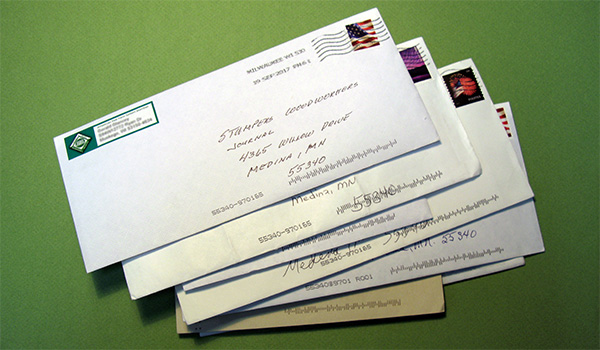 Woodworkers' Fancies on Figured Wood
Last time out, the question posed to eZine readers in Rob's editorial was "what do you think of fancy figured wood?" Without even a need for pennies to get involved, you shared your thoughts. – Editor
"I make Art & Crafts style furniture, so quartersawn white oak is my wood of choice. Haven't really felt burly or curly yet, but one day … it could happen!" – Dan Neyens
"Figured wood is awesome but cost-prohibitive! You have to be very well off to produce projects of any size with this type of product. That is unless you have access to rough cut lumber, and then it is still higher priced. Bottom line is it makes very beautiful projects, but it is not practical to produce large scale projects with unless you want to sink a small fortune into the project." – Bob O'Dell
"I have yet to have a project that I felt required any fancy grain wood. I have seen it set aside at my local mill, but most of the time it has a 'sold' sign on it. As to the question of quartersawn wood, it generally is not readily available in my area, so I use the plainsawn wood. I do prefer, I think, the grain in this type of lumber, but then I predominantly use white and red oak." – Douglas J. Heckler
"I was very fortunate to have a obtained a supply of highly figured koa some years ago. This wood is incredible when finished. I even learned a new word, 'chatoyance,' which is the descriptive term for the shimmery appearance of highly figured koa. The wood is open grained and must be filled prior to a full gloss finish, but looks great with semi-gloss as well. Even with highly figured stock, koa is relatively easy to work (much easier than, say, zebrawood). I also enjoy using quilted maple that is available here on the West Coast. I seldom use stains for my original pieces, preferring to let the figure and color of the wood speak for itself." – Larry Leighton
"I think fancy figured wood definitely has a place in woodworking, and one can use some of it in almost all types of projects as long as it is used intelligently with the design. An entire project made with wild and distinctive figure may be just too much for the eye to behold, but use those same pieces as accent parts in the same piece of furniture, and you may have something truly spectacular even from a fairly simple design." – Frank McEnulty
"Your question needs clarification. It depends entirely on what I'm building. For lathe turning and show pieces, I want the fancy grained wood. For structural stuff, I prefer straight grain — preference to quartersawn wood." – Ron Orr
"I say it depends on the project or the area of the house or which one of my adult children I am doing it for. It would be nice if their tastes were all the same, but even at that, the project helps dictate what I use." – Kris Baker
"I worked at an exotic wood store for a few months and grew to appreciate all the different woods and the finish they provide. I have created some interesting projects from Pommele (or waterfall) Bubinga that turned out very nice. I must say, I like oak for furniture, and exotics for smaller projects. I have used zebrawood, wenge, bloodwood, purpleheart and several others in projects like wine holders, weather stations, and inside of shadowboxes to make things stand out." – John Schelby
"In my opinion, and projects as well, the more fancy the wood grain, the better. I love wood grain. The grain of the wood, in my mind, makes the project special, and many times a 'one-of-a-kind' piece. There are few things in life that take my breath away like a highly figured piece of walnut, oak, maple, or whatever, that when you apply the clear finish the grain jumps out at you. I have used walnut that had a high figured grain that, when finished, looked like 3D ripples in a pond with golden highlights. It was breathtaking to see. I have seen fancy figured woods that render me speechless looking at them. I just wish I could afford to purchase some of them to use in my projects.
"I guess fancy figured wood, when finished properly to enhance the grain, is like looking upon a fine painting done by one of the great art masters: you just cannot take your eyes from it. It mesmerizes you with its hypnotic beauty and allows you to take it and mold it into a beautiful piece of wood art. A piece that will capture the eye of another, so they may also gaze upon it with amazement at how once this was a living organism that, over time, was rendered into a thing that mankind can capture in craftsmanship and receive great joy and satisfaction from for centuries to come. So, do I like fancy figured wood? Oh, yeah!" – Jim Tanner
Keeping Saw Blades Clean
Last issue's Q&A section included a question from a woodworker who wondered how often to clean his saw blades. Other readers wrote in with additional advice on when to do so – and what to use. – Editor
"When to clean saw blades: Any time you see a buildup on the blade or it has trouble making a clean cut. Put blades in pan of water and boil them. Then use a wire brush on them. Then wipe dry with towel. I have run a saw sharpening shop for 25+ years. I started out using an Amway Industrial cleaner which worked fine. After cleaning I used WD40 to keep saw from rusting." – S.D. Murphy
"For my money, it's hard to beat Simple Green(R). A quick soak and an old toothbrush takes off any accumulated gunk. The claims to being nontoxic are nice as well. It's a little tough on paint, though." – Leslie Ohmart
How-To on Hanging Doors
Another woodworker's query last time involved mounting cabinet doors. Here's what we heard from readers about solving that problem. – Editor
"1. All the face frame cabinets that I have seen have the face frame itself hanging below the bottom of the cabinet. Clamp a piece of straight stock at the overlay points. Rest the door on the straight stock and attach the hinges. (It's usually best to start with the upper hinge.)
"2. Have a lot of doors to hang? Build yourself a double 'L' jig. One 'L' is upside down and backward and is attached to the other 'L.' The vertical part of the 'L' is used to space the horizontal parts of the 'L' so that the bottom of one is exactly the overlay distance to the top of the other. (Like from the bottom of a stair tread to the top of the stair tread below it.) I use 3/4" Baltic Birch for the jig. Make the bottom horizontal piece about 4 or 5 inches wider than the top horizontal piece. Put the top piece on the face frame and either clamp or use a couple of bricks to hold it in place. Position the jig so that it can be used to support the door being installed.
"Maybe these methods won't be accurate to 1/64″, but all the doors will be the same." – Rich Flynn