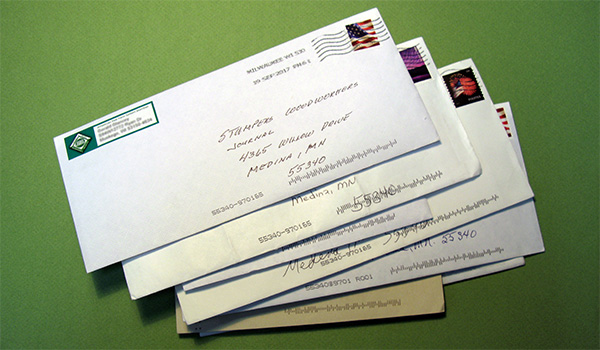 Gordon W. Everitt shared how many hints it took to get the Perfect Christmas Gift. The first and second hint involved issues of the Woodworker's Journal being placed at strategic points around the house … with the desired gift CLEARLY circled. The third hint was delivered by hanging another issue in front of the toilet roll in the bathroom. And the fourth featured a trip to Fred Meyer's with their in-store ad in one hand and his wife's hand in the other, and culminated in standing in front of the display pointing at the gift, then falling on his knees and begging. Since he helped his wife load a mysterious, heavy and large parcel in the back of his van, so he's reasonably certain he'll be the proud possessor of a new Porter Cable compressor and brad nailer, come Christmas morning. Gordon also told us how much he enjoys the magazine (and eZine, we presume)!
A larger shop would be at the top of another reader's dream wish list. But more realistically, he'd like a second shaper (so he'd have one for cope and one for stick) or a Williams-Hussy molding cutter and a knife grinder. Both would come in handy in working with the construction-restoration companies he works with in the Twin Cities.
Time to practice his woodworking topped the list of another reader. He admits to probably having all the tools he needs (Don't tell his wife!), but never seems to have enough time to enjoy the solitude of working with wood.
The number one and two items on one reader's wish list were a long bed joiner and a good, larger bandsaw. He had the money set aside for the purchase, but a broken tooth, root canal, and crown put the bite on that plan. Ouch!
Here's a simple list: Clamps, clamps, and more clamps! They're the only items a reader would trust anyone else to pick out for him. While in the selection of something more personal … like say a hammer … he'd prefer to research, try out, and then buy the one that felt right in his hand. Then he got a little more philosophical and wished that school boards would properly fund high school shop programs. As a school counselor he sees plenty of kids who'd benefit greatly from the skills they'd learn (whether going into a trade or developing a lifelong hobby), not to mention the immediate satisfaction of building something with their hands. Amen!