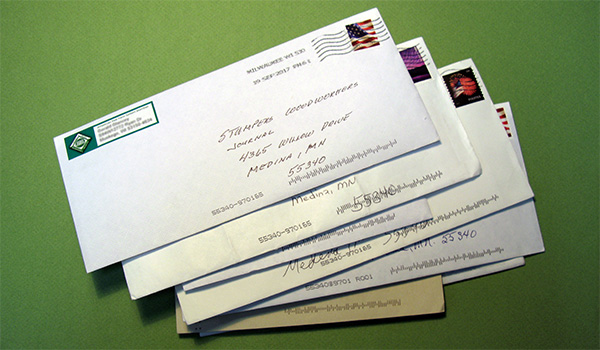 Here are just a small percentage of the responses we got. – Rob
To B.L., finishing is like having to do the dishes after cooking a gourmet meal. In other words, he hates it!
It's not the finishing; it's the SANDING that Jim dreads! In fact, he thinks sanding has given finishing a bad name! He thinks applying the finish — spraying or putting it on with a rag — is the best part!
A woodworker wrote to say he enjoys how the first stain or varnish makes the project come alive. What he hates, however, are the limitations placed on finishing by his small garage shop. Along with his tools, he shares it with the washer, dryer, furnace, hot water tank, and sometimes the car. Even with a shop-wide collection system, dust is everywhere.
Another wrote how he first spends a day or two cleaning up everything before he can finish, then coat after coat, he can't build anything else. Last winter, seven "teddy bear" cherry rocking chairs took several weeks to finish.
Dan gets frustrated waiting for the finish to finish. The project looks done and technology has helped finishes dry faster, but it's still a struggle for him. He thinks that's why we're called woodworkers and not woodfinishers.
What Rob likes about finishing is the pride he feels when the project is done. What he dislikes are all the nasty chemicals he has to use to clean up ? the finishes are not water based. He also notes that while cutting and assembly can be fun, it can be just as trying when pieces don't fit.
As a painter, Jimmy wrote to share his suggestions on how to do a better job finishing.
1. Stain and a finish product have to be compatible with each other (i.e., read the labels). Some of the new water-based stains and finishes won't work with oil-based material.
2. Use natural bristle brushes for oil-based and synthetics with water-based. (Some synthetics claim they are for all materials, but the results will show differently.)
3. Use a respirator to protect your lungs and your health when spraying. Wear vinyl gloves and try to keep the finishes off your skin. Don't use thinners to clean your skin ? some can go directly to your vital organs — liver, spleen, heart, and lungs.
4. Practice staining, brushing, and spraying on a piece of scrap material that's the same as the project. (Follow the manufacturer's instructions)
5. Other woodworkers and people at your local paint store have lots of experience ? talk to them!
6. Remember: lots of light coats are always better than one heavy one.
Free Plans
Bill Goodman wrote to say "thank you" for our Breakfast Tray. His wife had just broken her leg a few days before the plan arrived, so he quickly completed it (varnishing can wait) for her comfort.
Q&A
Made in the USA?
Agreeing with other correspondents – that buying tools made in America helps ensure safe and healthy working conditions – Stephen Swanson described what he'd seen while working in Bangladesh. He knew a lady who worked six days a week for 10 to 12 hours a day and got only $10 a day! That was in the clothing industry, but he's sure the same non- living wages prevail with cheap overseas-made tools.
Fix the Fence or Replace the Saw?
Larry and Connie sent in their opinion that, for about $150, newer Craftsman fences are hard to beat.
Dave Johnston was about to get rid of his older Craftsman table saw when he came across the Vega fence system. It worked out so well that he recommends the Vega as an upgrade for any older Craftsman.
Agreeing with our expert advice, Mildred Chandler described a similar situation where she'd reluctantly bought a Biesemeyer fence – and it turned out to be one of her best investments.
Craftsman Dust Collection
D. Schwartz declared that there was a simple answer for dust control on the Craftsman radial arm saw ? Sears sells a collector that attaches to the saw's vertical support shaft ? and with a vacuum hose connected, dust is reduced or eliminated.
David G. Pike wrote from Canada that the same dust collector attachment mentioned above fit on any 10″ RAS ? even his obscure-brand Japanese-made saw. He described it as essentially a square funnel that attached to the column and table clamp behind the blade. Connected to a ShopVac or dust system, he found it 75-90% effective for crosscutting, and any remaining dust can be swept into the mouth of the funnel.
Eliminating Tear-out
Another answer, according to Fred May, is to use a drum sander setup with a fence that's offset (like using a router for edge joining). A wide belt sander, he noted, is also an excellent method for thicknessing bird's-eye maple – without taking out chunks.
Rather than taking shallower passes on a joiner or using a router, Dave Casto thinks using a plane would be a better solution.
What's Up with Grizzly Prices?
Paul Hastings sent us a rundown of the Grizzly woodworking machines he uses — table saw, jointer, planer, band saw, drill press, belt/disc sander, dust collector — that have given him great service and were fairly easy to put together.
Another Grizzly tool owner, Ken Smith, thinks, dollar for dollar, they are a GREAT deal. That's probably because he just got a great deal on a Grizzly cabinet table saw ($799) that he feels is just as good as a $1,700 Delta ? plus he doesn't feel guilty about the cost!
The Cost of Building Versus Buying Furniture
In recreating a $3,900 "ON SALE" dining room table (cherry with turned legs and stretchers) and two benches, Howard K. amortized the cost of new materials and existing equipment ? and saved money! Here's a list of his costs:
– Wood: about $400
– Delta Unisaw: $1,600
– Jet 6″ Jointer: $500
– Delta 12″ Planer: $400
– Porter Cable Routers: $200
– Old Craftsman drill press: $300
– Plus all the hand tools used
Not only did he save money, but also the quality of construction and finish on the table (all mortise and tenon and peg joinery plus five coats of hand-rubbed tung-oil varnish) was much better than the original. His wife is convinced and even buying him new Lie Nielsen planes!
Feedback
Other Reader Comments
David Doerschuk sent a word of caution about Neil Brown's synchronous strobe idea. Any device that causes rotating equipment (including adjacent tools) to appear stationary, he warned, is fundamentally dangerous and an invitation to tragedy.
Ryobi Reviews
Charles Kelly wonders why he never sees reviews of Ryobi equipment or articles about jigs. The answer is that we have done reviews of Ryobi tools ? see Excitement in the Ryobi Shop, and Ryobi's New Cordless Drills Pack an Extra Ooomph. Plus, check our Archive search for other Ryobi references and over 80 articles referencing jigs!
Rust
Peter Adams from South Australia noticed how often the subject of rust came up in the eZine. With his interest in woodworking and old guns, it's a topic dear to his heart, and he wrote to share his secret for de-rusting metal:
1. Mix 1 part molasses to 5 parts water. (molasses ? the secret ingredient ? is the kind you feed horses and get at your local feed store)
2. Thoroughly degrease and wire brush whatever object you're de-rusting (although cutting edges can be protected with a little grease).
3. Put the object in the mixture and leave it for as long as it takes to remove the rust (one day to a full week)
4. Take the object out of the mixture and rinse with clean water and detergent.
He claims it eats the rust away down to base metal (and then some, if left in too long) leaving a soft gray appearance. He also swears he's heard of a man who dug a hole with a bulldozer, lined it with plastic, and soaked the rust off a Model T Ford car body with the mixture!