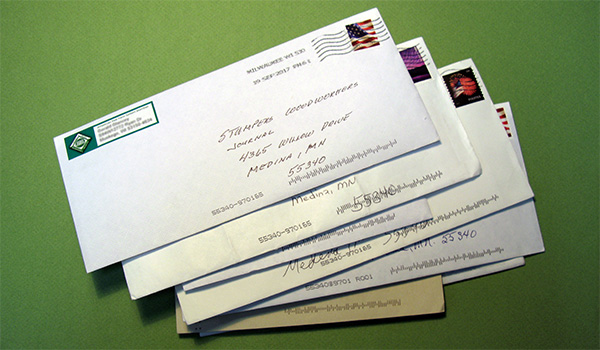 A Fool's Errand
On April First, we came out with our third annual April Fool's Day edition. As usual, it generated more reader response than any other issue, so we can only share a scant few representative responses with you. First, a couple who hated it. – Editor
"What a waste of my time." – Walt Ulrich
"If I want to read a comic book, I would have subscription to Mad Magazine." – Wayne Neville
Many were genuinely fooled. – Editor
"There is no download link on the plans page." – Jacques Hara
"The link for Mock III Tools does not work. Please advise as I may order the plane." – Dave Norris
"The Wooden Shoe link goes nowhere." – Forrest Shields
"The information is usually most informative, but these are undoubtedly the two worst plans that have ever been sent on this site." – Thomas Smith
"I used to enjoy your articles, and now it's just a bunch of junk. You have turned this site into a joke." – Dan Morrell
Exactly, but take heart: we only do it once a year. Far and away, the greatest number of responses were from those who love our annual spoof. – Editor
"Your best yet; over the top. You've taken the eZine to a new plane at Mock III." – C. Michael Clayton
"I always enjoy this one." – Walt Grabowski
"Carved paper bags? Lasers on a hammer? Mock III? I have never enjoyed an issue of your eZine so much." – Luke Jones
"Now that started my day with a smile!" – Roger McIntosh
"Right on; made my morning." – Don Squire
"You guys crack me up! The Mock III is hilarious." – Jeff Smith
"I pulled a muscle in my chest from laughing so hard." – Rod Burrow Jr.
"The one way to get me to read every sentence of WJ is to send out the April 1 issue. It arrived on my desktop like a Gustav Wynde." – Gerald Kornelsen
"Thanks for starting my day off with some good humor. Now it is time to grab my crash helmet and head for the shop." – Rick Webb
"Thanks for the great April Fool's Issue. It only took me about 30 minutes to realize what you were up to." – Mike Ward
"Loved the names in the Q&A section. Simply awesome!" – Steve Kargman
"Thanks for making my day!" – Jim Killeen
"I needed this. It not only made me laugh but gave me an idea for a new product: a table saw that folds up and fits into a kitchen drawer." – George A. Ulrick, Jr.
"I've waited all year for this issue and was not disappointed." – Coleen Rourke
"I especially enjoy the 'letters' written before this edition came out." – Bob Hoyle
"Once again I laughed till my sides ached. Looking forward to next year already." – Cyril Griesbach
"Thanks for reminding us that, as serious as many of us take this hobby, we should also remember that we should have fun with it." – Bruce Backman
"Isn't it a shame that there is only one April 1 in every year?" – Ron Dvorsky
"Really great spoof!" – Rick Davis
"Absolutely great. You totally caught me off guard. Touché." – Stan Davies
"The annual April 1st edition is the only one where I read the whole thing." – Craig Austin
"I look forward to your April 1st issue every year." – Gene Nurse
"You really do have too much time on your hands." – Dr. Charles Schultheiss
Clair Boussum
"Great article about Clair Boussum. His fretwork is amazing. Any chance of seeing his 'floating table' for his saw? Sounds a great idea, as do the cam locks." – Ray Small
We agree that would have been interesting, but sadly, Clair did not submit a photo of his saw table. – Editor
"It is heartwarming to read this article and to see such beautiful work. Clair sounds like a person who would be a good neighbor. Thanks for sharing his work." – Bob Miller
"This is a great article. Talk about service to humanity. This stands out of the pack. Keep up the good works on articles like this one." – Bill Fahy
"Why not create a video of Clair Boussum doing some work such as he does with the kids and put it online so the rest of us can benefit from his skills?" – W. Shaw Reid
You'll have to take that up with Clair, but he is a regular reader of this eZine, so we assume he will see your suggestion. – Editor
Is This Really a Typo?
"Rob wrote 'What do you see in your crystal (or maybe mahogany) balls?' Any self-respecting gypsy only uses one crystal ball." – Andy Mylniczenko
We suspect he was speaking to woodworkers collectively, hence the plural. On the other hand, perhaps Rob owns a pair of mahogany balls that he gazes at from time to time. We can't say we blame him. We would do the same if we owned a pair of mahogany balls. – Editor.
"I thought it was gypsies that had crystal balls. There must have been a lot of laughs about this line. Not a typo per se, but still funny." – Jim Rimmer
We thought so. – Editor
Tool Review or Not Tool Review, That is the Question
"I just recently read a review of ChestMate's Dovetail Jig in the eZine but did not find it very helpful. It gave a brief description of the jig and quoted a couple of claims from the marketing material. Did you actually use the jig?" – Brian Greenberg
No, but that is because it was not a tool review. It was a tool preview, which is only meant to introduce new tools to our readers. Our tool reviews and testing appear in the print edition of Woodworker's Journal magazine, but not in the online eZine. – Editor
Typo Corner
To err is human, but clearly some errors are divine. – Editor
"The surface was in god shape"
That sounds downright heavenly. – Editor
What Woodworkers Want
In Issue 170, Rob asked you want you want from your favorite woodworking magazine. Here is one of your responses. – Editor
"What I would like to see is more information on where I can find good quality, reasonably priced wood online. Maybe a list of sites that sell lumber and wood online would be helpful to a lot of us city dwellers who are serious about woodworking." – Pete DeFrancisco
Pete, have you tried Woodfinder? That's one of our advertisers, and is an excellent reference source for finding wood dealers both nationally and locally. – Editor