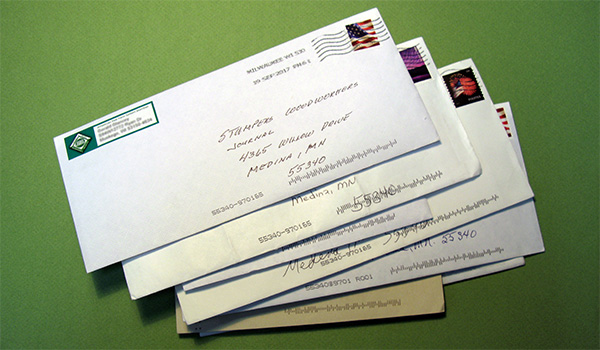 Cross Dressing 
In Issue 195, Rob admitted that he often wears more than one hat, pairing woodworking and fishing by crafting wooden lures, and asked if others mix hobbies. Some of the responses were surprising. – Editor 
"I got into woodworking because of my other hobby, astronomy. My friend inherited a scrapped telescope mirror from the Doanne Observatory. I used his table saw to make a Dobsonian mount so that I could use the mirror to view the stars. That's how it started. I then bought a lathe to make turned items, then picked up another hobby, gold prospecting, and made a high-banker to use in the recovery of gold." – Wes Bielinski
"In 8th grade, I got my first drum set and still play music. That fused with woodworking recently when I began building hand drums. Playing music on a hand drum that I have created is a wonderful thing, just as I'm sure reeling in a fish on your own lure is a great feeling." – Chris Mann
Cabinets are not the only thing we woodworkers make for kitchen use, especially if we consider cooking a hobby. – Editor
"My main hobby is woodworking, but I also like to cook, so I have made a number of wooden spoons, spatulas, salad tongs, French rolling pins and salt and pepper shakers. My wife is a quilter, so I make quilt hangers and such. My sons like to play chess, so I'm turning a chess set for each of them." –Dave Hickman
"I've made several pair of chopsticks for my Chinese wife and sister-in-law. I've turned them in standard size and also substantially oversized, about two feet, which they use for cooking. There are just some dishes that they claim cook better when they can use chopsticks to prepare them. I'm even going to plant some hearty and cold weather-resistant bamboo this spring so I can get more authentic materials to work with." – Ed Cook
Your name is Ed Cook and you make cooking chopsticks? We believe you, but what are the odds? – Editor
"My other hobby is acting, and I am often pressed into service to make theater sets and props when I am in a play. In addition to building furniture and parts for stage sets, I've made dozens of wooden goblets, canes, truncheons, swagger sticks and even a five-foot wooden battle axe. I sometimes wonder if I am being cast for my acting ability or my woodworking prowess." – Michael Dresdner
"I am the proud parent of two hockey players and play a bit myself with the other dads. I make furniture out of hockey sticks, so I get to kick back in my comfortable hockey stick Adirondack chair, my kids sleep in beds with hockey stick headboards, and their hockey pictures are framed with hockey sticks." – Mel Tuchowski
That seems like a pair of hobbies you can "stick" with. – Editor
"I like to ice fish and have made a number of ice fishing poles and holders in addition to converting old fly rods into ultra-light spinning rods." – Phil Meyer
"I combine woodworking, stained glass, ceramics, candle making and electrical hobbies to create numerous interesting items, like an illuminated wood, glass and ceramic chess set." – Paul Haskins
"I do woodworking in conjunction with my graphic art. The latest work was a print from a limited edition multimedia picture of a local covered bridge. I made a frame which actually became a member of the work, resembling the entrance of the bridge." – Don Butler
Some make things for hobbies of other family members. We're pretty sure that counts, too. – Editor
"My daughter raises sheep for wool, which she processes into fiber threads. I've made several niddy-noddies for her. I recycle broken shovel handles and pruned tree limbs into these skein winding and measuring devices, and often craft the handles for my hammers, screwdrivers, chisels, and so forth from recycled broken handles or tree limbs. I also turned a different sized pulley for her spinning wheel in order to give her a different speed for her wheel, and am turning some wood fishing lures; some for a friend and some for myself. I'll have them done in time for the opening of the season." – Charles Carney
Others combine hobby and charity. – Editor 
"A favorite nonprofit is Habitat for Humanity. Our local Habitat has a fundraiser every year called 'Birdfest' which includes a craft auction and sale. The money raised goes to build houses. I get some other members of Piedmont Triad Woodturners Club to join me in donating some of our work for the fundraiser. We have the fun of generating wood chips and sawdust, and do some good at the same time." – James E. Yarbrough, Jr.
Drained
After Web Surfer's Review ran a segment illustrating how much some people hate to drain their compressors, these readers suggested an easier option. – Editor
"They make an automatic drain setup for compressors. It hooks up to the pilot line, and every time the compressor shuts off it blows the water out of the tank. One company sells one for around 10 dollars." – Tucker Laskey
"Good article on draining an air compressor. I have not drained mine in 35years. A little device does it for me daily." – Howard A Taft
Plugged 
Our answer panel suggested that using inserts to downsize a table saw blade hole was not the best idea, and that sparked these comments. – Editor
"Your advice is well noted and correct. That being said, my father and I have run a blade with a one-inch hole on a five-eighths-inch shaft by using oil-impregnated bronze bushings. They fit very snugly in the blade but do not extend out far enough to impinge on the concave stiffener. After several years, and several blades, the saw is still performing well." – Glenn Wiersma
"Find a good professional sharpening company. They will be able to press an oversized insert, trim it flush to the blade and drill a new centered hole. Buy a cheap insert and you'll regret it; do it right and you won't." – Mike Caudle
"My DeWalt 12-inch miter saw came with a five-eighths-inch arbor and a bushing for the one-inch hole in the blade. Therefore I can, and do, switch between 12- and 10-inch blades depending on the job I am doing. I have had no incidents in using this method. I have not checked with DeWalt, but this bushing should be fairly easy to procure, and probably pretty cheap. – Don Jennings
"There are bore-reducing bushings for just a couple bucks each from suppliers like McMaster-Carr. Depending on the precision of the bore, the bushing may need to be pressed in place. If the fit is sloppy, don't use it." – Ryan Grimm
Free Lunch
"I'm annoyed at your eZine. Either give something away free or sell it. Don't bait and switch with your email magazine. Then again maybe I'm just young and know I can get most anything I want online without paying for it." – Kevin Schuman
Actually, Kevin, we do both. We give our regular eZine away free, and sell the premium edition. However, as folks who just might be a good bit older and perhaps just a tad wiser, may we add one small observation? We've noticed that in the long run, we end up paying for just about everything in one way or another. – Editor
Schadenfreude?
"The April 1st issue is always fun, but I really look forward to the following issue and all of the feedback letters. They are the greatest, when you read how someone was caught hook, line and sinker." – Mel Chandler
Typo Corner
We get fodder for the typo corner from all over, but our favorite source is our own pages. This typo comes from issue 196. – Editor
"If you want to treat [green wood end grain, coat it with] wax, latex pain or a product called Anchor Seal…"
Latex pain? That may not be a typo at all. We've all seen latex paint turn into a latex pain. – Editor