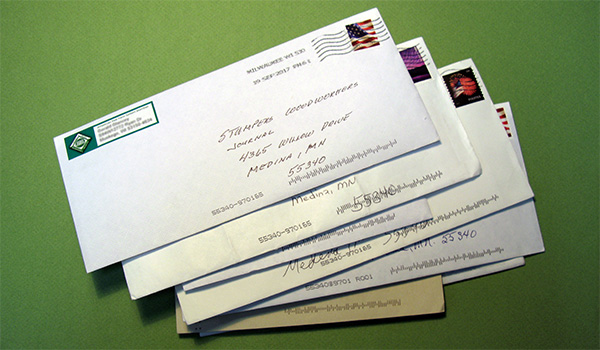 Last time out, Rob asked for ideas for holiday gifts, and our readers responded generously with suggestions. Here are a few of them. – Editor
"Hi, Rob, I feel your pain. I go through this routine yearly. Do you have a small lathe? I don't do a lot of turning, but when I do, it's usually around the holidays. Another favorite of mine is the business card holder, [pain in the a**] to build one, but a batch of six would make the aggravation even out a little. I don't know how many gifts you need to make. I have six for sure, and I make two spares for those awkward 'oh, I didn't get you anything moments.' Usually I have a couple of pens at the ready. I made a 'batch' of coffee grinders one year; never again, what a disaster." – Doug Whitson
"Several years ago, I had the same problem. What I did was get a three-ring binder, and whenever I came across a picture, plan or whatever of an item I thought might make a good Christmas (or other) gift, I put it in the binder. By now I have several subdivisions of types or things. I just use the idea and almost always modify it to my material, taste or whim. Gifts given range from keychains, bottle stoppers, trivets, breadboards, sushi trays, cedar planks, turned bowls, small boxes, booster seats, picture frames and of course all kinds of toys for kids and for adults (games, rattles, cars, trucks, trains, planes, etc.). Most are made from scraps!" – Ron Orr
"Actually, I have one serious one and one not so serious. The not so serious idea is the dulcimer featured in the Nov-Dec 1989 Woodworker's Journal. I built it for a 21st birthday present for my son. Using a single piece of cherry salvaged from a woodyard dumpster in Schwetzingen, Germany, I resawed the stock to 1/8th inch and did a (I think) decent job.
"The serious idea is making footstools. I've been making them for 10-15 years now and give them for wedding and birth presents.They're roughly one foot square, by six inches high with ogee bracket feet and an upholstered cushion. You can make them as ornate or simple as you choose. I've also done them with carved designs. Here in Texas, UT or Texas Tech or Texas A&M logos are always sure to please. With your level of expertise, you could probably mass produce five to 10 in a week." – E. J. Eiteljorge
"So far, I have done for holiday gifts: small picture frames, different kinds of boxes, jewels, calligraphy, (paper, ink and pens), other small boxes, tea bags boxes. For this year, the plan is to do dinner table centers. The design is not finished yet, but will be a nice, flat piece of wood, probably that can be folded, to be placed at the center of the table and support the common things that you usually need (bottles, bread, salt and pepper, salad dishes to share). Saludos from Chile." – Luis Felipe Guglielmucci
"My friend built a brewery a few years ago in a shell of a building that was built in 1856. I acquired 77 red pine floor joists, 27′ x 14″ x 3-1/4″ from the demolition. I've built harvest tables, coffee tables, end tables, bars and a ton of other things from it. I now find the back corner of my home shop stacked with cutoffs 12″ x 14″ x 3/4′ of the stuff. (I hate to burn old beautiful wood.) So I'm making 14″ x 9″ elliptical stools about 13″-14″ high to put your shoes on at the back door or mudroom. Tapered legs, high gloss spar varnish finish, might even personalize them on a CNC machine." – Joe Mathison
"I'm making wife a picture frame. That alone would not usually do the trick. But I am making it around a nice panorama picture she shot while on a business trip; I'm having it printed way bigger than our printer would do. Will undoubtedly spin off a handful of Harry Potter wands for kids. So easy, fun, you cannot make them wrong." – Don Valleskey
"I'm on my fourth year of making Christmas gifts (I have 18 in my extended family). I turn a lot of them, because that tends to be relatively quick and easy. For a personal touch, one of my favorites is a band saw box of the first letter of their name (some letters work; some don't)." – Chip Trebour
"Have you thought about intarsia scroll sawing for a gift? I have found it to be very rewarding." – Doug Green
(See this issue's Reader's Project Gallery for more examples of Doug's intarsia work. – Editor)
"I have made my wife a floor lamp: all turned but two shelves. She loved it, and my daughter-in-law took the walnut one I made. Good luck." – Rex Worrell
"You can find these old brass post office boxes on eBay or Craigslist. From these boxes you can make banks or keepsake boxes for the kids. Cut four pieces of nice wood either miter cuts or fancy dovetails. Make a cut on the top piece for the coin slot and your set. Kids love them and you can knock out several using a jig." – Brent Gayler
"Lately, since we are slowly sinking into a period resembling the Great Depression, I've been going through an interesting periodical of that era. I have a bound set of four reproduced volumes of 'The Deltagram', from 1932 to WWII, and the very strong emphasis on saving money, recycling materials (while somehow also using expensive power tools!), is remarkable. It's worth a look.
"The contributors, both readers and professionals, are constantly talking about low material costs, using packing crates, etc. Many of them seem to be unemployed guys trying to make a new living with widgets and giftware. Ah, the days before China… While this resource must have been mined over the years by other publications, there are still hundreds of interesting ideas left, especially for toys, and a surprising number of ideas for the newly-available plastics. All the smoking-related items, of course, can be safely ignored.
"One very striking aspect is how compact and clear the construction articles are – one or two pages to describe fairly complex furniture, as if the readers were mostly very skilled. Illustration quality is typical for the era: amazing." – Richard Stein
Have Microwaves Grown?
We also heard a response who had faced the same "cabinets around the microwave" dilemma as one of the questioners in last issue's Q&A section. – Editor
"In response to the Q&A about the microwave that's too big: I've already had to face that problem. It's actually simple enough, if just a little unwieldy, to remove adjoining doors and outfit a straightedge to allow a router – trim or full-size – to remove sufficient material to allow the microwave to fit. I suspect that the normal opening was on the order of 29-1/2″ back when the kitchen and cabinets were built, but microwaves have grown. I've seen this in several kitchens, mine and friends'. Perhaps a little research will yield the information on when the standard case size increased." – Gerry Creager