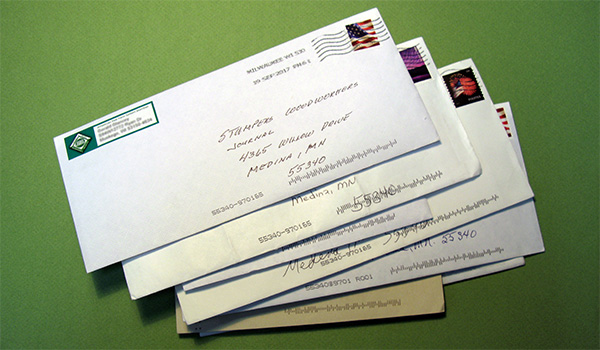 A couple of eZines ago, Rob asked for ideas for holiday gifts to make – and many of you responded. The ideas in our last eZine prompted a few more suggestions and thoughts this time out. – Editor
"One of the things that I always fall back on is an old pattern that I make about this time of year. I have an old pattern of a deer that has antlers and legs that you make from 3/4 wood. The legs and antlers fit together and, once cut out, you simply paint brown and glue a red cloth nose on. I give them away to people I really do not know great but need to be told I care. I just use scrap wood from the shop and they just like the h-ll out of it, and I am back being a good old man to them." – Tony Bartkoske
Some responded to Rob's query about projects that didn't receive the reaction a woodworker might hope for. – Editor
"Last year, I made not one, but three, fishing rod holders for each of my three grandsons. I made them out of red oak. I don't think any of them have used them. Maybe one rod, not near what they own. This year I hope to make a flight line cart for each of them for when they go flying remote control airplanes. Maybe that will go better." – Jim Porter
"For a long time, I carved flowers and made flower arrangements on slices of log for donations to various auctions. The first one I did, I discovered, went for (what I thought was a whopping sum of) $250. A year later, motivated to do more, bigger and better, I did a larger and much more complex arrangement. There were a LOT more donations that year – lots of baskets of smelly candles, etc. The flower arrangement sold for $25. Humility was served cold and clammy that year. I learned that once you hand a piece over for an auction, forget it. It is worthless to you except to send you on a rollercoaster ride." – Riley G.
And this reader had his own request for suggestions — with a twist: they have to be easy enough for a young child to make, as his granddaughter is a woodworker-in-training. – Editor
"I can empathize with your Christmas project dilemma. However, here is an interesting twist on that theme for you to consider: Last year, my 6 year old granddaughter, Laura, wanted to build Christmas presents for everyone in the family. The trick was coming up with projects that she could handle at a six-year -old level. We made a book with a hard cover made from resawed pine scraps which included an original story that she wrote for Grandma, a stenciled "Daddy's Shop" sign for her dad, a 4×6 picture frame made from some molding scraps I had in the shop, a mobile made from wood scraps and fishing line, a key stand using dowels and eye hooks and a small box for her other grandparents. Of course, we had to do all this in less than a week, which was part of the challenge.
"I'm sure she will ask to make some more gifts this year, and I am fresh out of ideas. If any of the projects that you solicited when you requested Christmas project ideas are suitable for children to make, I'd really appreciate it if you would share them. The only power tools I let her use, with close supervision, are the drill press, orbital sander, and midi-lathe (she can turn pens with a little help)." – Ed Cook, Sr.