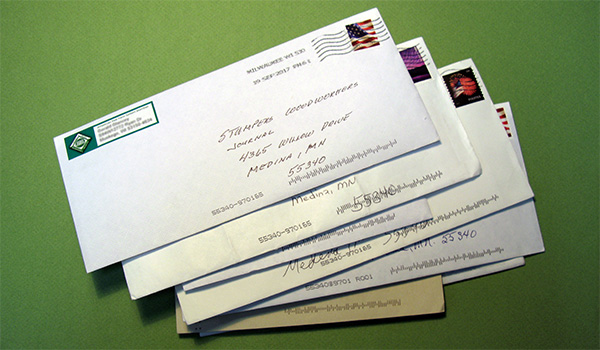 In last issue's Q&A, we had a reader who asked  about fixing the lean on a rocking chair. Here are some additional suggestions along those lines from our readers. – Editor
"If the legs cannot be removed or one doesn't want to, a person could add a stop block on to the bottom of each leg that would prevent the chair from leaning any further than desired. These two stop blocks, of course, could be shaped, contoured, and stained or colored to match the original legs. Just a novice's idea of the problem." – Kenn Brooks
"I read your eZine and saw the article on making a rocker lean more forwards in direction.
You could make a rocker sit more forward by adding a tapered shim to the bottom of the rockers starting at the midpoint of the rocker and increasing towards the back. This would force the rocker to lean more forward. If the rockers do come off, duplicate them but add extra thickness to the rear and taper towards the midpoint. If I understand the geometry and concern of the reader, this should work." – Holmes
A Woodworker's Project List – From an Unusual Tree
This woodworker is following up on last issue's Feedback section, where others shared their projects on their lists for the year. – Editor
"I found 'Woodworkers Share the Projects on Their Lists' in Issue 337 and, while I realize I am a bit late with a response, I thought you might be interested in my story.
"My name is Don Horn. I am 75 years old, been retired for the last 10 years, live in southern Illinois. I have 5 children and they have (so far) presented me with 10 grandchildren. I have another little girl due Christmas day. Of that collection of little ones, two are boys, leaving me with 9 granddaughters — the oldest is 15 (I started kind of late in life).
"When I was a young man, all the girls had their 'hope chest' where they stored all the things they would need to make a home when they got married – kids nowadays do not know what I am talking about when I mention it.
"My wife and I divorced about 20 years ago – we are not close friends but we get along – a little over a year and a half ago, she asked me to cut down a dead tree in her yard. Due to the location near buildings and power lines, I felt it was beyond my skill level, so I hired a tree service to fell it. The man told me 'that is only the second one of those I have seen in over 30 years of tree trimming.'
"Turns out it was a Kentucky coffee bean tree. I hauled it to the sawmill and had boards made out of it, then stacked it in a shed out back for the last 18 months. I tried looking up information on this wood but not much is available. It looks a lot like oak and the little pieces I have tested seem to work a lot like oak – if you have any input on this wood I would appreciate it.
"My goal is to make the girls hope chests out of the wood from Grandma's yard, handmade by Grandpa – hopefully they will get passed on to my descendants (i need to get on it because time is running out on the oldest one – her mother told me she has started dating – so it won't be long). If I have enough wood, I would like to make the boys toolboxes out of it.
"Thank you for taking the time to read this. I love the eZine, keep up the good work." – Don Horn
How about it: anyone know anything about the Kentucky coffee bean tree? – Editor
Further Suggestions on Heating a 16′ x 40′ Shop
Also in last issue's Q&A section was a question on how to heat a shop. The changing seasons must have this on other woodworkers' minds, too: these two have certainly thought a lot about it. – Editor
"My shop is a standalone (4 exposed walls) 28 x 28 with well-insulated walls (6″) and ceiling. I heat it with one u-tube natural gas-fired, ceiling-mounted radiant heater at 20,000 BTU/hour from Space-Ray of Charlotte, North Carolina. I have found that it is best to leave the thermostat set in the low to mid 60s and let it run 24/7 as the recovery from a low temperature is not great. But I am retired and in the shop 9 days out of 10. This heater has 3 features I consider important. 1) There are no air currents, or ducts to collect dust as you would have with a forced hot air system, 2) the intake combustion air is easily supplied via 4″ PVC pipe from the outside. If you use inside air for combustion, it has to be replaced, thus drawing in cold air to your shop, and 3) this brand allows you to change the output and thus the fuel consumption by changing fuel and air orifices, an easy job. I bought mine at 60,000 BTU/hour and was able to turn it down to 20,000 and still stay very comfortable. You don't need a high (i.e. 72 degrees) air temperature to be comfortable with radiate heat." – Rick Rule
"Heating a shop is a trial that depends a lot on your circumstances. Is the shop insulated? What can you afford both in time and money to heat it? Are you working in it all day or just on the weekends and evenings? I spent most of my life with an uninsulated shop, so had to heat it intensely and quickly on demand. When a project required it, I struggled to keep it warm with a variety of heaters. I'm a hobbyist now, but keep my shop constantly heated so I can enjoy it when I do have time and it is well worth it, but only because I have a tight, insulated shop.
"I live in northern Kentucky – zone 5 on the planting chart. Six years ago, we moved and I built an insulated 25'x30′ shop – 2×4 exterior walls (R-11) with a 7'x10′ insulated garage door on a concrete slab. I heat it with a Fahrenheat Ceiling-Mount, 220 volt, 5000 Watt electric heater (Model# FUH5-4) and keep it in the low 60's by adjusting it manually. (It says it has a thermostat, but it's more of a timer.) It cost about $300 delivered and I installed it myself. Our electric rates are among the lowest in the country and I don't have gas hooked up already. If I did, I may have used a similar, self-contained gas heater. It might cost me $100 to $150 in the coldest month to heat it, but that's a WAG [Wild A__ Guess]. It's worth it to me, especially when I factored in damage and hassle costs. Insurance costs were also a big factor.
"Tools rust quickly when the humidity is high and there is a big temperature change. Metal tools get covered with condensation as the air around them heats up. Trying to keep iron blades and tables free of rust is a chore and not always possible. Cold will ruin glues and finishes that are curing and isn't always kind to those that have set. Migrating and storing temperature-sensitive materials between the house and shop is a pain and I always missed something. Replacing frozen finish or glue when I really need/want it adds up quickly.
"Kerosene heaters are my least favorite option. Bullet heaters were great for heating things up fast, but are noisy, stir up dust, and not good for keeping an even temperature. Wick kerosene heaters are touchy about sawdust and the wick must be maintained! When one smokes on you, you'll find everything in your shop covered with greasy, black soot. It will happen and you'll find finishing a coated item about impossible. I hate the smell and they add moisture to the air, which adds to the rust problem.
"I heated with a woodstove for years, but keeping an even temperature was hard, as was keeping it going constantly. Keeping it in wood was a lot of work and took away too much of the time I had to spend in the shop. I thought hard about a pellet stove, but pellets are expensive, it takes up a lot of floor space, and they're a burn danger. My ceiling mount electric heater takes no space on the floor and might cost a bit more to run, but requires almost no work or time and my insurance company is a lot happier.
"Sawdust is a major issue for any heat source, even with good dust collection, and mine isn't great. My electric heater sits up high in one corner of the shop. Only the fan motor and the enclosed heating elements are subject to dust, and they've been pretty clean each time I blow it out even without any filters. I have the unit pointed at the middle of the shop floor and it spreads the heat well, but the fan isn't powerful enough to stir up dust. All in all, it's been the best heating system I've ever had.
"That's my thinking & circumstances. I'm sure yours will vary. It was one of the toughest questions I've faced with my shop." – Jim MacLachla