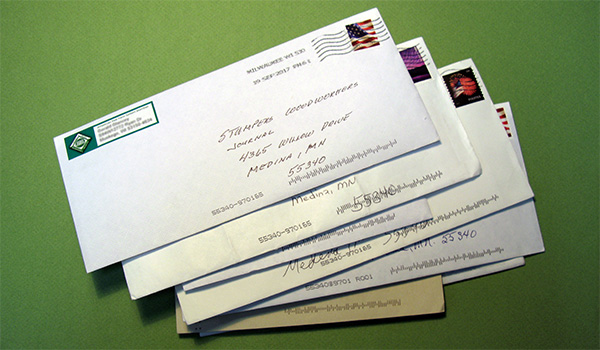 In last issue's eZine, we launched a Quiz section. Some readers had fun with the quiz (or our introduction of it). – Editor
"I got a 40 percent on the quiz. There are some questions I did have to guess at. The idea of a occasional safety quiz is good to raise awareness for what some folks may take for granted or are just ignorant of." – Bruce
This one quoted from our introduction. – Editor
"'When my wife would ask me to take a compatibility quiz with her from one of the women's magazines, I knew that no good could come from it. ("Do you know your spouse?" "What's your marriage I.Q.?" — those kind of quizzes are trouble!'
"I laughed out loud! Just like the question, 'Do these pants make my but look fat?' there is only one safe answer: 'I can't tell.'" – Rich Flynn
And several disagreed with the quiz's question "Is it imperative to ground PVC ducting if you use it as part of a dust collection system?" and the answer it provided of "No." – Editor
"I took your quiz. When setting up my dust collection system, numerous sites specifically stated that you must use grounding wires if you use PVC, so I ordered the copper wire, nuts, etc. So…. who is right? With static electricity in plastic piping, it seems only logical that you should ground." – David Hedrick
"I got 9 out of 10 answers correct on your safety quiz. The one question that I got wrong was the one about grounding your PVC dust collection system. I said that it was imperative to run a ground wire. Here's my reasoning.
"First: have you ever gotten a static electricity shock from a PVC duct? It's way more than I imagined it would be. That, right there, is a very good safety reason. If you are in the middle of a cut and get shocked it's possible you could let go of everything. That could be dangerous. Secondly: there is the explosion hazard of sawdust. A fine mist of dust in the air will flash if given enough of a spark." – Chris Barker
According to Sandor Nagyszalanczy's response to this question in one of our print issues, it's unlikely (although not impossible) that static electricity would cause static combustion (i.e., a fire), which requires a high concentration of very fine dust or wood powder mixed with a large volume of air and a strong spark.
As Ken Horner has also previously reported in our eZine, "Back in 2001, Dr. Rod Cole, a Ph.D. and mathematician at the Lincoln Labs at MIT, along with a friend, also a professor at MIT and an expert in the physics of lightning, conducted studies which concluded: 

1. In lab-sized experiments, no one has ever been able to get electrostatic ignition of any dust – even those more highly combustible than wood dust. These two Ph.D. scientists also tried and could not get an explosion.
 2. There has never been a documented case of an explosion with PVC in a home shop or a case of an explosion in a filter bag.
 3. It is impossible to ground an insulator. Plastic PVC pipe is an insulator and cannot be grounded. How do you ground something that does not conduct electricity?"
This is not to say that there are not dust-related hazards in the shop.  Chris Barker's point about the danger of distraction from a static shock when you're operating a power tool is a good one. Overall, the copper wire is still a good idea – and, most importantly, so is not letting your shop's air dry out too much. – Editor
Dazzling Dollhouse
This reader was suitably impressed by the project someone else shared in last issue's Reader's Project Gallery. – Editor
"I haven't written in, ever! But that Tom Tanner's Victorian Dollhouse is just unbelievable in the details and using a lot of hardwood to boot…I just finished a 45-day venture repairing one. That was bad enough! But my granddaughter loved it. Tom has a real deep love for someone in his life, and I hoped she loved it. I bet it took every minute of that six months, too! 4,000 shaped shingles: oh man, you're nuts. In a good way." – Mike Nap
Mobile Workbench a "Must"
This reader had some further suggestions for last issue's question about "How Best to Mobilize My Workbench." – Editor
"Just read the Q & A on the mobile workbench question. My shop is also a one-car garage size. When I first moved to Vermont, I brought all my tools (power and hand) with me, but not my workbench (also mobile) as it was too heavy to move. My first project was to make a new workbench. The finished bench is 60″ x 30″ with a 2-1/2" solid red oak top. I use this bench not only for 'benchy' tasks but also as an assembly table.
"Having the mobility is a must in my shop.  Most of my power tools are on wheels and are stored around the walls of the shop.The exceptions are a drill press and miter saw. I used 5″ locking wheels on all four corners of the bench. In most cases, just locking two wheels is enough to keep the bench in one place. On a few occasions, I locked all four wheels. I think the weight of the top seems to help keep the bench in place. I also placed the wheels such that I could easily engage the brake with my foot and not have the wheels protrude, creating a tripping hazard." – Marty Kovacs
Another "Pretty Handy Girl"
This reader found that his daughter had something in common with the subject of last issue's Today's Woodworker section, Pretty Handy Girl blogger Brittany Bailey. – Editor
"I quickly forwarded that one to my daughter, a pretty handy girl herself. She is a civil engineer working in mining who takes on everything from decorating cakes to laying tiles and building benches." – Mike Newman