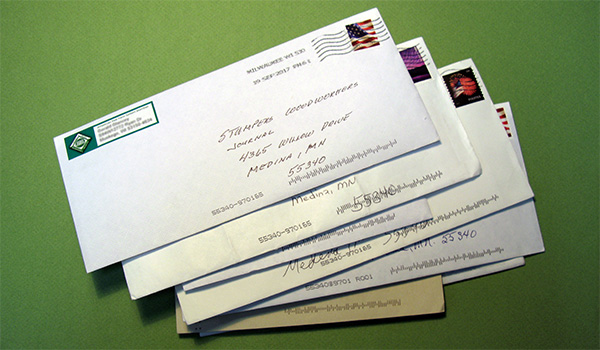 Rob's last editorial included some reminiscing about recent experiences helping a young man and his dad build a Pinewood Derby® car – as he called it, "quality time in the shop." Many readers agreed, and shared their own reminiscences about this rite of passage. – Editor
"February is car build month at our shop, which I open to the entire Cub Scout District. We're open from 9-5 on Saturdays and from noon – 3 on Sundays. Last year, we lost count at 30 cars. This year, we should easily pass that. What fun to enable the father/mother-to-son quality time. So far, we have built over 10 cars, including a wolf, a piece of Swiss cheese and a wrench."- Paul E. Moore
"The Pinewood Derby mention in the latest eZine brought back memories of two cars: one sleek, aerodynamic vehicle my brother designed, and the one I assembled. My brother's car was museum quality, while mine was painted black with clothespins painted red and glued to the sides. Mine also had Frankenstein decals on the hood and the tail. It was more appropriate for Animal House than the prestigious Pinewood Derby. Anyway, my brother's car fetched a ribbon for design and mine, a trophy for being the fourth fastest car in the pack. My father shook his head when I brought home the trophy." – Mike Mangan
"Your story about the Pinewood Derby car is too funny. I, too, enlisted the aid of my buddy who has the dream woodshop recently to build a Pinewood Derby car with my grandson. It was his first visit to an honest-to-god woodshop and, in spite, of the ill-fitting eye and hearing protection, he seemed to enjoy the experience. The car – well, it looked terrific, but I suspect at 4.2 ounces was too light. We finished 11 out of 35 for our first event. We're already talking about next year's car, and I can't wait. Thanks for the article; it put a big smile on my face." – T.G. Harmes
"I've had a lot of fun over the past few years helping cut cars for the Girl Scouts' Powderpuff Derby. The first year I helped out, I must have rough cut 15 cars for girls whose dads were either deployed overseas or otherwise unavailable. I must say, some of the plans that they had come up with were a challenge to execute, but with a few minutes of guidance, we came up with something that satisfied us both.I tried to let my daughters do more and more of the work as they have gotten older, and they never cease to surprise me with the care and patience they put into them. They know all the rules, tips and tricks for getting the fastest car they can have, and love to watch them race. I still have one of my derby cars from 30+ years ago, and hopefully they will remember the same feelings when their kids are this age." – Doug P.
Some even had suggestions for car stands, garages, "contracts" and more. – Editor
"I have had the same experience many times over, and it is one of my fondest memories of working with kids. The one thing I noticed with my kids was that the cars set on shelves, rolled off and were easily damaged. So for my grandkids I developed a trophy 'stand' that I make for each participant in their pack. It is simple and with a jig or two I can produce about 30 an hour.
"I get some knot free wood 1×3 and 2×4. Cut the 2×4 in wedges of about 20 degrees (across the wide side). Cut the 1×3 in to platforms about 1 inch longer than the long side of the 90 degree segment. I lightly sand for slivers, etc. (They can paint them later if they want to.) Attach the wedge (centered on to the platform) with the hypotenuse up, with a wood screw from the bottom side up into the rear end (90 degree end) of the wedge. Lastly, drill a 1/4 inch hole in the center near where the wedge meets the base (at a right angle to the hypotenuse) through the wedge and down into the base about 3/8th inch, insert a 1 inch long dowel (top end round slightly) in the hole with some glue. The result is a stand where the wheels are suspended beside the wedge and the front end against the dowel, and slightly elevated to show off the workmanship of the car." – Gene Rowland
"I had pretty much the same call but, since I had not had either young man in my shop, I printed up a woodworking contract for both of our signatures and we each kept a copy. Final results were mixed at the Pinewood Derby, just like when my 20-year-old son was a Cub, but hopefully they had a good exposure to safe woodworking!" – E. J. Eiteljorge
"I have a great story that starts exactly like yours. This was three years ago, and it was my stepson with his son. He lived in an apartment and didn't have any feasible way to put a car together. My stepson, whose name is also Rob, informed me that every other year the Cub Pack allows the adults to build a car and race each other for fun. I was into it!
"I also got this brainstorm to construct a carrying case to transport and display his car. This wouldn't be your everyday carrying case! Instead, I built it in the shape of an old style carpenters toolbox. Just beneath the handle, I added two acrylic panels forming a pitched roof over the inside. The 'garage' is hinged in the rear and removal of a dowel 'T'-pin in the front panel allows you to tilt it open, exposing the car sitting inside on a piece of foam.
"The Scoutmaster was so impressed, he asked me to fabricate enough for the Pack (20) for the next year, but in kit form. What has transpired from that point on defies description. I looked on eBay before I spent too much time developing this project and, when I discovered that nothing even close existed, I forged ahead. I make the kits with easy to follow directions and no tools necessary. Some Elmer's or [cyanoacrylate] adhesive and, in two sittings, you have your case.
"I have been selling the kits to a dealer who has a Pinewood Derby website, and in September of last year, I received a U.S. patent for my design. – Doug Schaeffer
And some readers used the story as a springboard for their own memories of quality time in the shop — whether with kids, parents, or both. – Editor
"I so appreciated you sharing this story. Our church Awana (youth) program has a similar race every year, and I did the Pinewood Derby when in Scouts. It is one of those memories of working with my dad that I will keep until I pass. He was not a skilled woodworker, nor did he have all the fancy shop tools that i have, but he had the time and that's what's important!" – Bill Search
"When my kids were relatively young, I had my workshop in the basement. My wife would ask me to make/fix something, and so down to the workshop I would go. Much to my wife's annoyance, the kids would follow me to the shop. Before I could build/fix whatever, we would have to make some toys. I would make them design (at least the concept) the toys on paper. Then construction would start. The kids were good with glue, clamps and vices by the age of five. They also quickly learned to utilize what was at hand for construction materials (my scrap/might-be-useful box). They had lots of homemade tough wooden toys – and now are giving them to their kids to play with. I wonder if this early introduction into construction had anything to do with my son becoming an engineer. Now, whenever we look after my grandson (he's just turned 10), we spend the day in the workshop. He now makes toys for his three-year-old brother and stuff for his mom (trivets, banana hanger and the like.)" – Ron Orr
"A couple of years ago, I was helping some teens tear down some stage props. One young man wanted to remove the nails from the wood. He was trying to do it with scissors. I showed him how a claw hammer works. He got the most astonished look on his face. Having lost our son to an early death, I miss the chance to work with kids. That was good advice you gave in your last 'Quality Shop Time.'"- Denny Leeds
"I have a 35-year-old son who lives a distance from me. He called last week to ask me if I could make a particular template for him. I asked if he had a friend who had a woodshop that he could access? He replied in the affirmative. We talked about the times when he was a child that we drew designs on 1/8" plywood and then rough cut them with jigsaws, later to file and sand them to specs. Well, he realized that he had the skills, but never used them independently of me. So he set off to make the template. He sent a digital photo with each step. I made some very minor suggestions, and what do you think? He did it on his own. We both felt like I was there with him in the shop. Thanks to shared childhood woodworking experiences, I shared a wonderful adult-to-adult experience with my boy.
"Guys like you, Rob, magazines like Woodworker's Journal, and companies like Rockler made it possible. Thanks, guy!" – Stan Feinberg