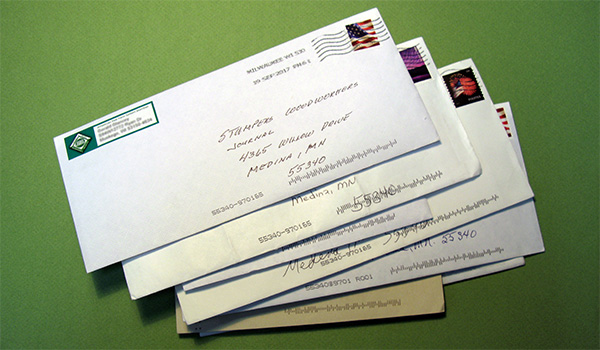 Donald R. Siegel shared his experience running a hobby shop for his fellow soldiers and their dependents in 1972-73. Having learned about woodworking from his father, he saved taxpayers and the Air Force the $35,000 it would have taken to train a rookie. As the NCOIC (Non Commission Officer in Charge), then Staff Sergeant Siegel oversaw industrial size equipment that included 24″ and 36″ planers, 6″, 12″, and 16″ joiners, and a 16″ radial arm saw that could re-saw whole trees into rough sawn planks. He recounted the story of a captain building a coffee table by first welding a frame together that took six other pilot buddies to unload and load. The officer then glued 1 x 4 oak planks to each other, planed them off, cut them into triangles, and fit them into the frame. It then took 12 guys to load it up. Donald recalls joking with the captain that he guessed his wife wouldn't be moving it around very often. A 100% disabled veteran, we thank Donald for sharing the story and for his service to our country!
Referring to TV woodworking shows that show a wonderful project completed in an hour or less, Suren thinks it's easy for viewers to forget the money, skills, patience and serious training it'll take to complete your own masterpiece. But, he still thinks it's worth it!
When he found that his Band Saw Won't Cut Straight either, Gary Stallsworth finally got a good cut with a blade from PS Woods. It cost triple the price of other manufacturers, but it eliminated his wandering blade problem.
Our discussion of Amperage For Cabinet Saw got the attention of J.L. Cusimano who noted that all electrical requirements (volts, amps, cycles AC, and phases), horsepower, and speed (RPM) should be listed on the nameplate of the saw or motor. The three-horsepower motor in question was probably three phases & 440, 220 or 120 volts and the amperage would vary inversely to the voltage, i.e., the higher the voltage, the lower the current (amperage). J. L. thinks the best solution might be to have a qualified machinery electrician check out the wiring first.
Tom Severino wrote to tell us how much he looks forward to reading each eZine, finding it informative and a pleasure to read. Thanks Tom!
After reading Michael Dresdner's Saw Tune-up Tips, Roger Hergenrader described his experience with a 1970s vintage Craftsman table saw. When he got a new JET cabinet saw, he decided to give the older saw to his son. When he decided to check the blade alignment, he followed the instructions in the Craftsman manual and removed the motor before starting. But it soon became clear that the instructions did not take into account the weight the motor would put back upon the trunion (via a single belt) after it was put back in place. This put the blade on the reassembled saw anywhere from .004 to .008 out of alignment. Though it's a little more difficult, Roger came up with his own procedure:
Remove the brackets holding the trunion onto the tabletop and file off any indentations caused by mounting bolts (the trunion on his saw was of a soft metal).
Replace trunion brackets and put larger diameter, higher-grade washers under the bolt heads.
Replace the motor/belt making sure the belt/pulleys are aligned.
Install a new blade making sure it's flat within .002 or less.
Use a dial indicator to set the trunion/blade parallel to the miter slot. (This step may take a little time since you're starting from scratch. Mark one tooth on the blade and use that for all references.)
According to Roger, following the steps got the saw within .0005 (that's 5/10,000) of a perfect alignment. And while you have the saw apart, Roger suggests you take time to clean all parts, lubricate adjustment screw threads, and check for any runout of the arbor bearings.