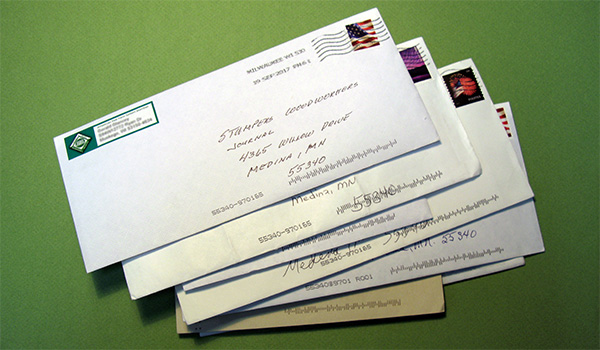 Last issue, Rob asked for your favorite regional or exotic North American woods. You responded in droves with some pretty cool choices! Here are some of the options, starting with the overwhelming favorite: Mesquite. – Editor
"In reference to Odd American Woods, I agree with many of your choices, but I would like to add Pecan and my favorite Mesquite. Mesquite is more abundant here in Texas than your choices." – Lee Summers
"I think mesquite is one of the most beautiful woods I've worked with. On top of that, it is easy to work." – John Ward
"Here in Texas, that 'regional but out of the mainstream' wood would be mesquite.
It's very hard, has lots of bark and insect inclusions and difficult (ie: expensive) to find in wide or long sizes.
The top of this dining table I made is mesquite with just a simple shellac finish. The black areas are voids filled with tinted epoxy. The base is stained red oak." – Henry Burks
Many readers chose their favorite exotic woods based on the unique colors they offer. – Editor
"I have worked with wormy butternut and found it to be a hit with clients for its unique coloration and grain. It is softer than pine and a delight to shape, cut or plane. Sad to say, it is rapidly becoming harder to find due to disease." – Bill Waletitsch
"Here in the Pacific Northwest in Canada, I use native yew, a wonderful cognac color with red highlights and a wood called Garry oak. Works as nicely as cherry although appearances would lead you to think otherwise. Rarely a straight board." – Bob Baldwin
"My favorite domestic exotic so far has been mulberry. It's a cool color, a nice vibrant yellow, of course, it fades over time like most woods, but hangs on enough to be unique. It's fairly dense but easy to work with." – Brandon Blatchley
"I'm pretty sure that my personal, exotic is not a native wood, but it is ubiquitous here in my part of southern California. I had a Camphor tree in my front yard which I'm pretty sure was planted by the developer when my home was built in '62. In 2010 we were forced to have the tree felled. I opted to also pay for hauling, milling and drying. In 2012 we brought home 461 board feet of lumber. I have been building projects (both small and large) with this species ever since. It has a beautiful color and grain pattern and is easy to work. I was able to re-saw some of the eight quarter slabs. From them I made eighteen inch wide boards from which I'm currently building a replica Campaign Secretary. Also from slabs, we've made two headboards for beds in our guest rooms (one queen, one king). Economically, keeping the wood was not my best decision, but it has brought much pleasure in its use, and my sinuses are always clear." – Ralph Lombardo
"One of my favorite exotics is Manzanita. There used to be a place in Texas that milled Manzanita once every other year but they discontinued that many years ago. I have to mill my own. I don't have a mill so I have to stick to pieces I can run though a joiner and resaw with a band saw. I love the colors, from warm yellow to orange and bright red. It's great for an accent trim. I forge knives and use a lot of it for handles." – Will Swim
"Where I live, in rural South-Central Alaska, any wood is a go-to wood. Our boreal forest consists of black spruce and birch. It doesn't have much in the way of exotics. Still, there are interesting pieces if you want to take the trouble to find them. One regional favorite is kind of sad. As spruce trees die from the devastating spruce bark beetle infestations of the last ten or twenty years, they take up minerals which they are too weak to flush from the wood. A recently dead or a dying spruce can be streaked with green (copper or, more likely, arsenic), purple (manganese), blue (copper), black (iron), or red (also iron) and sometimes with all of these colors. They can be downright garish when the wood is fresh but will mellow out as it ages. Because they are mineral colors, they tend to last even with exposure to sunlight.
The prettiest local domestic exotic, in my estimation, is the birch burl, which most people use to turn very beautiful bowls and other vessels. I'm not a turner, so I use it as a flat piece of lumber. The twisted grain can make a beautiful tabletop or box but it has to be allowed to age well.
Alder is sometimes used for little things, but it seldom gets more than a few inches across. Likewise 'diamond' willow, which is a willow that has been attacked by a fungus that leaves diamond-shaped pits in the bark and the wood. A lot of people use it for walking sticks, but I've seen larger pieces made into 'rustic' furniture that actually looks quite nice." – Lou Heite
Others find particular grain patterns that they like. – Editor
"My vote goes to hickory. Some folks object to the streaky characteristic of the wood. To me that is what first drew me to it. By the time I finished making my son a couple of end tables, I found myself appreciating feel of the wood itself. It is a beautiful wood that is very hard and hefty. It look great and feels better. What more could you ask for?" – Blake Dozier
"I often use quarter-sawn Honey Locust due to its interesting but subtle grain pattern. From a distance it looks rather plain but on closer inspection it has numerous small flecks with nice chatoyance. The hardness and density are similar to White Oak and it planes nicely if you pay attention to grain direction.
I've had good luck using logs obtained when neighbors have had trees removed from their yards." – Don Roth
"I have worked with Sassafras several times. It is soft enough to chip carve and sturdy enough to hold a machined detail. It glues, sands and finishes well. The camphor smell is a benefit for most but some might feel it is a bit much. The open grain is similar in appearance to Ash or White Oak." – Bruce Vincent
We used to call it the "toby" tree here in western PA because of the long green bean pods it produced every fall. After felling a huge catalpa tree that had become a potential danger to the house we left the logs lay for two years and then had a friend run them thru his sawmill. It produced some beautifully grained wood that we are still using to make furniture. It takes a stain well and finishes better than oak, in my opinion. I have never seen it featured in any publication but it is well worth seeking out for wood projects." – Andy Sentgeorge
"My wife just loves Oregon myrtle wood so, for this last Valentines Day, I turned three pieces for her. I'm still a beginner at bowl turning but I found the wood easy enough to turn and finish. The grain has a pleasing appearance and varies in color from piece to piece." – John Yates
Speaking of turning, that was another popular topic for choosing a favorite exotic wood. – Editor
"One of my favorite native woods to turn is apple. While it usually has a high moisture content, when dried and turned it has a very mellow honey color. It makes an excellent fruit bowl as it has a warm color. I have also turned some buckthorn vases and mugs. While the size of the tree doesn't allow for turning bowls. The bright orange wood makes beautiful vase material. And no one is upset if you offer to remove buck thorn from their woods as it is a very invasive species." – Ken Day
"One of my all time favorites is Sycamore for both stock for dimensioned lumber and for turning. Turning green blanks to thin wall almost translucence is a challenge with beautiful results." – Riley G.
"I discovered the beautiful grain of common sumac willow. This is a coffee go-cup I turned on my lathe. Sumac is often treated as a "weed" tree and cut down in swathes under power lines and along roadways. I had to search for a trunk large enough to use for this project. I have used smaller limbs for miniature bowls and cups." – Ron Haupt
Here are a few other readers' favorites. – Editor
"I like mulberry when I can find some with straightish grain. It is ring porous like oak and so tools much the same. It starts out bright yellow but that mutes over a few weeks." -Dean Morrell
"In our front yard is a bald cypress tree whose massive trunk is exceptionally straight and tall. It is dying for lack of rainfall here in central Texas. When the process is complete I plan to have it sawn into lumber. The waterproof wood should be good for building a boat or lawn furniture." -Moh Clark
"Have you ever worked with quarter-sawn sycamore? It almost glows." – Oreland Wood Products/Rework Woodworks Furnishings
"A favorite is Arbutus. Others are red alder, yellow cedar and western yew." – Ron Orr
"Rob, my favorite domestic exotic is Osage orange. Native range is east Texas but has been planted as hedge rows all over the Midwest. Has several local names: boisdarc, horse apple, hedge, etc." – Steve Pippins
"I discovered the wood from the Redbud tree make beautiful knife scales. The tree doesn't get large enough to make dimensional lumber, but is very useable for small projects. The grain is very straight and is easy to work." – Bob Beran
"I like quarter-sawn sycamore. It's an excellent accent wood." – Thomas Ogle
"I was recently given some large sassafras boards that look interesting. They are 8 qtr. by 12 in by 5 ft. Fairly light for the size. I am interested in working with them as I have never seen such large sassafras before. Since I live in Alaska, this wood was a special treat. The same fellow is supposed to bring me some persimmon this summer." – Charlie Franz