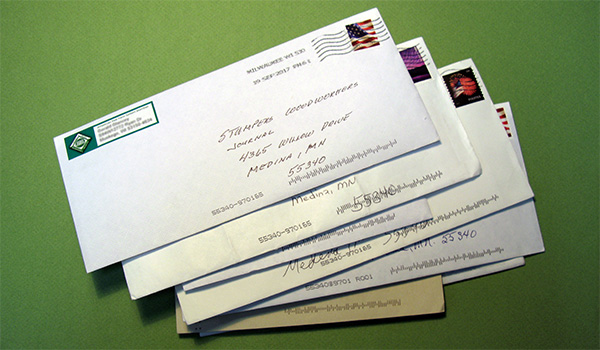 In the last issue, we asked about the art you might have displayed on your shop walls.
For some, it's traditional artwork on their walls. – Editor
"I took you up on your request for workshop art. Hope you like.:- David Nafis
"I built a small, 150 square foot shop 18 years ago. After commenting that there was no window in my shop, my daughter offered to paint one for me. There were no limits as to what would appear in the window, so she came up with this underwater scene. She completed it before leaving for her senior year at New York University in 2000. Even though wall space is at a premium in my shop, that is one section of wall that will never be covered." – Bob Hartig
"The attached photo shows what I have on mine.  My son, also a woodworker, made it for me." – Walter Hayes
For some, it's a matter of inspiration. – Editor
"I have a poster of Ferd Nimphius in his shop (an unheated revamped dairy barn) standing next to one of the boats he builds. Ferd is dead now, but he built wooden boats large and small for clients all over the world.  All in an old dairy barn and assorted sheds in the middle of nowhere in central Wisconsin. I visited his shop years ago. The work he and his crew did was truly art writ on a large scale (often in excess of 60 feet.) And all using mostly hand tools." – Tom Flader
Others might combine traditional artwork with collections of interesting items. – Editor
"My two daughters are both artistically inclined and, as a result, my shop walls are littered with their endeavors. Also, I've worked for some interesting folks as a handyman, painter and a woodworker. I've even been asked to build a casket for a client's mother. The family afterward asked me to stop by to help clean out mom's house and take whatever I'd like. So, I 'inherited' a bow saw, a vintage lacrosse stick and a few other interesting items. The attached photos might give you an idea of the tone of my shop." – Jack Heilmann
"I have several pieces of 'art' on my walls. Two bow saws, one antique and one that I made. Also, I have a very old leather golf bag that probably dates to the 1920s. One more thing that is dear to my heart  that is hung on one wall is my dad's broken kayak paddle. It's a handcrafted wooden paddle that he broke during a whitewater kayaking class that we took together. Everyone in the class and the instructors signed it after it was broken. Dad was 78 years old when we attended the class at the Nantahala Outdoor Center in North Carolina." –  Lee Brown
"I would like to have more art in my shop/garage, but tools must have room also." – Charles Exner
"Several of my shop walls are decorated with memorabilia from my parents' and my lives. When my father passed away, I had the responsibility of cleaning the family home. The house, furniture and clothes were the easy part. What do you do with numerous generations of photographs and all of the items that were special to your parents? I feel that it is just wrong to pack up this lifetime of memories in a box and hide it in the attic! I decided to clean off a wall in my shop and devote it to displaying some of their favorite memories. I think that I will go back and add photos from my parents' younger years years and photos of their parents and siblings.
"Since the shop wall art of my parents lives turned out better than I anticipated, looking at it made us happy! I decided to clean off another wall and display happy photos from my own past, car license plate collection, hunting and fishing photos, sports car club items, or photos of my houseboat, childhood and family photos and happy time photos with my wife and friends.
"Everyone that sees my shop wall art has positive comments, so I decided to clean off another wall that is nothing more than storage for old hand saws and planes that I haven't used in years. These old tools will be packed into boxes and stored in a dark corner of the attic where the photos would be normally destined to reside. This new wall will display photos of my children and grandkids, their grammar school artwork and handmade birthday and Christmas cards. I'm looking forward to creating this art wall soon!
"All of the photos are mounted using glue dots on black foam board so they can be relocated to a new shop in the future." – Carl Turnage
And, for others, their eye for art is solely on their tool collection. – Editor
"Art? On my shop walls? I can only assume there are walls behind all the tools hanging there. But, if 'art' can be defined as something that pleases and affects me, then a lifetime of acquiring tools that cover nearly every inch of wall space constitute 'art.'" – Lynn Sperry
"Like I said in answer to your last question pertaining to what I'd like to add to my shop, there's no room for even another screwdriver. Therefore, the only things on my walls are tools – wall-to-wall tools. However, lest you get the idea that I have an abundance of shop space, its a ridiculously small shop." – Barry Saltsberg
"My shop art, or 'aht' as we say in Maine, is a collection of old tools, as you can see in the attached picture. Some came from my dad, others came with the camp he bought, and some were gifts. Every time I hit the antique shops, I end up in the tool corner and spend time looking for tools to rehab.  If I had a larger budget, I would come away with all manner of tools that have little redeeming value other than they look interesting or are unusual." – Lee Ohmart
Update on Upgrading Batteries
We also heard, this week, from this reader who had personal experience with upgrading his nickel-cadmium tool batteries to lithium-ion. Be sure to check out other readers' comments on this question, too. – Editor
"Chris Marshall states that the only manufacturer that offers an upgrade from NiCad to lithium-ion is DeWALT. That is incorrect. The Craftsman 19.2 volt system of battery power tools can be upgraded from NiCad to lithium-ion, and the new charger is dual-mode. I have done this to my 15-year-old Craftsmen battery- powered tools with success!" – Bob Beatty