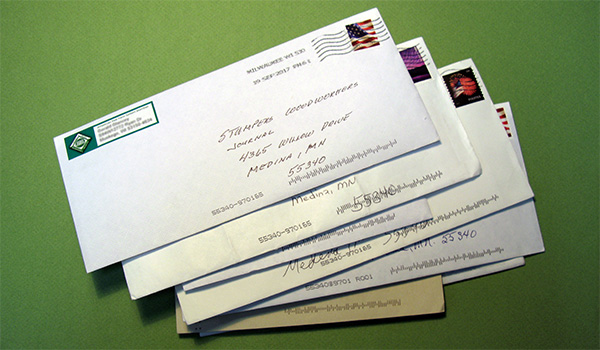 Shunned at the Lumberyard
Lee Grindinger's reply brought in a lot of mail. Regarding Lee's contention that maple veneer plywood isn't available in true 1/4′ thickness, John Pirt wondered "why not?" and Tom Clements, Mark Reader, and Jack Mazzuchelli all claim otherwise. Tom also thinks a complaint to the manager would have a bigger impact on service than a bribe of donuts! Though he also found the salespeople at lumberyards to be pompous and arrogant, Greg Goode thinks Lee's solution isn't much better. His solution is to now buy almost all of his tools and materials via the Internet. Karen Beard has also sworn off lumberyards after finding great service at Home Depot. During her early visits, she took in her plans or measurements and always found someone to help her, but now that she knows her way around she can usually find things herself!
Fred was reminded of his own lumberyard experience. After carefully selecting about two thirds of the No.1 grade "tight knot" cedar he needed, he was stopped by a lumberyard clerk and told he could "not select" the boards. The clerk then topped off Fred's stack of boards by throwing in the "loose knot" boards and all previously rejected. Having his grievance rejected by the yard manager, Fred was presented with a bill for $80. His response was to offer payment in the form of four $20 bills, two of which were torn in half (Fred retained half of each torn bill). To their objections, he told them they could "not select" the good bills from the torn. When told he could not leave without full payment, he made them unload his truck, and he drove away with a smile and has never been back since.
Barbara Gordon suggested persistence when first getting acquainted at a lumberyard. The first people you meet, Barbara explained, may be unskilled and low-paid laborers who know little of woodworking and have less motivation. Over time, however, she's met wonderfully helpful people and picked up great woodworking tips at all of the lumberyards she's visited in both Virginia and California.
Equipment or Design Failure?
Steve Giamundo thinks the 3/8″ blade may be too wide to make a 1.5″ radius. While it might work on the thin scrap piece, moving to thicker stock can make the blade wedge in the kerf, wander, and get pushed out or "bent" by the feeding operation. Steve thinks a 1/4″ blade could do the trick.