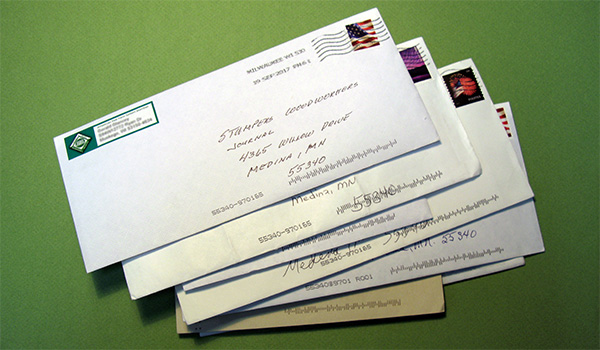 Talking of Table Saws…
A scant couple of weeks ago, we asked our Woodworker's Journal survey team some questions about table saws.
(What, you've never heard of the Woodworker's Journal survey team? It's a pretty cool thing, wherein woodworkers – including some of you – answer questions about your favorite hobby, and also get the chance to win some cool stuff. (Think tools.) We're not taking new applicants right now, but keep an ear to the Internet for when we are.)
Meanwhile, there's some interesting stuff that people had to say about saws – table saws, that is. – Editor
"One question that is missing from the Table Saw Survey would seem to be how many years have you owned and operated a table saw. The question asked was when you purchased your table saw. I just purchased a SawStop last year. I have owned and operated a Rockwell 10" Contractor since the fall of 1975 (purchased from JC Penney). That saw was still in excellent condition when I decided to purchase the SawStop for the safety upgrade. I do like the riving knife on this saw.
"Using a table saw with any of the current blade guards on the market, for the kind of projects I do, is inherently more dangerous than working without it. They are too bulky, and too wide to try to work around when you have to work on cuts requiring reinforcement in feed close to the blade and fence. When necessary, I utilize featherboards, push blocks that ride over the blade and are wasted as the blade, rising judiciously above the cut, slices the under-side of the push blocks. I also work often between through-cuts and under-cuts that do not completely sever the piece.
"For ripping rough stock, with the blade guard in place, the sharp, spring-loaded, anti-kickback palls engaging the board do not cause problems that can not eventually be planed off. The same cannot be said with finely planed board surfaces and today's paper-thin veneers on many sheet goods. There is just too much damage caused, some of which cannot be repaired.
"I know this is more opinion than you asked for. I just thought a couple of your survey questions might lead to unjustified conclusions of callous disregard for safety and lack of experience working with the equipment. Maybe this note will simply reinforce that conclusion. However, I can assure you that I have a high regard for all 10 of my digits remaining intact. As I said, safety is the primary reason I upgraded to the SawStop." – Bill Henderson
"I just completed the table saw survey and am concerned that my answers, although correct, convey the wrong impression. I have twice been injured by kickback from two different table saws, once requiring medical help. However, in both instances the kickback was the result of a combination riving knife/blade guard going out of alignment during the cut. The riving knife caused the kickback, and the blade guard obscured my view of the situation. So when I got my Ryobi saw, the blade guard went into the recycle bin." – David Lewis
"One item of note while taking your survey on table saw use. There was a question on whether I use the blade guard on my saw, from always to never. Although I was able to say that I now virtually use the blade guard all the time, there probably should have been a question to qualify if we use the stock blade guards or an aftermarket guard. For many years, I never used the guard on my Unisaw, it was only after I chose to invest way too many hundreds of dollars in an over-the-saw blade guard and the Unisaw stationary splitter that I can now say that I use the guard whenever possible. As everyone knows, the traditional American blade guard is a travesty and the best 'innovation' that saw makers can make is to introduce true riving knives with their saws (regardless of the guard). I look forward to the time when a serious retrofit riving knife is available for my current saw." – Tim
"I'm in the unique position to have used Delta, General and Powermatic table saws and have installed (out of the box to power up) SawStop table saws. When a choice was presented, I would use a Delta Unisaw first and then the General. The older model Powermatic (before the model 2000) always seemed clunky. The JET was reserved for use with a dado. While I haven't used the SawStop, the fit and finish seemed impressive while I was installing the (10) SawStop saws. Unfortunately, I did not get to actually use a SawStop table saw. (Probably next year I will get to.) All of the machines were maintained by a full-time technician that really knows what he is doing. (He could spend a week in my shop any time.)
"If I had to rank the quality of the table saws on a scale of 1-100 it would be:
95 Delta;
95 SawStop;
92 General;
87 JET;
85 Powermatic.
All of the saws were replaced this summer with the SawStop due to insurance costs, a specific requirement grant, political maneuvering and 'If you don't purchase SawStop table saws the woodworking program will be shut down' reasons. The old saws were getting toward 15 or 20 years in age but as good of condition or better than my 2006 Unisaw." – Rich Flynn
No Glue Squeeze-Out, No Glue Smears
This next response comes in reaction to a discussion in last eZine's Q&A section regarding glue smears. – Editor
"In your discussion of glue smear, you made a point that nowhere on television do you see much about finishing. True. Also, no one said strongly 'avoid glue smears altogether.' I was fortunate to take a woodworking class from Bob Van Dyke at Connecticut School of Woodworking in Manchester, Connecticut. Bob is extremely good, fastidious in his work, and avoids excess glue at all costs. In his class, he showed us how to not wipe off extra glue, but use a wood chisel to clean off any excess after it had hardened quite a bit. Of course, he really wanted us to not have squeeze-out at all!
"Bob has some on-line videos which show his process in which he puts on his glue and is very careful about excess glue. I think the part I find best is when he put the tenon into the mortise, but stopped before the tenon was 100 percent in and checked very carefully for glue, using the small brush to insure no problems. That was at the 2:55 point in the video. You can see it again late in the video when he completes the leg assembly.
"Anyway, you know much more about this than I do and I am sure you have heard of Bob and seen some of his work. By the way, I was always surprised to see Norm wipe off glue squeeze-out with a wet rag." – Mike Dill