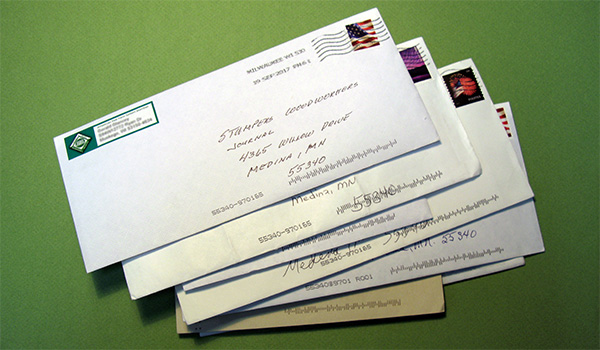 Last issue of the eZine was the traditional April tomFoolery many of you have come to expect from the Woodworker's Journal eZine.
Many. Not all.
For those of you who got the joke, we're glad we've had the opportunity to add some levity to your day.  – Editor
"I know you did not intend it this way, but this is one of my favorite birthday presents.  Oh, yeah, my birthday is 3 April and I've had way too many of them, but looking forward to reading many more of issues like this.  Again, thanks for continuing the tradition of spoofing folks every year." – R.L. Hoyle
"Love the April Fools edition of your newsletter. I enjoy reading all of the newsletters, and this one is very amusing."  – Dave Cohn
"Many thanks for the chuckles, Rob and Crew; I'll be smiling all day." – Pete Ferry
Of course, as woodworkers are wont to tweak project plans, we did have a further suggestion for the April 1 special edition's plan on "Making a Pallet out of Pallet Wood." – Editor
"I like your use of a pallet in your last email (ha ha), but I think I have made a better use of the wood." – Rob Robillard
And, on Another Note….
If you're actually planning to make anything from pallet wood, we did have a reader who shared a cautionary tale. – Editor
"A concern about the use of wood from pallets. Many pallets have been used in the shipment of toxic materials. Some of these chemicals can impregnate the wood. Pallets are used over and over without knowing what was shipped on them. A word of concern: a few years ago a student here in SoCal was making a project from pallet wood. The student developed a severe rash on his arms and face. Then others working in the same area seemed to develop a reaction. Maybe it was the sawdust and shavings from the pallet wood. Some research was done and it led to the thought that people were allergic to the wood. Or, the chemicals were in the scrap pallet wood. Consider, it is better to be safe than sorry." – Bill Kirchner
And, in response to the Cheap Glue Spreader Trick in eZine 373 (the one before April Fools), we heard this:
"I use the old credit cards and the ones they inundate us with. If you want "teeth," a little three-cornered file will do good." – Robert