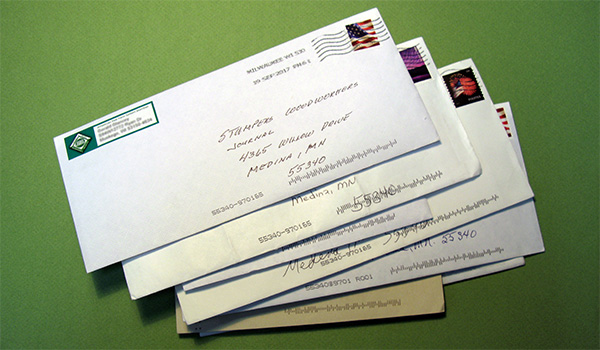 In the last issue out, we heard via Feedback from some of our previous questioners with "after" pictures. It's always good to hear some follow-up from any of you, on anything "Woodworker's Journal."
For instance, in the last issue of the eZine, our Industry Interview focused on the Osborne E-3 Miter Guide, and one of the comments was from someone who had received just that tool via one of the tool giveaways in Woodworker's Journal magazine. – Editor
"Last year I received an Osborne Miter Guide from Woodworker's Journal for a question I had sent in. Right out of the box I cut VERY accurate 90 and 45 degree cuts without any further trimming or fussing needed. Great story about the company and the guide." – Mike G.
Plus, we also hear some feedback regarding the extra woodworking content we send to your inboxes. For instance, here's a comment – regarding one of our recent videos – which reminds all of us to practice safe woodworking practices. – Editor
"I just finished watching the video of you using a CNC to produce a template for a tabletop. You then proceeded to use the template to rout the edges of the tabletop. I have used many templates in a similar manner, but I noticed one major difference. You were not using any dust collection devices, and you also failed to use any dust protection for you lungs. Are you sure this is the image you wish to project to other woodworkers? In the video the air was filled with dust and there you are, sucking it all in. I use routers that collect the majority of the dust as it comes off the bit, and I know that Rockler has several devices available. In the future, it might be wise to show some of the newer woodworkers that you really aren't that careless about your health, as I am sure you have stated otherwise on Woodworker's Journal numerous times." – R. L. Hoyle
Here's a response from the star of the video: "You have a good point; a face mask should have been used. Good catch, and thanks for watching!" – Rob Johnstone
Do you have something to say? Let us know, either in the comments below, or by emailing online-editor@woodworkersjournal.com.