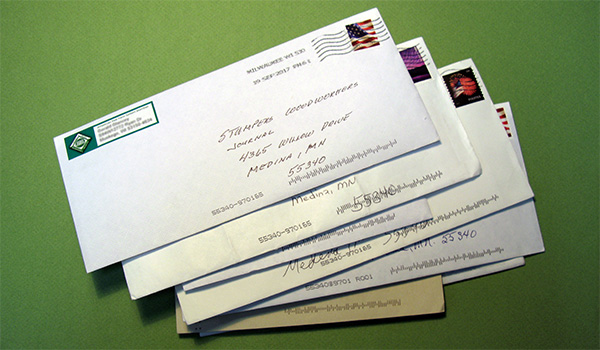 In the last issue of Woodworker's Journal Weekly, Rob mentioned some of his "inventions" that combined his woodworking and hunting hobbies – and wondered if other woodworkers had also built some of their hunting supplies.
Some have indeed. – Editor
"For my upland hunting trips, I can put my dog(s) in the back and still have important items like my guns and ammo safely tucked away from dirty feet and prying noses of my dogs. Plus it is safer for transport and easy to retrieve when you get to a new field or hunting location." – Brad Brunken
"Indeed, I've often made things for hunting and shooting.  Attached is a pic of a simple, however effective, rifle vise, with a cam to tighten it against the back of the stock.  I have a very nice gun cabinet my father made when he was in junior high shop class, circa 1945. He ended up an incredible built-in finish cabinetmaker." – Rick Corbitt
"While I have not had occasion to make much of beauty in regards to shooting, i have used woodworking for practical applications. My gun bench and gunpowder cabinet I built with leftovers from the shop. I also built a cleaning frame for my AR that holds the lower and barrel at just the right configuration so that dirty patches pop right out of the end of the barrel and into the trash. My leather raft is reserved for gunbelts and holsters. It's a lot more fun to design and sew my own and much less expensive." – Lee Ohmart
"Being of a 'certain age,' my tramping through the woods days are behind me, but I still have a foot in my other expensive hobby, the shooting sports. I make a variety of pens from the usual kits, but I also make a very popular pen out of real rifle brass. The top is a 30-30 Rem., and the bottom is a 30-06 Sprg. I'm sure you know what I mean. I call it my '30-30-06.' You'll never guess how I came up with the name! Deep, dark secret! The guts is a slimline 7mm pen, the tip is replaced with a brass plate tip that looks like a jacketed hollow point, and the clip is a lever-action replica in place of the original. A few additional clip varieties are available as well." – Bruce Edsten
And, for at least one reader, it was a (presumed) hunting hobby that actually got him into woodworking. – Editor
"In a roundabout way, hunting is what got me into woodworking. After getting into archery through teaching it at a camp, I wanted to get my own bow and hopefully someday harvest a deer with it. After going back and forth for several months over what type of bow to get, I decided I would get the most satisfaction from building my own bow. Then eventually I would make arrows and eventually hunt a deer with it. That was the longer and harder route, but hey, if I ever succeeded it would be well worth it.
"Well, I did my research and made an English style longbow. It turned out flawed, but more or less successful. I have enjoyed shooting it and it hasn't blown up in my face yet. The part where I would start getting into hunting hasn't panned out, at least not yet.
"But the woodworking part has definitely stuck, despite no intention on my part for it to do so. It's great for my mental health to get away from the daily grind and concentrate on a woodworking project. I've built many things since then, ranging from furniture, toys, and home improvement projects. My most recent build was a bookshelf, which was the first project I built that made me feel like a real woodworker. I even built a much better-looking bow for a friend of mine who is an avid hunter. Maybe some day I will get into hunting, but until then I am enjoying the hobby it did lead me into." – Matt Brubaker