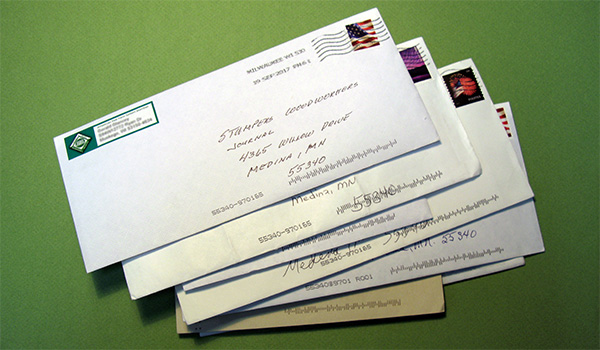 Last time out, Rob asked the eZine faithful what was on your project list for the end of the year. Here are some of the items on the agenda. – Editor
"First, I'll be building a large (6′ wide, ceiling height) bookcase with cabinet below for my wife's home office that will help her to organize some of her clutter. Secondly, I'm building a case to hold special golf balls (logo balls, balls from courses I've played) so I can mentally revisit my out-of-doors time." – Bill Metheny
"I found a turned Christmas ornament: 1.5 X 1.5 X 2 block, hollowed out with Forstner bits, side of 'pretty' wood glued and turned. Pretty cool, at least the wife thinks so. I'm not really a turner, just a woodworker who happens to have a lathe, if you know what I mean. So I have been expanding my skill set and making the ornaments for gifts. I'm only making six, so I think I'm going to make boxes for storage to go along with the ornament. Put the date, that sort of thing. So far, I have made two of the six. Each one gets a little better as I learn how to turn a sphere and put finials on the ends. Great question, keep up the good work." – Doug Whitson
"Thanks for a great eZine! It is one of my weekly highlights, opening your magazine! I am planning on making myself a desk for my study. I have sufficient West Australian marri to do a really good and imaginative piece! The only thing that is holding me back is an imaginative plan. I have West Australian jarra that I could use for contrast as well as West Australian flame she oak which I want to use as drawer fronts. (You guessed it, I live in Australia – on the Eastern seaboard, actually.) Any plans or suggestions would be more than welcome and may even result in a bottle of good Ozzie red wine!" – Steve Maritz
Steve, you can find several desk plans by searching for "desk" on the Woodworker's Journal Store. (Shiraz would be appreciated.) – Editor
"Here is an easy and customizable gift idea for kids in the family. I just made this one for my son after his cheap plastic dinosaur bank broke. (Three-year-olds are tough on the equipment.) It is a simple dovetail box with a sliding lid. Used super-cheap pine on this one, but you could get as fancy as you wanted with the wood choices. And you could put any number of toppers on it as well to match your child's current favorite subject. This is still on my list because my other two kids don't have one yet. Thanks for the opportunity to share!" – David Lashbrook
"I'm currently building a couple of Adirondack chairs for a guy down the street. I'm also building two matching footstools of my own design to go with them. After that, it's shop cleanup and organization time. I plan on building one of those handy little sandpaper organizer shelves with the slide-out drawers. It's probably a pipe dream with my current uncertain cash flow (government shutdown victim), but I've got plans swirling around in my head to build a side table to go with the aforementioned Adirondack chairs and maybe an end grain cutting board.
"At any rate, I think making gifts out of the scrap lying around is a good idea. Someone can always use a keepsake box, maybe with dovetails. [I also found] plans for a small Christmas reindeer statuette that you cut right on the band saw! That'll be my fallback gift if a federal budget isn't passed soon." – Kyle Cooper
"I'm new to woodworking but have jumped right in. My six-year-old's Pinewood Derby® was the catalyst to get me started. Two cars and a tank later, I'm hooked! My bride designed a bed for our 10-year-old daughter, I'm about halfway finished with the build. Probably another three or four weekends to wrap it up. Then I tackle my first dresser! WooHoo! For gifts, I've been tossing around the idea of an attractive box to hold a bottle of wine. I'm still working out the design, but that's the gift idea for the holidays, so I guess I better get started lest it become the gift that needs to be finished, 'from last year.'" – David Chambers
David, if you're still looking for that design, you might want to check out the February 2010 issue of Woodworker's Journal (available in that year's Annual Collection CD), in which Ken Minnaert made a Tambour Gift Box that was, perhaps coincidentally, the perfect size to hold a bottle of wine. – Editor
"I think I'm an unusual woodworker. My project for this winter is a new facade for my antique Dutch street organ. (For examples, do an Internet search for Dutch street organ and choose images.) Here are photos of the decrepit pieces I'm starting with, and the same organ as it looked when built circa 1910 in Belgium.I'm calling it a restoration, though my friends are calling it a resurrection. I also plan to build a wall clock." – Mike Schoeppner
Library Ladders Must Be in Season…
This woodworker shared a project he'd already made — which he remembered when he saw one of the items featured in last eZine's What's In Store section. – Editor
"That was a nice surprise to see the issue about the library steps. As it happens, I had just finished my version a few weeks earlier. To the delight of my customer!" – Henk Cusveller
Exotic Woods
We also heard from another woodworker who wanted to add to the conversation about exotic woods from our WebSurfer's Review section. – Editor
"I love the feel, grain and texture of cocobolo. Unfortunately, I have found out I am deathly allergic to it." – Eldon Harmon
Will Wood in the Bathroom Move … or Won't It?
Plus, we heard commentary from those who wanted to add to the discussion in our Questions & Answers section about "Will Wood Movement be an Issue in my Bathroom Project?" – Editor
"As much as I hate 'Rules of Thumb,' there is one for wood movement. When building furniture, cabinets, boxes, etc. it is important to know where the wood is starting and where it can go. Usually we start with either kiln-dried or air-dried wood. The moisture content is usually 6 percent to 8 percent. The project can go to the desert or the tropics. In the desert, wood shrinks, and in the tropics, wood expands. Here is where the rule of thumb comes into effect. The rule, 1/8″ per foot. Almost every species will fall into the 1/8″ per foot. When building a panel, allow 1/8″ per foot for expansion or shrinkage. Glue or fix the center of the panel and assume 1/8″ at either end or +- 1/16″." Rich Flynn
"I must take issue with your replies regarding wood projects destined for the bathroom in your latest issue. If your bathroom is a high humidity environment, then you have more problems to worry about than wood movement in a project. Sure it's high for maybe an hour, but at most once a day! The rest of the time, assuming you have proper ventilation/extract, it should be no higher than the rest of the house. As wood takes up moisture slowly, it will only be slightly worse than anywhere else. I agree with all the advice given, though; you can't be too careful about movement! There's nothing worse than finishing a project and then watching it slowly fall below your minimum standard." – Roger Webb