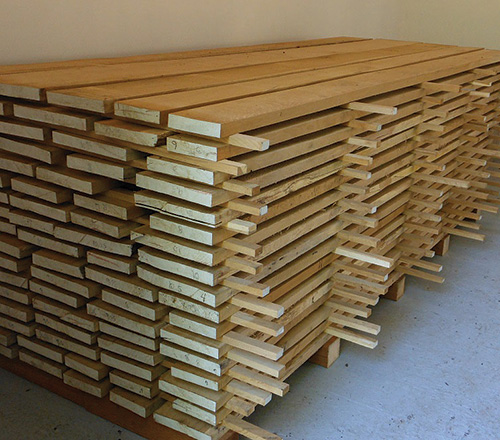 I have a truckload of red oak planks that were sawed from a tree in my yard. I piled them, spaced with stickers, and let them air dry for 3 years. Then I had them planed, and moved them into my garage to dry for another year. A local furniture maker told me that they're only good for firewood, since they weren't kiln dried. He claims that they will all inevitably crack and warp because air drying does not change the molecular structure of the wood as kiln dried does. I would love to get some other opinions on this.
Michael Dresdner: Good grief, what hogwash! I have heard the exact same argument in reverse — that only air-dried wood was worth using. (Guitar makers used to be particularly big on using only air-dried wood, in spite of the fact that the vast majority of guitars are made with kiln-dried wood.) Both statements are silly. If wood is dried correctly, no matter what the method used, it is dried correctly. As a matter of fact, I know of at least two wood processors here in my area that quick-cure cut wood in a vacuum chamber instead of a kiln, and their results are absolutely stellar. Of course, there are many ways to screw up wood both in a kiln and out of it. For what it is worth, wood that is going to crack and warp usually does so during the drying process, so if your wood came out clean, flat, and whole, I'd guess there's some great furniture in its future.
Simon Watts: Your wood has now reached equilibrium with the conditions of humidity prevailing where you live. That is probably somewhere between 10% and 16%, but it might be a good idea to check it. I much prefer working with air-dry wood, especially oak. Unless kiln-drying is done very carefully, it can cause the cell walls to collapse, degrade the timber, and produce lens-shaped cavities within the plank. You've done the right thing, so go ahead and make what you have in mind while enjoying the virtues of patience.