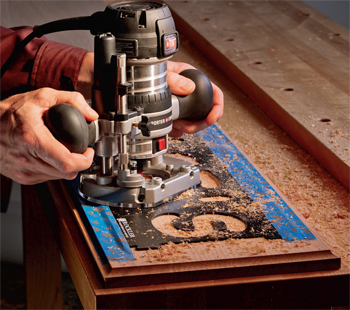 If you think they're just hopped-up laminate trimmers, it just ain't so. Here's how these pint-sized plunge routers tested.
Bosch broke new ground for compact handheld routing seven years ago when its Colt Palm Router entered the market, and I wondered then if the "more routing with less router" theme would catch on. It definitely has. In the years since, Trend, DeWALT/PORTER-CABLE and, most recently, Makita have followed suit with their own versions of 1- to 1-1⁄4hp compact routers. Now, you can choose from five different models — all with plunge bases that, to me, sacrifice little in the way of precision or convenience from their larger kin. But, to explore their merits, I've run the group through some rigorous routing tasks: full-depth edge profiling with a 1/2″ cove bit, shallow freehand mortising and deep guided mortising in oak and hard maple, and templated letter carving. In a nutshell, here's what it proved: these versatile, easy-to-handle tools are fully capable woodworking routers.
Bosch PR20EVSK Compact Plunge Router Kit
Review
Street Price: $199
Peak HP/Amps: 1 / 5.6
Collet Size(s): 1/4″
Speed Range: 16,000-35,000rpm
Plunge Depth: 2″
Weight in Plunge Base: 5.85 lbs.
Web/Phone: www.boschtools.com / 877-267-2499
The Colt Palm Router motor pack and its fixed base are unchanged for this kit, but what's brand-new is the plunge base. So, I'll cut right to that chase. The ergonomic overmolded handles are modeled after Bosch's MR23 mid-size machine, so they're sturdy and comfortable. Its left-hand plunge lever engages the plunge action when depressed and parks it firmly to depth when released: an intuitive approach. When driving bits down into my test lumber, the action was fluid, and its internal springs lifted the bit up and out briskly.
Bosch provides a seven position turret, an easy-toread depth scale in Imperial or metric readout and a microadjustable stop rod. The clear plastic depth indicator stands off from the scale a bit, which could introduce parallax error unless you look straight on, so use care when setting it.
Bosch fashions the clear round sub-base with an oversized bit opening, and it accepts Bosch's spring-loaded collar to hold notched guide bushings. A steel edge guide comes standard, too.
Once saddled up, the Colt had no trouble tackling oak and maple; it held its depth settings accurately (as did all the test group) and cut the cleanest-walled mortises. The Colt system could really use dust collection, which isn't provided, but overall this was a solid performer for $199. If you already have a Colt, you can buy the plunge base separately for $89 to $99.
DeWALT DWP611PK and PORTER-CABLE 450PK Compact
Street Price: $189
Peak HP/Amps: 1.25 / 7
Collet Size(s): 1/4″
Speed Range: 27,000rpm
Plunge Depth: 2″
Weight in Plunge Base: 7.6 lbs.
Web/Phone: http://www.portercable.com / 888-848-5175
DeWALT and PORTER CABLE share the same corporate umbrella these days, so it wasn't surprising when two similar fixed-base/plunge-base kits launched at the same time a couple of years ago. They share many matching strengths to complement their "double-take" looks. The little power plants muscled easily through hardwood, thanks to feedback circuitry that maintains power under load. DeWALT's iteration comes with electronic variable-speed (EVS); PORTER-CABLE's doesn't. Flat tops and spindle locks, with extra internal detents, made bit changes simple with one wrench. And the motors engage into the plunge bases almost effortlessly: straight down and in, then snap a buckle closed. Good design.
Their plunge action is silky smooth with levers long enough to reach easily by thumb. Stab them, and the bases plunge; let go, and they lock securely. While there was some slight play in the plunge motion, it didn't seem to impact mortising accuracy.
These depth-setting systems are the best of the test group, with cursors that are flat against their bright scales and micro-adjustment on both the depth rod and their five-step turrets. I also appreciated that the sub-bases accept standard 1-3⁄16″ template guides, because these tools will be handy for moderate template work.
Now, for a few differences. DeWALT outfits the motor with two LED lights that shine down into the bit area while you cut — a helpful enhancement. PORTER-CABLE's 450PK has none. DeWALT outfits its fixed base with a longer square-edged sub-base, which adds stability when routing small work or steering around corners. The P-C base is small and round. DeWALT's bit opening in the fixed base is larger than P-C's, which is sized for template guides.
Street Price: $199
Peak HP/Amps: 1.25 / 7
Collet Size(s): 1/4″
Speed Range: 16,000-27,000rpm
Plunge Depth: 2″
Weight in Plunge Base: 7.7 lbs.
Web/Phone: www.dewalt.com / 800-433-9258
When loading the motors into their fixed bases, a depth collar must first be unbuckled and threaded onto the motor, then the base housing snaps onto it. The collar and an adjustable ring scale beneath it work well for setting depth changes as fine as 1/64″.
The circumference of the fixed-base housing is quite large and could feel a bit unwieldly in smaller hands.
These two kits come with a collet wrench and duffel bag, but there is no vac attachment or edge guide here (they are available as accessories). Despite the limited extras, these rugged little routers were a pleasure to test-drive overall.
Trend T4 Plunge Router Kit Review
Street Price: $99
Peak HP/Amps: 1.1 / 6.6
Collet Size(s): 1/4″, 6mm, 8mm
Speed Range: 11,500-32,000rpm
Plunge Depth: 1-3/8″
Weight in Plunge Base: 7.7 lbs.
Web/Phone: www.trend-usa.com / 877-918-7363
It's fun when a tool surprises during a review, and a couple smart features of this T4 dedicated plunge router did just that. First, the router's plastic dust port connector surrounded the bit opening so effectively that everything from mortising to letter carving was virtually debris-free. Wow! On three other machines without a dust fitting, I had a mess to clean up with each test cut. The T4 also has a screw-on adapter ring that outfits it for standard template guides. Very helpful.
This router is a couple inches taller than the competition, but it still feels nicely balanced, and the round plastic handles are comfortably sized. In terms of plunge styling, the base locks when you depress a rear lever on the right; otherwise, plunge motion is always in effect. It worked well.
The T4's depth stop rod is stamped with a tiny metric scale that's unpainted, and it's harder to read than others. Still, the three-position turret offers micro-adjust at each step for fine-tuning cuts. There's no feedback circuitry to maintain torque output, but that didn't seem to matter during heavy cutting tasks. It chewed through my cuts on par with the rest. The motor does have a spindle lock, EVS and access to motor brushes. You can even remove the motor to use it as a grinder.
An edge guide, a 5/8″ O.D. template guide and a plastic carry case round out this budget-friendly kit.
Makita RT0700CX3 Compact Plunge Router Kit Review
Street Price: $239
Peak HP/Amps: 1.25 / 6.5
Collet Size(s): 1/4″, 3/8″
Speed Range: 10,000-30,000rpm
Plunge Depth: 1-3/8″
Weight in Plunge Base: 6.1 lbs.
Web/Phone: www.makitatools.com / 800-462-5482
Makita takes a "shotgun" approach at the compact routing market here, with a kit that offers every imaginable accessory: fixed, plunge, offset and tilt bases, a trimmer roller guide, edge guide, vac attachments for both plunge and fixed bases, even a drill-style side handle and a big padded carry case to stow it all. The extras will appeal to the countertop and cabinetry crowd, but for woodworking, I think it's more than necessary.
A powerful motor with EVS, soft-start and torque control slips between bases with the flip of a buckle lever, and it was gutsy in testing. The On/Off toggle switch faces left, so you can power up or down without taking your hands off the plunge base's soft rubber handles. Nice! But oddly, the plunge lever is too short to activate by thumb like the other test routers, and that's inconvenient. The depth stop on the plunge base has a red disk pointer; a hairline cursor would be easer to view accurately. The bases accept Makita's steel template guides, not standard sizes.
While the fixed-base vac attachment kept the cutting area really tidy, I can't say the same for the plunge-base dust port, which struggled for suction; chips clogged up around the cutting area quickly. I eventually removed it to complete my testing.
With a few refinements, Makita's plunge base could be even better, and its overmolded fixed base is comfortable in hand. There's a lot of potential here, but is an extra $40 or more over the other tools worth it for the additional bases? That's a question only you can answer.
Compact Plunge Router Kit Review Conclusions
Here's a tough judgement call, because I'm happy to see so many strong contenders in this new and growing class of routers. Given its low cost and excellent dust control, Trend's T4 seems a great buy. But a fixed base can be handy to have, too. Bosch and DeWALT, with two bases, run a neck and neck race for pricing and performance. While both tools could really use standard dust collection, I'm going to tip the scales in favor of DeWALT. Those LED lights are a really helpful addition I'd like to see across the board. By a nose, it wins my "Best Bet" pick.