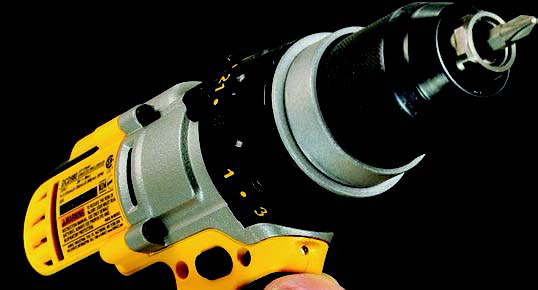 I test and review nine 18- to 21.6-volt drill drivers and pick my favorite.
A big drill with a modern 4-pole or brushless motor fed by a powerful lithium-ion battery churns out enough torque to drill monster holes and drive the longest screws. Plus, the high amp-hour ratings of the battery packs that come with these tools allow you to do enough work on a single charge to vanquish even the most challenging projects.
So, which one should you buy? To maintain an "apples to apples" comparison, I'm not including drills that come with lower capacity slim-pack-style batteries, such as Craftsman's C3 35704 or PORTER-CABLE's PCCK600LB. Although these are also plenty powerful, they just don't have the extended run time of the heavy-duty models featured in this article.
The Performance Trials
In addition to making observations about each drill/driver's features and ergonomics, I put each drill to all the usual homeshop kinds of tasks — drilling holes in wood and metal, driving screws, etc. But I also wanted to probe the outer limits of performance for each model. Therefore, I subjected the drills to a series of torturous tests which pushed each one to the very edge of (or, in some cases, beyond) the limits of its abilities.
In the first test, I wanted to see how much maximum torque each drill could deliver, so I drilled a series of 1″-diameter holes through seasoned lumber — the kind of job you face when running new electrical circuits into a family room. I chucked up a not-too-sharp 1″ Forstner bit (remember, this is the real world) and set the drill to its highest gear/speed range and disengaged its clutch. For the next trial, I switched the drills into low gear and chucked up a 1″ self-feeding auger bit — the kind electricians use with super-heavy-duty corded drills. This bit really pushes cordless drills to their limit, as the bit pulls itself into wood very aggressively. I gave each drill 1 to 10 points based on its overall drilling performance.
For my second test, I checked how much run time each drill/driver could deliver on a single battery charge. About the toughest test I could come up with was to drive large lag bolts; the kinds you might use to mount construction hardware when building a deck or shed. I fitted each drill with a 1/2″ socket driver, then ran lag bolts into 1/4″ pilot holes drilled into construction-grade fir 4x4s. I counted the total number of bolts each drill was able to drive before it ran out of juice, and I awarded points accordingly. I also awarded bonus points to the speediest performers.
Once I had run down the battery packs, I wanted to see how long it would take to recharge them. After waiting for each pack to cool (important for long battery life), I set it into its charger and recorded the time it took to reach a full charge. I then gave each model points: 10 for the fastest charging time, and proportionally less for each of the others.
Bosch DDH181 Drill/Driver Review
Street Price: $280
Volts: 18
Motor Type/Geared Trans. Range: 4-pole/2
Clutch Settings/Separate Drilling Selector: 25/No
Built-in Light?/Number of LEDs: Yes/1
Net Weight (w/ power pack): 4 lbs. 11.3 oz
Web/Phone: www.boschtools.com / 877-267-2499
Bosch DDH181 In your hand, the Bosch comes across as being stout and hefty but reasonably compact and well-balanced. Its grip isn't too thick or too thin and fit my medium-sized hand very well. Initially, I found it a bit tough to operate the drill's reversing switch with my thumb. But I quickly got used to it. The trigger action is responsive when ramping the tool up from 0 rpm — really important when setting screws, as too much startup torque makes for stripped screw heads. The motor is responsive, without too much lag when trigging the drill on. The unit's 25-position (plus a drill setting) clutch selection ring is moderately stiff but easy to set and feels very positive. Their two-position gear selector was one of the easiest to operate in this test group.
The Bosch has a nice all-steel chuck, with a floating nose cone designed not to mar the work surface, should the chuck make contact during drilling or driving (a feature also present on the Festool, DeWALT and Metabo). It's also quite stubby, which helps keep the overall top length down — a good thing when working in confined spaces.
The Bosch has a stout feel in your hand. Unfortunately, that didn't translate into good scores in my performance tests, where the DDH181 was only an average performer. I was particularly unimpressed by the speed with which the otherwise torquey Bosch drove fasteners: Top speed in low-gear is only 380 rpm. Its battery charger also disappointed, taking an incredible hour and twenty-five minutes to fully top up a depleted pack.
DeWalt DCD980L2 Drill/Driver Review
Street Price: $280
Volts: 20 max
Motor Type/Geared Trans. Range: Brush/3
Clutch Settings/Separate Drilling Selector: 22/Yes
Built-in Light?/Number of LEDs: Yes/1
Net Weight (w/ power pack): 5 lbs. 3.7 oz
Web/Phone: www.dewalt.com / 800-433-9258
The big yellow and black DeWALT drill/driver feels extremely solid in your grip, but it's also a handful (third heaviest in the test). It's the only drill in the test group that has a three-speed geared transmission. Unlike the majority of drills which top out at 1,600 rpm, this unit delivers a whopping 2,000 rpm maximum speed. This is very useful when drilling small holes in metal and allows you to use drill accessories such as rotary rasps. The drill's all-metal chuck feels very strong, and its jaws feature serrated carbide inserts which grip bits with authority. The motor reversing switch is well placed, but it's a little stiff to operate. The side handle is easy to attach and remove.
I'm a big fan of a separate drill/drive selector on a drill. It can save time when you want to switch quickly from drilling to driving. By having a separate selector, you can leave the clutch on the desired setting and still switch to drilling (with full power).
If I had to pick a phrase to describe the DeWALT's performance, it would be "rock-solid." Both in drilling and driving, the DCD980L2 was right at the top, bested only by the Festool. Not only did it hold its rpms well during my brutal lag bolt driving test, but its higher-speed low gear also drove the bolts faster than any other drill. And, its battery recharge time was better than average.
Festool T18+3 Drill/Driver Review
Street Price: $625
Volts: 18
Motor Type/Geared Trans. Range: Brushless/2
Clutch Settings/Separate Drilling Selector: 25*/Yes
Built-in Light?/Number of LEDs: No
Net Weight (w/ power pack): 4 lbs. 3.3 oz
Web/Phone: www.festoolusa.com / 888-337-8600
(*Clutch torque limited electronically)
"Sophistication" is the word that came to my mind when I first used the Festool T18+3, with its quick-change chuck system and brushless motor managed by electronically commutated technology (ECTEC). With no commutator or brushes, there are fewer motor parts to wear out. The electronics monitor battery voltage, temperature and power output, to optimize performance and protect the tool from damage. They also operate the T18+3's unique clutch: With the drill/drive selector switch in the drive position, an adjustable dial determines the amount of torque delivered to the bit. When the set torque is reached, the drill simply beeps and shuts off, thus saving energy, for longer battery run time. This electronic clutch has a very good range of torque delivery, from very low settings that allow you to sensitively set tiny screws in soft woods, to high settings powerful enough to drive the biggest screws.
Because the T18+3 is so quiet and smooth in use, my initial misperception was that it wouldn't have the power of other models (I had the same feeling the first time I drove a Tesla electric sports car). It's also the lightest drill in this group. But during my drilling and driving trials, the Festool proved to be an absolute stellar performer, delivering top scores in both tests. It was especially impressive during the driving longevity test, where it drove significantly more lag bolts than its nearest competitor. Given the torque, one thing I missed was a side handle: none is provided nor available as an accessory.
Hitachi DS18DBL Drill/Driver Saw Review
Street Price: $260
Volts: 18
Motor Type/Geared Trans. Range: Brushless/2
Clutch Settings/Separate Drilling Selector: 22/No
Built-in Light?/Number of LEDs: No
Net Weight (w/ power pack): 4 lbs. 5.8 oz
Web/Phone: www.hitachipowertools.com / 800-448-2244
At first glance, you might mistake Hitachi's DS18DBL as a "compact" drill model: Its brushless motor is more trim than its sibling, the DS18DL, which is notably larger, yet delivers less motor torque. Like the Festool T18+3, the DS18DBL uses electronics to take advantage of the brushless motor's capacities, but in a unique way: A small button just above the Hitachi's battery pack selects one of four electronically controlled speed ranges. A segmented LED readout shows which speed is selected. Because the DS18DBL also has a two-speed mechanical gearbox, that means that the drill offers eight different speed ranges. Hitachi's "digital transmission" limits the amount of current running to motor. You can dial down the power and tackle tasks on a single charge. Unlike the Festool drill, which uses electronics to limit its maximum torque output, the DS18DBL uses a traditional mechanical clutch and brake.
In use, the Hitachi is pleasurable to run. Its pistol grip is thinner than most other models, and its rubber overmolded surface is comfy to hold. Trigger response is crisp and sensitive, and direction reversal is quick and positive. The drill's 22-position mechanical clutch ring isn't difficult to turn, but settings don't click in all that positively.
Unfortunately, the Hitachi didn't do as well in my performance tests as some of the other drills. It delivered decent run time for the lag bolt driving test, but ran more sluggishly under heavy load than the best performing models. The Hitachi was particularly weak during the hole drilling test, slowing noticeably when boring with the auger bit.
Makita LXFD03 Drill/Driver Review
Street Price: $279
Volts: 18
Motor Type/Geared Trans. Range: 4-pole/2
Clutch Settings/Separate Drilling Selector: 21/Yes
Built-in Light?/Number of LEDs: Yes/2
Net Weight (w/ power pack): 5 lbs. 2.3 oz
Web/Phone: www.makitausa.com / 800-462-5482
The LXFD03 features sturdy construction, twin LEDs mounted just below the side handle mount and a good amount of shock-absorbing rubber overmold on the back end of the body. The Makita's side handle is easy to install and remove and is long enough to offer good control.
I found the LXFD03 to be a solid performer. I liked its quick trigger response but found the reversing switch a tad too short: I couldn't use the side of my index finger to press the switch when shifting from reverse to forward direction (like I usually do with a cordless drill). I could do it by changing my grip slightly, but this took some getting used to. Also, the Makita's clutch and drill/drive selector rings are relatively narrow, which makes adjustments a little more challenging, especially if you're wearing work gloves.
Since Makita's published maximum torque numbers for the LXFD03 are high (850 in. pounds), I was a bit surprised by this drill's somewhat lackluster performance in both my drilling and driving tests. Whenever I pushed the drill hard, it bogged down a bit, although it never stalled completely. One quirk of the Makita was that it generated lots of motor sparks during routine use, and exuded a bit of a hot electrical smell.
In the recharge time test, the Makita simply smoked the competition. Its "musical" battery charger (that plays a user-selectable tune when the charge is complete) replenished an empty pack in a blazing fast 26 minutes — less than half the time of the majority of other chargers.
Metabo BS18 LTX Quick Drill/Driver Review
Street Price: $310
Volts: 18
Motor Type/Geared Trans. Range: 4-pole/2
Clutch Settings/Separate Drilling Selector: 7/No
Built-in Light?/Number of LEDs: Yes/1
Net Weight (w/ power pack): 4 lbs. 10.8 oz
Web/Phone: www.metabo.us / 800-638-2264
Made in Germany, the Metabo is an unusual European drill closest to the Festool in its overall design approach. Like the T18+3, the Metabo BS18 has a very compact body and an innovative removable chuck. With the standard chuck removed, you can mount a quick-change bit holder or mount a hexshanked drill or driver bit to the end of the motor shaft itself. The latter allows the BS18 LTX to work in extremely tight spaces; a big plus for home DIY projects and cabinet installations.
In lieu of a clutch selection sleeve behind the chuck, the Metabo features a simple lever mounted atop the body. Sliding the lever sideways lets you choose between seven detented clutch settings and a no-clutch drilling function. The clutch delivered plenty of power when driving large screws, but its lowest setting delivered too much torque when tackling a sensitive job, like setting 1/2″-long #6 screws into softwoods. I also had a small problem when gripping the top of the Metabo's body, as I'd occasionally inadvertently change the position of the clutch selector. The BS18's gear speed selector is a pair of levers on both sides of the drill's motor housing. It's easy to operate by righties or lefties, and with a little practice, you can change speeds with the same hand that's gripping the drill.
Although I liked the Metabo's balance and compact body size, I was somewhat underwhelmed by its performance. Despite having plenty of torque for average wood shop tasks, it didn't quite have the oomph of some of the other drills, especially during my drilling power test.
Milwaukee 2610-24 Drill/Driver Review
Street Price: $330
Volts: 18
Motor Type/Geared Trans. Range: 4-pole/2
Clutch Settings/Separate Drilling Selector: 24/Yes
Built-in Light?/Number of LEDs: Yes/2
Net Weight (w/ power pack): 5 lbs. 8.3 oz
Web/Phone: www.milwaukeetool.com / 800-729-3878
At 5 pounds, 8.3 ounces, the Milwaukee 2610-24 is the heaviest drill in this test, but it is well-balanced and feels good in use, with a comfortable overmolded handle and well-placed reversing switch. It's a smooth running drill, generating very little vibration even at top rpm. I loved the feel of the 2610-24's clutch adjusting collar; each setting clicks in both easily and very positively. However, I found that even on its highest setting, the clutch cut out at lower torque than I would've liked. Set on their highest clutch settings, all the other drills were able to fully drive 3″-long, #10 wood screws, while the Milwaukee fell just a little short. I did like its drill/drive selector ring, which is easier to set than the ring on the DeWALT. I can't say the same for its gear selector, which was stiff to slide.
The Milwaukee drill runs on "Red Lithium™" battery packs that are reputed to operate in extremely low temperatures at which most Li-ion-powered tools barely run. The pack features a fuel gauge, but the small test buttons are very stiff and hard to push. During recharges, the four LEDs on the fuel gauge light in turn; more lights mean the pack is closer to a full charge — very helpful (the RIDGID's charger also does this). Milwaukee is also apparently the only company that uses the simple "stoplight" color code system on its charger: red light means no go; the pack is charging. Green light means go; the pack is charged.
With the side handle mounted and the drill/drive selector set to the "drill" position, the Milwaukee is an absolute torque monster. It's the only drill that passed both stages of my drilling test, blasting holes through lumber without the slightest hint of stalling. Although it achieved only an average score in my driving longevity test, the 2610-24's rpms didn't drop appreciatively until the pack was nearly drained.
Panasonic EY7460LZ2S Drill/Driver Review
Street Price: $377
Volts: 21.6
Motor Type/Geared Trans. Range: 4-pole/2
Clutch Settings/Separate Drilling Selector: 18/No
Built-in Light?/Number of LEDs: Yes/1
Net Weight (w/ power pack): 5 lbs. 4.8 oz
Web/Phone: www.panasonic.com / 800-211-7262
The first thing you notice about Panasonic's largest drill/driver is its enormous battery pack, that delivers 21.6 volts and has 3.1 amp hours of capacity. The pack's weight does provide some counterbalance for the large body, although the tool does feel rather massive. All the Panasonic's controls — trigger, range selector, reversing switch — are well realized and operate smoothly.
One quirk is that when you first pull the trigger on, motor speed jumps directly from zero to 100 rpm, making it more difficult to use in some instances. The drill has a single LED light in its base, with a button switch to turn it on. It turns off automatically after 5 minutes.
Despite its slightly greater voltage, the Panasonic didn't perform very well in my drilling and driving tests. It was able to bore 1″ holes using the Forstner bit, albeit sluggishly. But when I used the self-feeding auger bit, the Panasonic's electronics would simply cut power to the motor when the bit was about 1″ deep. Similarly, the drill was a bit more sluggish than the other drills when driving lag bolts. The power would also occasionally cut off with the drill in reverse, when I tried backing out one of the bolts. Overall, a disappointing performance.
RIDGID R8611501K-X4 Drill/Driver Review
Street Price: $270
Volts: 18
Motor Type/Geared Trans. Range: 4-pole/2
Clutch Settings/Separate Drilling Selector: 24/Yes*
Built-in Light?/Number of LEDs: Yes/2
Net Weight (w/ power pack): 5 lbs. 4.6 oz
Web/Phone: www.ridgid.com / 800-474-3443
*Drill selector includes hammer setting
The heavy-duty R8611501KX4 has a nice slightly-biggish grip, with textured overmold that lends confidence. Its reversing switch is well placed, but slightly stiff to operate. The RIDGID's drill/drive selector has a pair of levers that extend on opposite sides of the body just behind the clutch ring. The levers make it easier to change settings, especially when you're wearing gloves. In addition to drill and drive, there's a hammer drilling function. A pair of twin LEDs, activated via a sensor in the grip, rather than by the trigger, provided the best illumination of any drill/driver I tested.
I liked the balance and smooth overall feel. It has one of the most responsive trigger actions and is an aggressive performer with above-average scores in both my drilling power and driving longevity tests. Charger performance was second-fastest, but I noticed that this unit heated up more than most of the other drills. The rear of the motor housing got very warm to the touch, especially when it was turned on and off a lot.
Heavy-Duty Drill/Driver Review – Wrapping It Up
If I learned anything from testing drills, it's that pushing a tool to its performance limits separates the best from the merely adequate. All of these drills are capable of turning in a good day's work (although with the Panasonic, I'd hope the day isn't too long or tasks too arduous). However, at the end of the day, the two units that performed best were the Festool T18+3 and DeWALT DCD980L2. Both offer a good feature set and are just a little more powerful and longer running than competitors. The top-scoring Festool offers cutting-edge technology and features not available on other drills. The only thing that tarnishes its glowing performance is its top-shelf selling price. Bringing value into the mix, I have to give our "Best Bet" award to the DeWALT DCD980L2. It may lack the Festool's high-tech electronics, but it turned in top-notch scores and proved itself a venerable performer with a strong feature set and an affordable price tag.