When it comes to weather, we've had a true embarrassment of riches here in California this winter. Although the beginning of this year has been the driest in recent memory, it's hard to argue with sunny days and shirtsleeve weather at a time when folks in other parts of the country are freezing and getting snow shovel blisters.
This unseasonal weather makes me think that, just as it's said that a young man's thoughts turn to love in the spring, many a late-middle-aged man's fancies turn to … shop improvements! I suspect this is true, because I've recently been barraged by emails and phone calls from friends on the West Coast who need advice about their workshops: "Which table saw and planer should I buy?" "I'm thinking of installing a new dust collection system, but I've no idea where to start." "Have any ideas for easy-access storage for portable power tools?"
I had already been thinking about shop improvement quite a bit in recent months, as I'd been working on a modernized form of my book Setting Up Shop, which The Taunton Press has just published in a new "book-azine" form. Because I'd recently pondered all kinds of woodshop matters, I was quick to respond to all my friend's queries. But even though I approached each question thoughtfully, analyzing the pros and cons of all possible solutions, I was struck with how long and involved some of my responses were. OK, I thought maybe I'm overcomplicating things. After all, I have a background in epistemology (the science of how we know things) and aesthetic philosophy, so I tend to see things less in black and white, right and wrong, and more in degrees of rightness and shades of gray. Philosophical discourse is one thing, but shouldn't the answers to most woodworking questions be fairly straightforward?
I harkened back to my first job as an assistant editor for another woodworking magazine (its name rhymes with "lime hood jerking"). I used to ge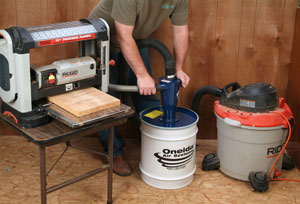 t phone calls from readers that went something like this: "I'm building a dining table for my family, and I was wondering what kind of wood to use?" Assuming the caller had a thirst for my insights, I'd launch into a full-blown lecture on the types of woods available in their region and the various physical and aesthetic traits of those species. One time, a caller stopped me in mid-dissertation and asserted: "yeah, that's all well and good, but which kind of wood should I make my table out of?" Not only didn't he want a lecture on wood science, but I don't think he wanted to strain his grey matter in order to come to his own conclusions. Maybe he didn't have the time to process the information. Or maybe he thought that the answer he'd come up with on his own might not be as good as the one that the "professional" on the telephone could provide. A simple answer was what he wanted, and so I gave it to him: "Walnut. Make the table out of walnut," I told him, then thanked him for calling and hung up.
I hate to think that people contact me for advice because they'd rather have me doing their thinking for them. I've always been a big fan of learning by doing your own problem solving. But everything in life is more complicated than it used to be (think of telephones, automobiles, even toothbrushes), and shop tools, hardware and processes are no different. So why not, on occasion, offer simple answers and/or opinions in lieu of delving into all the complex details of a topic like dust control or shop storage? I know I won't be able to solve all of my friends' shop improvement dilemmas, but the next time one of them calls or writes, I'm sure to ask "do you want the long answer or the short one?"
Sandor Nagyszalanczy, Contributing Editor