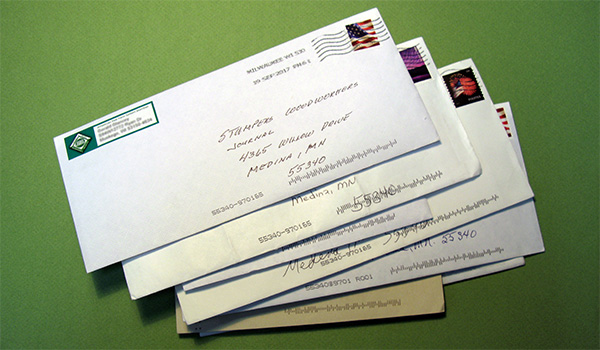 This week, I have been thinking a lot about passing on the craft of woodworking to the next generation. For me specifically, I am considering my grandkids. Two of them have asked if they can build something with Papa Rob, and their cousins will likely want to get into the act if they see the others involved.
But I'm wondering how to go about this. Do I pre-make parts and have them assemble and finish them? Do I get them cutting out parts with hand saws? Do we just glue, stack and nail some stuff together for fun? I am flummoxed.
My guess is that some of you have crossed this Rubicon and might have some advice for me. If that is so, please spread the wealth! Give me (and the rest of us) the benefit of your experience. I will be waiting for the wisdom.
Rob Johnstone, Woodworker's Journal

Choosing Materials for Making Shaker-Style Furniture
Chris Marshall discusses the process he used to choose the lumber and sheet goods for crafting a Shaker-inspired cabinet. He endeavored to create a piece that was economical, sturdy and finished well.
January/February 2023 What's in Store Roundup
Take a closer look at the
tools
featured in the January/February 2023 issue, including offerings from Rockler, Bench Dog, and Milwaukee.
Premium Project: Modern Farmhouse Dining Table
This substantial,
handsome table
will usher in many decades of holidays to come, thanks to sturdy Beadlock loose-tenon joinery.
Premium Project: Make Your Own Translucent-Screen Shutters
These
interior shutters
let in light but don't compromise privacy. They're a straightforward millwork project with parts that can be produced in quantity and adjusted to fit various sizes of window casings.
From Our Sponsor

Sale prices expire 1/26/2023 unless otherwise listed. To get free shipping, simply place your order of $49 or more at Rockler.com by clicking any link above or entering the promotion code at the top of this email at checkout. Additional shipping charges will apply for select over-sized items, express orders, and orders to Alaska, Hawaii, Guam, Puerto Rico, and the Virgin Islands. This offer does not apply to international customers. This offer cannot be combined with other offers, applied to previous orders. Some offers available only online. Not all items available at retail stores. Offer not valid at Rockler's independent resellers. Rockler Woodworking and Hardware reserves the right to limit quantities, correct errors or omissions and modify or end this promotion at any time.