Woodworkers who don't have spray equipment but still want to spray finishes have long relied on aerosol cans. Even those who do own spray guns may find some of the newer aerosol options rather alluring.
Aerosols can be a lifesaver when you want to avoid having to clean the gun, for hard-to-find materials, or tough to match colors or when you only need a small amount of a particular finish. Shading toner, specialty colors, touchup lacquer, blush chaser and cross-linked coatings are just a few of the options making "rattle cans" a boon for woodworkers of every stripe.
First, let's do a quick recap of spray can tips and tricks.
Rattle On
Any can that requires mixing will have a small ball inside that rattles around during agitation. Even though it feels agonizingly long, keep shaking the can for a full 60 seconds AFTER you hear the ball start moving.
As with guns, spray evenly about 6″ to 8″ from the surface, keeping the tip parallel to the wood. Move the can at a consistent speed for even coverage, and overlap each pass about half the width of the spray pattern. Make the surface wet but not dripping. To clear the tip, turn the can upside down and spray until only air comes out.
Fly in the Ointment
There are two drawbacks to aerosols that you do not encounter with spray guns, but there's help for both. The first is that, until recently, aerosols did not offer the range of spray fan options common to guns. With a spray gun, you can change the cap, tip, air feed and fluid feed to create round, fan-shaped, full or sparse spray patterns. In the past, aerosols did not offer such options, but all that has changed.
Mohawk now offers 16 different replaceable spray tips to give you a range of fan widths, sizes, shapes and spray volumes. At around 25 cents each, you can have a set of tips that makes your rattle cans rival your spray gun, and have replacements should the tip clog.
The second problem is that finishes in aerosol cans are usually low in solids, often around 6%, which means you'll need to apply more coats than with a spray gun. In particular, you'll notice that the first coat or two will be almost totally absorbed by end grain or softer wood.
You can even the playing field by priming or sealing the wood first by hand. Flood the raw wood surface with dewaxed shellac, then quickly wipe off whatever is not absorbed. That will seal the wood and create a base to help the spray finish build more quickly.
Improved Comfort
Admittedly, spending an hour with your finger pushing a spray gun tip is tiring, but even that is changing. More and more, aerosols like Rust-Oleum's Universal line, designed to spray over multiple substrates, now come in comfortable, ergonomic trigger cans. They're easier to handle and less tiring when spraying a lot.
Clear Finishes
Spraying is ideal for fast-drying finishes, like shellac or lacquer, and for an "off the gun" sprayed satin or matte finish, which has a different look than rubbed satin. Luckily, aerosols are available in all sheens.
For those who prefer oil-based polyurethane, that, too, is in rattle cans, and unlike cans of liquid finish, the remaining polyurethane in aerosols won't skin over or harden. Even pre-cat lacquer is now offered in aerosol cans, as well as specialty coatings, like brass lacquer and plastic primer, for nonwood substrates.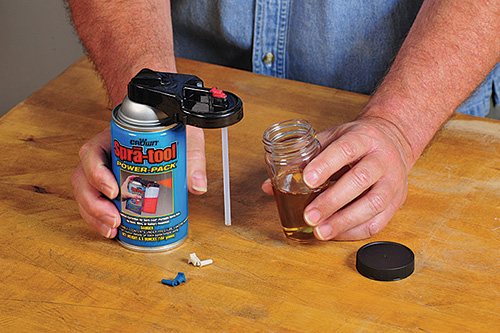 If you can't find the right color or finish in a can, make your own with the aerosol power pack sprayer. Fill the jar, screw it onto the aerosol power pack, and spray away.
Glazes, Tints and Toners
Want to do a wet glaze finish? Normally you'd mix a glaze of pigmented color in a fairly slow-drying medium that you brush on and wipe off, leaving color in pores, inside edges and recesses. There's now a faster, easier way. Mohawk sells pre-mixed colored glazes in aerosol cans, ready to spray on, wipe off and blend for the look you want.
You'll also find tinted clear finish in both translucent dye and more opaque micronized pigment versions. Use them to subtly change the color of the wood, touch up light or sanded-through areas to match, make faux inlays or add uniformity to uneven wood.
Stretch your finishing skills by using Shadow Toner to create a gradual sunburst or corona. Simply spray your chosen color of Shadow Toner around the edges of a panel, door, box or instrument.
Finish Repairs
Got blush? That's the annoying, cloudy, white haze caused by spraying lacquer when the humidity is too high. Eradicate it without even emptying your spray gun by spraying with Mohawk's Super Blush™ Retarder Aerosol.
Need to do a spot repair? Mohawk's Perfect Blend® lacquer is just the ticket, with low bounce-back and a gentle spray for smooth blending of the finish even in just a small area. Working on-site where odor is a problem? There's now water-based, low odor touchup lacquer in spray cans as well.
More Options, Versatility
No discussion of spray cans would be complete without mentioning the staggering array of solid colors, metallic hues and even pearlescent paints, but that's just the beginning. There are other materials bound to tickle your creativity.
For instance, use a stencil with glow-in-the-dark paint to add a stars-and-moon motif to your work.
Chalkboard paint, available in traditional black, several colors, and even clear can turn any surface, even a kitchen cabinet door, into a handy notepad.
There's also aerosol whiteboard paint, if you prefer that. Textured paint offers a sandblasted or dry spray appearance, while hammered finish gives the look of industrial metal, perhaps just the thing for a man cave bar top.
Whatever your spraying needs, chances are there's an aerosol with your name on it.