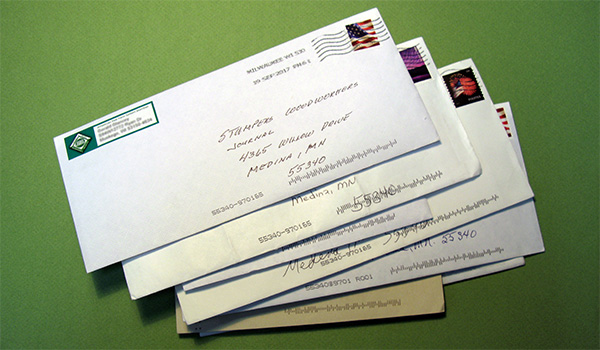 In last eZine's editorial, Rob talked about his habit of making hay – or at least sawdust – while the sun shines in the summer. He's what some of our readers said about woodworking in the good old summertime. – Editor
"Summer is my time for a different kind of woodworking. I set up shop – six small power tools arrayed around a swivel stool – on the covered porch at the back of my house. While I'm constantly battling dust in my indoor shop, cleaning the outdoor version is a snap. At the end of every work session, I attach the hose on my vac to the exhaust port and blow the debris to kingdom come. And that leads me to wonder – If everyone hates dust, why does everyone want to collect it?" – John Hutchinson
"I make cutting boards to sell at the local farmer's market and craft shows. Even though my one-car garage turned wood shop is stifling in the summer, I have no choice but to sweat it out and keep working. I actually find it slightly better than the frigid Connecticut winters where I can't feel my fingers sometimes." – Mark Fields
"In response to your query about woodworking and the summer weather, I have to tell you that I normally must restrict my shop time to those hours before the sun creeps to the west. My garage door faces west and the heat from the sun will drive you crazy and the glare from the sun will blind me if I stay in the shop past around 15:00. As for the other chores, yes, I mow the lawn and work in the garden, but fishing is out for me now that I have so much metal in my right leg/hip. I took a hit during Vietnam that eventually cost me my right knee. About four years ago, a gust of wind slammed a door into that metal knee and started a chain of pain that took over three years to find. I developed a hole in my hip about the size of a tennis ball and that necessitated a total hip replacement plus a bone graft. Another incident that happened while I was on active duty caused me to have four pins installed in the right foot so that I now have more metal than a steel guitar in that leg." – Bob Hoyle
"In my situation/predicament I have but little choice. My shop is well-equipped as amateur shops go but is uninsulated, thus expensive to heat in our harsh winters in northwest Pennsylvania. As with most power tools, mine don't care to work well below 50ºF. Neither do I. So when winter descends, my workshop activities decline. All the finishes and adhesives are placed in warmer storage and the place slowly changes from a woodworking area to a parking garage decorated with inert machines. Since I am an octogenarian, this has almost no economic effect, but by the time spring hesitantly arrives I am yearning to make something, anything. Likewise, being an octogenarian has its own complications. If an event prevents my workshop activity in the warmer season, I might miss out on most of two years of pleasant woodworking. So, while my desire to accomplish something persists, time and gravity have greater power. I'm sure a few of your readers experience this conundrum and we should form a mutual benefit association." – Don Butler
"Are you kidding? Oh, believe me it's hot here in Celina, Texas during this time of the year and it would be [oh so nice] to be inside with the artificial air, but no sir, not me. I'll sleep and rest when I'm dead and then I'll probably be in Jesus' workshop in heaven where the best of the best in tools are available and there's an endless supply of the most exotic woods known to God himself.
"If you recall I sent you a picture of my extended garage/workshop (1,012 square feet) with my two portable air conditioners and they have been keeping me nice and somewhat cooled off. The electric bill ain't so sweet, though! I need to get me some foam insulation for my doors and haven't had the chance since I have been working on my 6′ X 12′ storage shed intended to give the shop some relief from all of the outside lawn equipment.
"Once that's finished I'll be getting down to some real important business of organizing the new shop so I can actually give my God-given talents a much needed workout.
"I just finished the encloser of our cedar patio and, as earlier mentioned, have been working on the shed. Here's a picture or two of the patio and the beginning stages of the shed. Oh, and yes, it's been very hot outside and needless to say the sweat towels are getting a workout as well.
"Doors hand built inside the workshop! Used my new Domino to put them together with. Wow! What a tool!" – Dennis Young