In the wee hours in the shop, it's often only the sound of a local radio show that keeps me company. You might listen to music, talk radio or books on tape while you work — but a woodshop is a harsh place for standard radios or stereo systems.
Wafting sawdust can ruin a good stereo system; accidentally spearing a speaker with a wayward plank will kill the music.
Jobsite radios are designed to withstand the bumps and knocks that can happen in transit or at a worksite or workshop. They'll run on AC or on the same battery packs used in cordless power tools, so they'll work outdoors at a remote worksite or a deck or patio lacking electricity. What's more, jobsite radios aren't just radios: They can play music from a smartphone or MP3 player, and some can even connect wirelessly via Bluetooth.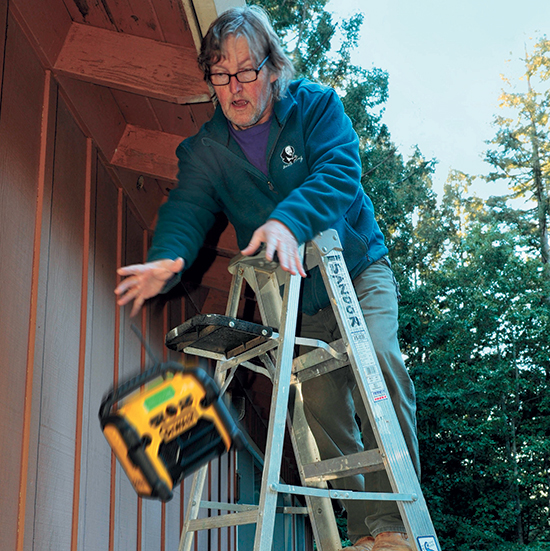 I was anxious to review the features and test the performance of the latest crop of jobsite radios. Being a part-time musician and recording engineer, I was especially anxious to hear how they sounded! I tested 13 models made by seven different tool companies (see pictures and specs of all radios at the end of this post): Bosch PB360S – Bosch PB180 – Bosch PB120 – DeWALT DCR012 – DeWALT DCR015 – Makita LXRM03B – Milwaukee 2792-20 – Milwaukee 2790-20 – Milwaukee 2590-20 – PORTER-CABLE PCC771B – RIDGID R84083 – RIDGID R84084 – RYOBI P742
The DeWALT DCR018 didn't arrive in time for my review, but I've included its specifications and features along with the other radios in the chart on page 54. To help dispel a common misconception that all jobsite radios can recharge the battery packs they run on, I've divided the models into three groups: radio/chargers (large radios that can also serve as battery pack chargers); large radios (units roughly the size of boom boxes); and compact radios (the smaller, lighter models).
Click here to download the test results spec sheet.
VIDEO: The Audio Tests – Listen to all 13 radios
Shared Features
With the exception of the compact RIDGID and RYOBI radios, which are battery-powered only, all jobsite radios run on either 120v AC or battery pack power. Some radios accept only one type of battery pack: for example, the Milwaukee radio/charger only runs on (but also recharges) 18-volt M18 lithium-ion packs. Others may be powered by more than one type (NiCd, lithium-ion, etc.) and/or voltage of pack.
When AC power is handy, most radios plug directly into a standard household outlet and have a cord wrap on the back or bottom. The majority of compacts, as well as the Makita, require a plug-in AC adapter, which is included with each. I'm not a big fan of these "wall warts" because it's easier to plug in a power cord than have to lug an adapter along.
Something that distinguishes a jobsite radio from a standard radio is its sturdy construction. These units feature protective reinforcements that range from simple corner guards to armor-like enclosures to full exoskeleton-like "roll cage" bars. All offer protection should the radio be dropped, slam around in the back of a pickup truck, or even fall off a scaffolding or rooftop. While I didn't actually hurl any of these radios from the top of my two-story roof, I did toss them around a good deal, and none stopped working (to paraphrase a classic Timex® watch ad: "they took a lickin' and kept on tickin' "). On the downside, heavy-duty construction adds bulk and weight, especially to larger models. At more than 24 and 17 pounds respectively, the Bosch and Milwaukee radio/ chargers — the two heaviest in this group — require some muscle to pick up and carry, especially compared to the smallest compact units.
To aid portability, all jobsite radios have carrying handles, although these are better realized on some models than others. I liked the models with top-mounted handles the best, as these made the radios easy to grab and carry. I wasn't fond of the side-mounted handles on some of the smaller radios, as I often fumbled around trying to figure out where to grab these to pick them up. The Milwaukee radio/ charger and large model sport an additional feature that's really handy: a built-in bottle opener, perfect when it's time for a cold drink at the end of a long, hot day.
Buttons, Dials, Displays
All radio audio and other features are controlled by, depending on the model, various types of buttons and dials. Roughly half the radios use a rotating dial for adjusting volume, while the other half employ a pair of up and down volume buttons. I liked being able to change volume or tuning with the quick spin of a dial, rather than having to toggle the volume up or down by repeatedly pressing buttons. The DeWALT radio/charger and RIDGID compact have a separate dial just for radio tuning. Uniquely, the Milwaukee radio/charger's volume ramps up gradually after the unit is switched on, kind of like soft start on a router. I liked this feature, as I didn't get blasted when the radio was last left at an earsplitting volume.
Typically, jobsite models have separate buttons for power On/Off, mode selection (FM, AM, auxiliary input, etc.), radio tuning and clock display. The majority of these buttons are rubberized and comfy to push and larger buttons, as found on the Milwaukee radio/charger, are usable even with work gloves on. I found the small membrane-style buttons used on the compact RYOBI hard on bare fingertips. Some radios have buttons dedicated to specific features — EQ, Bluetooth, presets, etc., which I preferred to units with buttons that perform multiple functions. The Milwaukee compact and large models, as well as both compact Bosch radios, feature a dedicated "mute" button, which lets you turn the sound off in a hurry, say when you need to answer a ringing telephone. On most models, adjustments such as setting the clock, radio presets, EQ, must be done by pressing buttons and scrolling through computer-like menus, a process that's often confusing and frustrating.
All radios feature a backlit LCD panel that displays the tuning frequency, volume, sound source, and the time, — most radios display the time even with the power switched off. Some models display other information, such as how much juice is left in the battery pack and, on some radio/chargers, the pack's recharging status. The Makita LXRM03B not only shows you the time and date, but it also has a built-in alarm clock, complete with a "snooze" setting, I suppose in case you want to take a siesta in your shop. It also displays Radio Data System (RDS) information which, depending on if the station transmits it, shows you the station's call letters (KPIG, WKRP, etc.) and sometimes even the name of the artist and song currently playing!
Radio Tuners
Pulling in AM and FM stations is a jobsite radio's primary duty, so good reception is a must. A radio's station-grabbing power can make the difference between listening to your favorite programming or settling for some megawatt station that blasts a commercial every 30 seconds. I tested the reception of each radio by seeing how many stations it could tune in strongly and clearly, without excessive chatter or distortion. I gave the one that pulled in the most stations (the Bosch P180) a score of 10, and scored the other ra- dios proportionally (see the individual model info boxes). The large RIDGID and Makita allow you to switch the radio's normal stereo reception to mono, a feature that helps weaker stations sound better by reducing annoying intermittent static.
All but one of the radios — the compact RIDGID — feature tuning presets that allow you to set and choose your favorite FM or AM station with the push of a button. The number of presets varies from model to model, but only about a third have dedicated preset buttons. The other radios require you to scroll through your presets by continually pressing a button(s), which can be a bit tedious, especially if the model has 10 or more presets. To retain your presets, time settings, etc. when the radio's power is disconnected, all units employ replaceable backup batteries, typically AAs or AAAs.
Seek vs Scan
Designed to help you find radio stations more easily, tuner seek and scan functions are often misunderstood. All the radios, save the Makita, have a seek feature: Press a tuning up or down button and the radio automatically sets itself to the next available station. Only a handful of radios have a scan function: Once the scan button is pressed, the radio stops at each available station in turn, one after the other, pausing for a few seconds. To retain the last station found, press the scan button again. Both features are useful for finding available radio stations, especially if you're unfamiliar with the area; say, you're at a new worksite far from home. In practice, neither of these features works perfectly on any jobsite radio: seek and/or scan sometimes bypassed strong stations while stopping on other stations with weak signals.
Auxiliary Inputs
In addition to tuning in your favorite radio shows, all jobsite radios can play audio from an auxiliary device, such as an MP3 player, smartphone, tablet, CD player, etc. via a short cord plugged into a 1/8″ (3.5mm) mini stereo jack that's standard on most portable electronics. The Makita offers even handier connectivity through a top-mounted dock (unfortunately, the connector doesn't fit all models). The Bosch radio/ charger has sockets for SD memory cards or thumb drives inside a closeable digital media bay. Buttons on the front of the radio allow you to pause/play the music, advance between songs, and even randomize song order. This is a great way to play MP3 audio files while leaving valuable electronic devices at home.
Device Compartments
To house and protect auxiliary devices, most jobsite radios have built-in sealable compartments (the RIDGID and RYOBI compacts have a place on the back for se- curing a device with a small strap). Most compartments' doors have rubber gaskets to keep out dust, and latches that are easy to open — a good thing because of the need to access the device to start/stop the music. Although the Milwaukee 2790-20's top-mounted compartment/battery bay is conveniently located, its two rotating latches are hard to turn and tedious to operate. The majority of compartments also have a built-in USB port; however, some units (see chart) only provide USB power when the radio is plugged into an electrical outlet, a real drawback if you need to recharge your phone/device at a jobsite lacking AC power.
Bluetooth Connectivity
One of the coolest features found on a few jobsite radios is Bluetooth connectivity. Bluetooth is basically a radio-frequency signal that's transmitted by most modern smartphones and tablets. Unlike FM or AM radio transmissions, Bluetooth signals have a range limited to about a hundred feet at best. That's usually more than adequate for playing music (or audiobooks, or podcasts) in your shop from
a device that's safely located inside your car or home.
With my iPad in hand, I tested the Bluetooth-capable Milwaukee radio/charger, and RYOBI and PORTER-CABLE compacts. All three quickly connected to the iPad without a hitch and performed well, reproducing clear and glitch-free audio even when the iPad was 50 feet away in another room. Passing through doors and walls had varying effects on the signal, but whenever the connection was lost, each radio automatically reconnected when the device was relocated. Buttons on all three units offer some control over the remote device, either allowing pausing/playing and/or advancing songs.
Equalization
To better suit different styles of music and the sonic preferences of the listener, the majority of jobsite radios offer adjustable equalization (a.k.a. " EQ"), allowing you to boost or cut treble and bass frequencies. In lieu of these adjustments, the DeWALT DCR012 and DCR018 have a dedicated bass boost button, which adds more low-end punch to the sound, and the Makita has a "loudness" setting, which boosts both bass and treble. The Bosch radio/ charger features five equalization presets: jazz, rock, pop, classical and a customizable setting. I really liked this feature, as it allowed me to change the radio's tonal quality to suit different kinds of music without having to fiddle with individual bass and treble settings.
How Do They Sound?
Here are the two main factors to consider when evaluating the audio produced by a jobsite radio: loudness and sound quality. The first is important because these radios should be audible even in a noisy environment. In addition to producing a considerable volume of sound, a radio's power amplifier must do so without driving its speakers into distortion. Good radio sound should also be as natural and true to the source as possible.
Measuring Loudness
To get a good sense of just how loud these radios were, I played the same musical selection (a contemporary big-band jazz tune with a full-spectrum sound) on an iPod connected to each radio. I turned the volume up until just before the speakers distorted and measured the sound pressure level, in decibels (Db) with a sound meter set a few feet away. The loudest radio, the Milwaukee radio/charger, measured 102 Db — roughly as loud as a roaring chainsaw! At 86 Db, the Milwaukee compact was the least loud. Unfortunately, decibel measurements don't provide a clear means of comparing the volume of different radios because the Db scale isn't linear: To the human ear, music playing at 90 Db actually sounds only half as loud as when it's played at 100 Db. Therefore, I gave the top-Db-producing Milwaukee a rating of 10 and scored the other radios on a linear scale relative to it. For example, the 92 Db RYOBI compact measured only half as loud as the big Milwaukee, and thus received a score of 5 (half of 10). The scores (found in the model info boxes) should give you a reasonable notion of how radio loudness compares in the real world.
Just how loud does a jobsite radio need to be? In my experience, even the units with the least amplification were loud enough to hear clearly even in a large shop, and the most powerful radios were plenty loud enough to blanket a big outdoor area.
Sound Quality
Even the loudest radio isn't a great choice if the sound it produces isn't pleasant to listen to. Obviously, sound quality is a highly subjective issue, depending not only on personal preferences, but on the kind of programming you're listening to. To rate the sound of these 13 radios, I played a variety of music on each one. Relying on my experience recording and mixing records, I awarded the highest points to models that sounded the most clear and transparent, with deep In general, the large radios and radio/chargers sounded better than compact models. This is due to the fact that physically larger units with bigger (and/or specialized) speakers are simply more capable of reproducing fuller and richer bass and low-mid frequencies. The top-rated Bosch radio/charger produced very strong bass, thanks to its bottom-mounted 41⁄2″ "sub- woofer" speaker designed specifically for reproducing low frequencies prevalent
in bass-heavy music genres like reggae and hip-hop. The next highest rated radio, the Milwaukee 2792-20 (as well as the DeWALT DCR015), produced good bass through two regular 31⁄2″ speakers and clear highs through a pair of small "tweeters." The three top-sounding compacts — the Milwaukee 2590-20, Bosch PB180 and PORTER-CABLE PCC771B, all produced surprisingly rich sounds despite their small speakers and space-saving sizes.
Conclusions
Usually at this point of a tool review article, I sum up the various pros and cons of each model tested and identify my favorites. But in this case, there's a significant factor in play: None of the jobsite radios in this review come with a battery pack, nor do any, save the radio/charger models, come with chargers. So unless you're willing to invest in these expensive extras, it's much more practical to buy a radio that uses the same charger and packs you already own.
But what if you own several different brands/voltages of cordless tools, or are willing to invest in a new brand/battery type? If tool brand and battery were not a factor, my first choice in jobsite radios would be the Bosch PB360S. I think it's the best-sounding jobsite model, plus it's got lots of connectivity (save Bluetooth) and more useful features than any other model. All that, and it recharges Bosch's 18-volt lithium-ion battery packs, too. Yes, it's heavy, but I like to think that each time I lift it, I get a little upper-body workout.
If you don't need a super loud radio and size and weight (and price) are important considerations, I'd suggest choosing one of the three top-performing compact models by Milwaukee, Bosch (the PB180) and PORTER-CABLE. All three pack a lot of sound and features into a light, portable package and sell for around half of what the big models cost. Whichever type or model you choose, it's a good idea to sample a particular model's audio qualities before you buy it (you can hear high quality recordings of all the radios in my Audio Tests video, above).
Click here to download the test results spec sheet.
The Radios We Tested