They may not be as sexy and feature-packed as other power tools, but ¼-sheet palm sanders are essential when it comes to smoothing wood projects in preparation for and during finishing. Also known as "finish" or "orbital" sanders (not to be confused with random-orbit sanders), palm sanders have a square pad that accepts a quarter sheet of regular sandpaper. They are small, easy and safe to use, and best of all, most models are very affordable.
I recently set about testing a dozen different palm sanders built by 11 different manufacturers: Bosch, DeWALT, Festool, Hitachi, Makita, Milwaukee, PORTER-CABLE, RIDGID, Ryobi, Sears (Craftsman) and Skil. Although several models appear to be close cousins, all the sanders have features and performance characteristics that distinguish them. Here are some of the things I looked for in each model and factors that I considered during my two weeks of testing:
Power and Sanding Performance
With most power tools, bigger motors are usually better. But is a big motor really necessary in a palm sander that is designed to work best when you apply only light pressure to the tool during sanding? Smooth operation is also a key concern in an orbital palm sander, as too much vibration can lead to hand discomfort and even numbness.
Ease of Paper Change
All of these palm sanders except the Festool have clamps designed to take a quarter-sheet of regular sandpaper. This is an economical alternative that lets you use any kind of paper you like (garnet, aluminum oxide, etc.) in lieu of special pre-cut sanding sheets (also available for most models). The wire levers on most models allow tool-less paper changes, but some mechanisms are easier to use than others. (The foam rubber sanding pads on most sanders also accept sticky-backed PSA sandpaper.)
Ergonomics
The majority of palm sanders employ a twin-grip style body that lets the user hold the tool either by its top or around the waist. This lets you change your grip, either to suit the sanding situation or to avert the hand fatigue due to holding the tool in the same manner for long periods. Rubber overmolds found on most of the sanders make gripping them more comfortable and ease vibration as well.
Dust Collection
Small as they are, palm sanders produce their share of fine dust. Happily, most new models come with built-in dust collection: A fan pulls dust through holes in the sandpaper that you make using a punch plate that comes with the sander. The fan then blows the dust into a fabric bag, disposable paper sack or a canister with a pleated filter. For more efficient dust collection, the majority of sanders have ports that allow you to connect the sander to a shop vacuum hose.
Bosch 1297DK Sander Review
Street Price: $48
Motor Amps: 2
Dust Bag: Canister with pleated filter
Hose Connection: 19mm or 1-1⁄4″ hose adapters
Accessories: Fabric tool bag, vacuum hose adapters, paper punch plate
Weight: 2 lbs. 15.7 oz.
The 2-amp Bosch's motor creates a vigorous sanding action, despite the fact that it orbits its pad 12,000 orbits per minute (opm), rather than the 14,000 opm that nearly all other models run. The sanding action transmits only mild amounts of vibration to the user's palm, so it's quite comfortable to use. I liked the 1297DK's body shape and grip, which fit my medium-sized hand very well.
The Bosch sander's best feature is its "SheetLock" paper clamping system. Pressing a large red button at the front of the tool easily opens its front clamp. With one end of paper secured, a bent wire lever opens the rear clamp, which is a round rubber-covered bar. Pushing the wire lever back into place pulls the paper tight as the bar presses it against a rubbery seat that helps hold the paper firmly. This mechanism is terrific, and it makes paper changes nearly effortless.
For dust collection, the 1297DK has a large rearmounted canister with a pleated paper filter that's part of Bosch's microfilter system. The filtration worked well, but the canister takes up quite a bit of room behind the sander. An adapter is included for connecting the Bosch to a vacuum hose.
DeWALT D26441K Sander Review
Street Price: $49
Motor Amps: 2.4
Dust Bag: Fabric bag
Hose Connection: 1″ or 1-1⁄4″
Accessories: Fabric tool bag, paper punch plate
Weight: 3 lbs. 2.2 oz.
With its 2.4-amp motor, the DeWALT packs plenty of finish-sanding punch in its yellow-and-black body. It sanded aggressively, although when sanding large panels with coarse-grit papers, it was a little hard to control. Along with the PORTER-CABLE 342K and RIDGID R2501, the D26441K features user-replaceable brushes — a feature that any heavy-duty user will appreciate.
The DeWALT's body has an ample rubber overmold, but only the very top of the grip has a rubber insert. The sander's small rocker On/Off switch is covered by a rubber dust shield which keeps fine dust from fouling the switch. But the cover made the switch feel less positive and harder to manipulate. The DeWALT's wire paper clamp levers were easy to operate and held the sandpaper securely.
For dust collection, the DeWALT has a small cylindrical fabric bag that's supported by an internal spring. Remove the bag and you'll find connection flanges for two different diameter vacuum hoses — a handy feature.
Festool RTS 400 EQ Sander Review
Street Price: $215
Motor Amps: 1.67
Dust Bag: Disposable paper bag
Hose Connection: 27mm
Accessories: Pad for PSA paper, plastic Systainer case
Weight: 2 lbs. 11.7 oz
By far the most expensive sander in this test group — more than 10 times the cost of the low-cost Craftsman 11177 — Festool's RTS 400 EQ technically is not a 1⁄4-sheet sander: It accepts only the company's 5-1⁄4″ x 3-3⁄16″ rectangular hook-and-loop sandpaper. The Festool sheets are relatively expensive, but paper changes are a breeze — you don't have to fool with paper clamps, and the sheets come with dust holes already punched. I found that the slightly narrower and longer shape of the RTS 400 EQ's platen is very practical when you're sanding smaller parts and shaped parts, like moldings.
Despite its low 1.67 motor amperage rating, the Festool sanded with decent aggressiveness, no doubt aided by the pad's 5/64″ orbit diameter (all the others, save the PORTER-CABLE 330, have 1/16″ orbits). The tool produced extremely little vibration, so it was super comfortable to use for long periods of time. The RTS 400 EQ is the only palm sander that features variable-speed control, with a dial that lets you set the speed anywhere between 6,000 and 13,000 orbits per minute. This could be useful if you needed to reduce sanding aggressiveness when sanding a finish or a delicate surface like a marquetry-covered panel.
The Festool's dust collection setup employs a disposable paper dust bag held in a plastic carrier that attaches firmly to the tool's dust port, which also accepts Festool's standard shop vacuum hose.
Hitachi SV12SG Sander Review
Street Price: $45
Motor Amps: 1.7
Dust Bag: Fabric bag
Hose Connection: None
Accessories: Paper punch plate
Weight: 2 lbs. 6.7 oz.
Hitachi SV12SG has a very distinctive look with a low profile body that's extensively covered in a heavy rubber overmold. Although this provides a very soft, grippy surface, I found the bulbous top a little cumbersome to hold. In use, the SV12SG puts out a moderate amount of vibration, with a sanding performance that was only average.
A pair of heavy bent-wire paper clamps firmly hold a quarter-sheet of sandpaper to the SV12SG's platen. However, the tool's foam rubber pad is relatively thick, so a regular quarter sandpaper sheet is barely long enough to work with the clamps. Interestingly, the Hitachi can be fitted with either a square sanding pad that takes hook-and-loop paper or a 5″ round pad, both available as optional accessories.
A polyester fabric dust collector bag mounts on the back of the Hitachi sander via a narrow oval-shaped flange. The bag has a full zipper on the back, which makes it easy to empty. But the mounting flange doesn't allow a vacuum hose connection, and there's no adapter available.
Makita BO4556 Sander Review
Street Price: $49
Motor Amps: 2
Dust Bag: Fabric Bag
Hose Connection: 3/4″
Accessories: Paper punch plate
Weight: 2 lbs. 12.7 oz.
Compact and not too heavy, Makita's BO4556 palm sander has a twin-grip-style body, with ample rubber overmolds that I found comfortable to hold in either position. The Makita's 2-amp motor comes to life somewhat slowly, but at full speed transmits only light vibration to the user. It's a very smooth running sander that's pleasurable to use for extended periods. Something else I liked: Makita has managed to protect the tool's small rocker-style On/Off switch with a plastic dust cover, while keeping its operation crisp and positive.
Attaching a sanding sheet is a pretty easy job on the BO4556. The thick wire clamps provide positive registration of the end of the sandpaper sheet, so it's easy to secure. The Makita's platen features a nice 1/4″-thick neoprene sanding pad; most of the other sanders have thinner pads. I like a thick pad for finish-sanding smaller parts and details, such as moldings and shaped edges; the heavy foam allows the sandpaper to bend and conform more easily to a curved surface.
The fabric dust bag that comes with the BO4556 has a decent capacity, and its port fits Makita's smallish 3/4″ shop vacuum hose. You can also fit an optional filter assembly that uses disposable paper bags.
Milwaukee 6020-21 Sander Review
Street Price: $50
Motor Amps: 3
Dust Bag: Fabric Bag
Hose Connection: 1″ or 1-1⁄4″
Accessories: Plastic case, paper punch plate
Weight: 3 lbs. 1 oz.
The most powerful and second-heaviest palm sander in the review, the Milwaukee 6020-21 runs on a beefy 3-amp motor. Flip on the Milwaukee's crisply-operating switch and it snaps to life with the kind of start-up torque you'd expect from a small router. But its impressively powerful sanding action does transmit a good deal of vibration to the user's hand. Also, this powerful sander seemed to want to spin, and it took a fair amount of effort to restrain it, even when doing light sanding on a flat surface.
The 6020-21 has a pair of fold-out levers to release the strong springs that secure the paper clamps themselves. The problem is that there isn't enough space to operate the lever at the back of the sander — the dust bag assembly gets in the way. This makes paper changes a tedious affair.
The 6020-21 has a cylindrical fabric dust bag that, just like several other sanders, has a spring inside to keep the bag extended. This is nice, because the spring allows the bag to deflect if you encounter a vertical obstruction, say the bulkhead inside a kitchen cabinet.
PORTER-CABLE 330 SPEED-BLOC Sander Review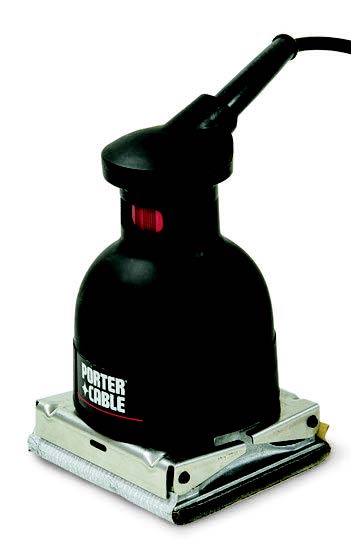 Street Price: $88
Motor Amps: 1.2
Dust Bag: None
Hose Connection: None
Accessories: Tool for paper clamp
Weight: 3 lbs. 11.3 oz.
The PORTER-CABLE 330 SPEED-BLOC palm sander's distinct black bell-shaped body identifies it as a veteran tool found in countless cabinet and production shops.
Although its motor is rated at only half the amperage of its sister model, the 342K, the model 330 still sands with enough gusto to make it a speedy performer for most sanding tasks. (For really heavy sanding jobs, I recommend switching to a random-orbit sander.) The body lacks a rubberized coating, but it still provides a comfortable grip and excellent control of the sander. It also limits the transfer of vibration to your hand.
The 330's paper clamps are heavier and grip paper tighter than on any other palm sander. The sander's stubby clamp levers are stiff and hard to use, so it's best to employ the included metal tool (or a screwdriver) to operate them. The clamps also allow an old production sanding trick: Mount several sandpaper sheets in at once and, as a sheet wears out, tear it off to reveal the fresh sheet under it. Could be handy to try.
Since the SPEED-BLOC lacks any form of built-in dust collection, you need to work atop a downdraft sanding table and/or while wearing a dust mask to protect your lungs whenever you use it. On the up side, there's no need to punch holes in the sandpaper each time you change sheets.
PORTER-CABLE 342K Sander Review
Street Price: $51
Motor Amps: 2.4
Dust Bag: Fabric bag
Hose Connection: None
Accessories: Paper punch plate
Weight: 2 lbs. 8.5 oz.
PORTER-CABLE's 342K is their most powerful model, with a 2.4-amp motor rating that matches the DeWALT and RIDGID sanders. The PORTER-CABLE's performance equaled its rivals, yet it ran a bit smoother and with less vibration. I didn't think the 342K's disc-shaped top grip was as comfortable as the teardrop-shaped grips found on other models. But it did provide excellent control of the tool, especially when sanding edges and narrow or small parts.
The 342K's thin foam rubber-covered platen and bent-wire lever paper clamps are very similar to DeWALT's. The clamps are strong and easy to use, but the dust bag assembly hangs so low in back that it's hard to see what you're doing when clamping the back edge of a sheet. I liked the sander's dust hole pattern, which is symmetrical both ways, so you don't have to orient the sander in a particular direction when using the punch plate — a small, but nice touch.
The 342K does come with an ample-sized fabric dust bag, but it's mounted to a D-shaped port that has no adapter for connection to a vacuum hose.
RIDGID R2501 Sander Review
Street Price: $50
Motor Amps: 2.4
Dust Bag: Fabric bag
Hose Connection: 1-1⁄4″ or 2-1⁄4″
Accessories: Fabric tool bag, paper punch plate
Weight: 3 lbs. 1.5 oz.
The orange and gray RIDGID R2501 sports a twin-grip-style body with soft-feeling rubber overmolds in all the right places. I really liked this sander's lower body grip, which offers a very comfortable holding position. The RIDGID's motor switches on with some authority, but it also sends a fair amount of vibration into the user's hand. Keeping it under control while sanding a flat surface was, at times, a challenge that ultimately tired my hands during long sanding sessions. It took time to get used to the tool's back-and-forth sliding On/Off switch; once in a while I turned it off accidentally when I changed my grip on the tool.
The RIDGID's clamping system is remarkably similar to the Bosch's, but its front clamp employs a lever that must be lifted to open, so it isn't as easy to use. The paper punch that comes with the sander makes fairly small holes, but there are lots of them, so the RIDGID does a pretty good job of collecting dust. The rest of its dust system is similar to DeWALT's, with a spring-loaded fabric bag and a port that offers the connection for two different-sized vacuum hoses.
Ryobi S652DK Sander Review
Street Price: $30
Motor Amps: 2
Dust Bag: Fabric bag
Hose Connection: 1-1/4″
Accessories: Fabric tool bag, paper punch plate
Weight: 3 lbs. 1.7 oz.
The Ryobi palm sander has a teardrop-shaped rubberized top grip that features a slide-through On/Off switch of the style that's found on the RIDGID. The top grip is pleasant enough to hold, but I found the S652DK's large body a bit too bulky to grip comfortably. There's also an indicator lighton top of the S652DK to warn you that the tool is plugged in.
Powered up, the Ryobi put in a middle-of-the-pack sanding performance. Unfortunately, any motor power that wasn't transferred to the sanding pad seemed to end up in my hands. The S652DK vibrated so much that my palms felt sore even after only 10 minutes of use. I donned a pair of bike gloves with gel-filled palms in order to continue my testing while protecting my hands.
The Ryobi's platen and paper clamps are much like those found on other palm sanders, but its levers have rubberized plastic end caps that make them comfortable to use. The clamps operate smoothly and grip the paper effectively.
Sears Craftsman 11177 Sander Review
Street Price: $20
Motor Amps: 2
Dust Bag: Fabric bag
Hose Connection: 1-1/4″
Accessories: Paper punch plate
Weight: 2 lbs. 3.3 oz.
With a street price of just under $20, the Sears Craftsman model 11177 is the least expensive palm sander in this article, and it's also the lightest. The Craftsman has a 2-amp motor that delivered sanding performance on par with the Ryobi. Its top grip is covered with soft rubber which felt good on my bare palm. I also really liked its slide-through-style On/Off switch, which was easy to actuate, yet had enough tension to prevent accidental operation.
The 11177's sanding platen wasn't the best, with a thin aluminum plate covered with a thin, hard foam rubber pad. Its wire paper clamp levers worked well and have looped ends, which were easier on my fingers than the tightly bent ends on the Hitachi palm sander. However, it was a bit hard to tell how far to insert the sandpaper under one clamp so that there would be enough slack left to clamp the sheet at the other end.
The Craftsman's dust collection setup is much like the Ryobi's, with a dust bag mounted on a round plastic port that also accepts a vacuum hose. The 11177's smallish fabric bag lacks a zipper, but is very easy to empty via its large mounting flange.
Skil 7292 Sander Review
Street Price: $30
Motor Amps: 2
Dust Bag: Canister with pleated filter
Hose Connection: 1-1⁄4″ hose
Accessories: Paper punch plate
Weight: 2 lbs. 7.5 oz.
Skil's palm sander has a very generous feature set, considering its low street price. A most unique feature is its "Pressure Control Technology": A series of LEDs that light up in response to how hard the sander is pressed down during operation. One or two green LEDs show that the correct amount of light sanding pressure is used, while yellow and red LED's indicate excessive pressure. Some might consider this feature a gimmick, but I think some less experienced users will appreciate the feedback that the lights offer.
Overall, the Skil 7292 felt good in my hands, and I was impressed with its overall running smoothness. It didn't sand as aggressively as some models with higher amperage motors, but it didn't feel underpowered either.
The Skil's sandpaper clamps worked well, and it was easy to register the ends of the sandpaper when mounting a new sheet. My only complaint was that the wire clamp levers were somewhat difficult to release from their locked positions.
The 7292's dust collection setup features a clear plastic canister fitted with a small pleated-paper filter. The sander collected dust fairly effectively, and the clear plastic made it easy to see when it was time to empty the canister.
1/4-sheet Palm Sander Review Wrap-up
While motor power, easy paper changes and good dust collection are all important aspects of palm sander performance, ultimately, I just HATE having my hands go numb during long sanding sessions. Therefore, I winnowed down the field by first picking the smoothest running sanders: the Bosch, Festool, Makita, Skil and both PORTER-CABLE models. To further narrow the field, I eliminated the otherwise terrific Festool for simply being too expensive and the PORTER-CABLE 330 for lacking dust collection. When I compared the final four sanders, it was much tougher to pick a clear winner. I really loved the Bosch's amazingly easy paper change mechanism, and I thought the Skil offered a lot of sander for only three sawbucks. But I ultimately gave the Makita my vote as the "Best Bet." This tool feels solid and comfortable, it's powerful enough to use for any finish sanding task, and best of all, it operates so smoothly that you can run it all day without ending up with tingly fingers.