These seven cordless options prove that we don't need noisy air compressors or tangles of hose anymore to drive brads like a pro.
Cordless tool options continue to expand as batteries, motors and electronics become smarter and more energy-efficient. These seven cordless brad nailers are a good case in point. Nowadays, you don't have to attach an air hose or drag a heavy compressor around wherever you need to install 18-gauge brads. Just pop on a battery and you're all set — the nailers are completely self-contained.
I was skeptical of them at first, because I've used lighter weight and smaller pneumatic nailers all along. But after putting 1,000 brads through each of these test tools, I see the advantages. Cordless brad nailers are entirely game for driving brads into tough hardwood, delicate trim moldings and veneered plywood. There's no tangled air hose, no loud compressor kicking in, no burst of exhaust air to blow dust in your face, and plenty of battery run time to get most DIY or wood projects done long before the charge fizzles.
You can buy several of these guns "bare," too, then use the batteries you already own from other tools to power them, saving money and foregoing another charger.
With five of these nailers, there's a second or two of "ramp up" time after you squeeze the trigger before the nailer drives the brad. But, that brief delay really isn't a big deal. You'll get used to it quickly. I did.
Even if you're a diehard pneumatics user, read on and imagine the possibility of going cordless, instead.
DeWALT DC608K 18-volt
Street Price: $279 (kit) / $229 (bare tool)
Weight (with battery): 7.5 lbs.
Brad Lengths: 5/8″-2″
Features: Two firing modes, tool-free jam release, carry case
Battery (included): One 18V XRP™ NiCad and charger
Web / Phone: www.dewalt.com / 800-433-9258
DeWALT powers this brad nailer with an included 18-volt NiCad — and that chemistry is a throwback, considering the domination of lithium-ion these days. But, there's a reason for it: DeWALT remains loyal to contractors that are heavily invested in NiCad-powered tools. And, this rugged nailer should be appealing to them.
With the battery freshly charged, the gun fired 100, 1-1⁄4″ brads deftly into pine crown molding without leaving dents behind. Then I drove 525 more 2″ brads into some 8/4 poplar test lumber before the battery finally petered out. Just because lithium-ion is sweeping the cordless world, 625 nails proves that NiCad power can still go quite a long distance.
Once the charge was replenished, I put the DC608K to work again, driving a total of 800 brads into poplar and 100 more 1-1⁄4″ brads into a 3/4″ maple plywood corner joint. The tool didn't falter.
There's just one oddity about this gun: when you depress the contact element on the nailer's nose (a standard safety feature) against a workpiece, the tool's motor starts running. It continues after you squeeze the trigger, too. It does that, in part, to spin up a flywheel, which engages a driver blade that punches the brad into the wood. But, with other guns the motor starts and stops with the trigger squeeze. Some battery charge seems wasted here this way.
NiCad is typically a heavier battery than lithium-ion, but the weight didn't impact the DC608K's balance in hand — it's very comfortable to hold and use, even overhead, and its 7 lb. weight is about average for the test group.
The nailer has both sequential and contact-actuation modes, which means you can fire a single brad with each trigger squeeze or a series of them by just bumping the contact element, repeatedly. However, it has no dry-fire lockout, so this nailer will continue to fire the driver blade even after the magazine is empty. That's a useful feature this gun deserves but lacks.
For other extras, the DC608K has a pair of yellow lights for working in shadows and a tool-free jam release. It comes with safety glasses and a hard carry case. At $279, I think it's fairly priced.
Makita XNB01Z 18-volt LXT
Street Price: $249 (bare tool)
Weight (with battery): 7.8 lbs.
Brad Lengths: 5/8″-2″
Features: Two firing modes, dry-fire lockout, safety lock
Battery (Provided for Test): 4.0Ah LXT lithium-ion and charger
Web / Phone: www.makitatools.com / 800-462-5482
If you're already invested in Makita, this XNB01Z is a "bare" option that will accept any LXT® lithium-ion 18-volt battery you own — Makita provided a 4.0Ah sample and charger for this test. And just one charge powered through 1,000 fasteners I sank into poplar, pine and plywood. This gun shot and set brads consistently and with gusto.
My favorite detail, among many standard features, is its sharply tapered nailing tip: you can place nails as accurately as a pin nailer with it. I had no trouble targeting pencil marks and crown molding shadow lines. On the grounds of nailing precision, this gun tops them all.
But, the Makita had a big drawback for me, which my wrist reported: it's noticeably imbalanced. The weight of this gun, with a batter installed, is mostly behind the grip and on the battery end. The nose end distributes very little of the weight forward. If you're only firing a few brads, you may not feel it at first, but holding the gun horizontally in a normal nailing position causes your wrist to correct for the tail heaviness, and that became really fatiguing when driving 800 brads continuously into poplar. My wrist faded long before the test ended.
For features, this gun has dry-fire lockout, a safety lock near the trigger, both sequential and "bump fire" modes and a white LED that helps light the nailing area. Its internal motor hums quietly before each shot and ran cool throughout testing.
You'll need to remove three Torx screws to open the nosepiece if a nail jams, but the gun never misfired.
So, all in all, the $249 XNB01Z was a mixed blessing: it's accurate and powerful but ergonomically unforgiving in hand during sustained use.
Milwaukee M18 FUEL 18-volt
Street Price: $379 (2740-21CT kit) / $329 (bare tool)
Weight (with battery): 7 lbs.
Brad Lengths: 5/8″-2-1⁄8″
Features: Two firing modes, dry-fire lockout, brushless motor
Battery (included): One 2.0Ah M18 RedLithium and charger
Web / Phone: www.milwaukeetool.com / 800-729-3878
Just this summer, Milwaukee unveiled its M18 FUEL™ Brad Nailer, which comes with an M18™ RedLithium™ 2.0Ah battery that powers many "red" tool options.
Squeeze the trigger, and this nailer grabs your attention fast: it fires instantly and with a brisk recoil. The absence of "ramp up" time is due to the fact that the M18 employs a unique drive system. The tool's motor and piston compresses pure nitrogen inside a sealed cylinder. That provides an immediate source of energy to propel the driver blade.
Milwaukee includes a brushless motor here. These state-of-the-art motors are compact, run cooler and use battery energy more efficiently than standard carbon-brush motors do.
In testing, the M18 dispatched 1,000 1-1⁄4″ and 2″ brads with only a few nails remaining less than fully set. The gun's contact element left some small dents on pine crown molding, due mostly, I think, to the tool's recoil at the tip. There were a few misfires too, but the M18's flip-lever nose release made them easy to remove from the magazine.
That same big jam-release assembly makes it harder to sight nail positions if you're looking down over the front of the tool, but I found that my accuracy improved pretty quickly. In hand, this nailer balances comfortably.
It took around 800 nails to drain the RedLithium battery of charge (impressive!), and from clip to clip, the gun has a dry-fire lockout feature that stops the action within the last four or five fasteners. Milwaukee also has engineered thermal overload protection into the design: if the electronics get too warm, the gun shuts down until it cools off. Milwaukee says that feature will help extend the overall life of the tool.
You can switch between sequential or bump-fire modes using a push-button selector in back. And, a rear-positioned LED light provides a bit of aid beside the gun when nailing in a dark place.
At $379, this M18 FUEL kit also includes a canvas bag.
PORTER-CABLE PCC790LA 20V MAX*
Street Price: $199 (kit) / $149 (bare tool)
Weight (with battery): 5.9 lbs.
Brad Lengths: 5/8″-2″
Features: Tool-free jam release, safety lock, LED task lights
Battery (included): One 20V MAX* lithium-ion and charger
Web / Phone: www.portercable.com / 888-848-5175
Maybe brad nailing isn't a regular task, or your modest tool budget must be obeyed. Fair enough. PORTERCABLE's PCC790LA may be just the kit for you. For $199, its flywheel-based drive system and 1.5Ah battery were up to snuff for setting brads into all my test lumber neatly and effectively. The tool's quiet motor helped sink 400 nails before the battery needed recharging, and there was only one jam in 1,000, which cleared easily through the flip-open nose release.
There's no dry-fire lockout here, unfortunately, or bump-fire mode, but the magazine's viewing window will tell you when the clip is low. The gun has ample overmolding and pleasant balance. It weighs just 5.9 lbs — the lightest here.
A plastic contact tip prevents marring workpieces, and twin LED lights help guide your way. Among some stiff pro-tool competition, P-C's value-priced brad nailer delivered a good showing.
RIDGID R09890B Hyperdrive 18-volt
Street Price: $229 (bare tool)
Weight (with battery): 7.9 lbs.
Brad Lengths: 5/8″-2-1⁄8″
Features: Two firing modes, dry-fire lockout, brushless motor
Battery (Provided for Test): 5.0Ah lithium-ion and charger
Web / Phone: www.ridgid.com / 800-474-3443
At 7.9 lbs., this orange and gray nailer has a hefty feel in hand, but RIDGID balances the weight well. It wasn't unwieldy, even when fastening crown molding overhead. Lavishly overmolded, the soft rubber lends a comfy grip.
RIDGID packs the R09890B with many desirable features: two firing modes, dry-fire lockout, a brushless motor and tool-free jam release. A slender button behind the trigger lights up a front LED, so you've got improved visibility as soon as your hand wraps the grip. It's the best task lighting feature among this test group.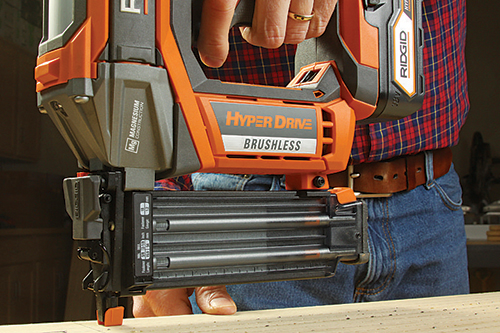 This gun's Hyperdrive™ energy system uses two pistons that move in opposite directions to form a vacuum inside a chamber. When you squeeze the trigger, the motor pulls one piston down to draw a vacuum, then a moment later, ambient air drives the top piston down to create the nailing force. You can dial the air pressure up or down with a slider switch on top.
It was plenty powerful for my nailing tests. Brads set and countersunk every time, and the gun operated quietly with almost no recoil. RIDGID provided a 5.0Ah battery for this bare tool; on the first charge the battery still had gas in the tank after driving 1,000 nails continuously.
For $229, this gun comes with a canvas bag and 500 1-1⁄4″ brads. RIDGID backs it with free replacement of seals, pistons and driver blades for life. While not the least expensive bare unit here, the R09890B proved to be an exceptional tool.
RYOBI P320 One+ AirStrike 18-volt
Street Price: $129 (bare tool)
Weight (with battery): 6.9 lbs.
Brad Lengths: 5/8″-2″
Features: Two firing modes, dry-fire lockout, grip LED
Battery (Provided for Test): 4.0Ah lithium-ion and charger
Web / Phone: www.ryobitools.com / 800-525-2579
If you have other RYOBI One+™ tools already, $129 will add a brad nailer to your cordless options — and it's a dandy! In fact, given all the standard features that come with it, I'm surprised it's priced so economically. The nimbly balanced P320 includes both sequential and bump-fire modes, and it stops firing when you're down to five or so brads to protect the driver blade. It also shares RIDGID's grip-activated light styling, with two bright LEDs that shine down in front.
Here's how RYOBI's AirStrike™ system works: a single piston inside pressurizes ambient air with each trigger squeeze, and that's what drives the brad. The motor is quiet and the ramp-up time is brief. This nailer sinks even long brads into thick hardwood without unpleasant recoil — and mine didn't dent delicate pine trim or veneered plywood, either. You can fine tune how deeply to countersink those nails with a large air pressure dial on top — it's unique to RYOBI. Plus, there's a second contact element adjuster wheel in front to set countersink depths. (The other guns are similarly appointed.)
If the nailer should happen to jam, you'll be able to clear the brad by popping open a tool-free release on the nose. My nailer didn't clog up once over 10 clips of 100 brads. RYOBI includes 500, 1-1⁄4″ brads with the tool.
SENCO F-18 Fusion 18-volt
Street Price: $329 (kit)
Weight (with battery): 6 lbs.
Brad Lengths: 5/8″-2-1⁄8″
Features: Two firing modes, dry-fire lockout, tool-free jam release
Battery (included): One 1.5Ah lithium-ion and charger
Web / Phone: www.senco.com / 800-543-4596
SENCO was first to offer a nitrogen-based drive system in this "Fusion" line several years ago. It functions similarly to Milwaukee's M18 FUEL drive. And, like that gun, this nailer fires revolver-fast, with about the same amount of blunt recoil. But even with a powerful nailing force, the F-18 left behind tidy nail holes without dents.
SENCO says its sealed nitrogen "vessel" should last 100,000 nailing cycles before needing any service.
While quite tall, the Fusion is about a pound lighter than the M18 FUEL. It's slender and evenly weighted from front to back.
Pushing an illuminated switch allows you to choose between single-shot or contact actuation. I appreciated how, unlike other nailers here, the Fusion will shoot every single nail in a clip before engaging the dry-fire lockout feature; you won't be left with a little stick of four or five fasteners to get hung up inside the magazine when you load the next clip. It also shuts off when the 1.5Ah lithium-ion battery needs recharging but before nailing performance suffers. Nice.
In testing, the battery lasted through 700 brads and then needed topping up. SENCO says the included charger will replenish it to 80 percent in just 15 minutes.
The Fusion's contact element is located ahead of the nailing tip, which makes it a little harder to visually position nails than when it's behind the tip. But, you'll get the hang of it. And, its well placed front LED light helps you see your target better.
Priced at about $50 under Milwaukee, SENCO's F-18 Fusion kit with canvas bag edged it out by a nose in features and performance.