While they may not have the panache or instant recognition of dovetails, there's no denying that box joints exhibit their own curb appeal on furniture, drawers and boxes. Their interlocking pattern of straight pins and slots provides a geometry that will make non-woodworking observers wonder how you did it, and the light-to-dark interplay of face and end grain catches the eye every time. But aside from eye candy, these joints are as much substance as show. All of those contact surfaces between pins and slots offer a huge amount of glue surface area. Once a well-made box joint is glued up, you'll be hard-pressed to break it.
Now, I can already hear the critics say, "There are umpteen box joint jig plans on the Internet and YouTube. You can build them from scratch, with all sorts of whiz-bang adjusters, and pay next to nothing!" Yep, you folks are right. But keep in mind that not every woodworker enjoys designing or building jigs. If you'd rather spend your shop time making projects, gifts and furniture, this roundup of prefabricated box joint jigs is for you.
The following five options offer quite a range of function, versatility and pricing. But rest assured — they all work well for the job. Have a little patience, follow the directions carefully, and start with flat, square and uniform workpieces. You'll be making air-tight box joints in no time, thanks to these well-engineered products.
Woodhaven 4555
Street Price: $69.99
Joint Sizes: 1/8″ to 13/16″
Compatible With: Table saw, router table
Web / Phone: www.woodhaven.com / 800-344-6657
Woodhaven's 4555 Box Joint Jig most closely resembles those pin-and-scrap-fence versions you may have made before, and it functions similarly. It features a 24″ extruded aluminum fence with T-track openings that mounts to a table saw or router table miter gauge (not included). A pair of 3/4″-thick MDF sub-fences in front serve as a sacrificial facing to help minimize tearout as a blade or bit exits each slot cut.
What makes the 4555 a big improvement over typical shop-made box joint jigs with fixed pins is that this jig's double indexing pins are adjustable. Made of angled aluminum and piggybacking one another, one pin registers one edge of a slot cut, and the other pin can be moved and set to index the other edge of the same slot cut — whatever width it happens to be. When aligned up and down, the two pins can accommodate 1/8″-wide slot cuts. Or, spread to their maximum distance, you can cut up to 13/16″-wide box joint patterns. Great versatility!
It's also easy to space the slot cuts accurately, by loosening two T-knobs that mount the fence unit to the miter gauge, then sliding the whole assembly left or right as needed. It's a simple way to refine a too-loose or tootight joint.
The jig will mount to any miter gauge with fence holes in it by screwing a scrap facing to the gauge for retrofitting to the 4555's connecting bolts. Or, Woodhaven brand miter gauges will accept the 4555 jig directly. Regardless, it's very important that the miter gauge's bar slides in your table saw or router table's miter slot without side-to-side play. Any "slop" here can lead to cumulative error in the joint's pattern, which will impede its fit.
The simplicity of this design and its ability to cut a wide range of slot sizes makes this jig attractive. It doesn't cost an arm and a leg, either. But, I wish its metal indexing pins were longer. They only protrude about 3/8″ beyond the MDF sub-fences. So, when you're cutting, say, 1/2″ or 3/4″ material, the pins are hidden entirely underneath the workpiece. It's more difficult to reference them easily from above, standing behind and over the jig. Make sure your workpiece's end is flat on the table. You may also want to clamp it to the fence for every cut, just to be sure it stays properly engaged with the jig's short pins.
INCRA I-Box
Street Price: $179.95
Joint Sizes: 1/8″ to 3/4″
Compatible With: Table saw, router table
Web / Phone: www.incra.com / 888-804-6272
INCRA's I-Box uses a unique dual-pitch lead screw "positioning engine" that reduces the variables that impact a box joint fitting together too tightly or loosely. Here's how it works: a red knurled knob on the end of the jig's aluminum fence does two operations: it opens or closes a pair of steel pins that fit inside slots of the joint as they are cut, PLUS it simultaneously moves this pin assembly the correct distance away from the cutter. What amount to two separate factors for some other box joint jigs are simplified into a single adjustment here. The chrome dial on the end of the red knob tweaks joint fit further, in .001″ increments.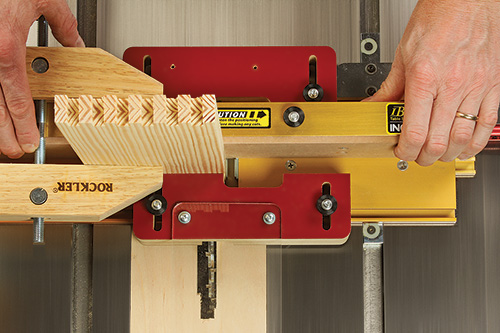 I-Box comes with its own miter gauge that mounts to the fence and slides in a standard 3/8″ x 3/4″ miter slot. It has INCRA's GlideLOCK™ plastic adjusters on the bar to snug up any loose fit in the miter slot, for silky smooth operation. The fence adjusts laterally on the miter bar to suit different cutter-to-miter slot distances, as these vary by router table and table saw.
This jig also offers excellent guarding, with thick MDF blocks on the infeed and outfeed sides, plus a long clear guard plate shielding the user from flying debris or contact with the cutter. And to help keep cuts tidy, there's a replaceable 1/4″ MDF facing that also can be flipped for reuse.
The I-Box works equally well on a table saw or router table, and its variable split-pin design will enable it to cut any pin-and-slot pattern you choose, from 1/8″ up to 3/4″. That flexibility can help you produce a balanced joint pattern on a wide variety of workpiece widths. You can also cut more decorative splined and "center keyed" box joint styles.
INCRA's 12-page manual is thorough and well illustrated with color photographs. You also get a DVD that covers the manual's information in video. Be sure to keep these guides handy unless you cut box joints frequently — there is a learning curve to setting up the I-Box. But if you follow along step-by-step, you'll be up and running quickly. While $179 may seem spendy for a jig that cuts essentially one type of joint, it does the job wonderfully.
Leigh RTJ400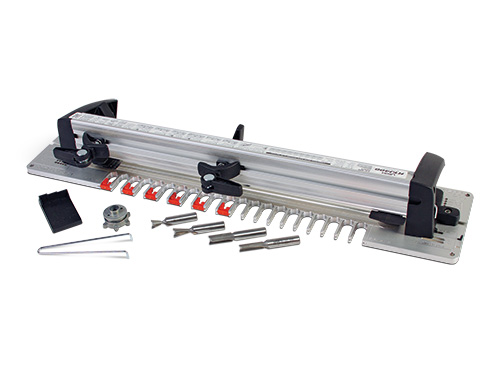 Street Price: $359
Joint Sizes: 3/8″, 3/4″ (standard); 3/32″, 3/16″ (optional)
Compatible With: Router table
Web / Phone: www.leighjigs.com / 800-663-8932
The versatile RTJ400 will cut about a dozen sizes and styles of through and half-blind dovetails, plus four sizes of box joints. Here's the gist of how it works. It consists of a thick aircraft-grade aluminum template with a pattern for cutting dovetail pins or box joints along one edge and dovetail tails along the other edge. This style of joint-making template isn't new, and many dovetail jigs use it. While the RTJ400 will cut a few sizes of box joints, most other template-style dovetail jigs can, too.
What makes this jig truly unique is its handle and fence system. Leigh has engineered a series of holes and slots in the template that position the fence automatically for cutting its full range of box and dovetail joints. Much of the trial-and-error process involved with setting up other similar templated jigs is eliminated with this design, and that's a huge help!
Another brilliant Leigh innovation is the "eBush" guide collar, required for use with the jig. It installs in 1-3/16″-diameter router plate openings. The bushing portion is elliptical, not round, like typical guide bushings. Its collar has numeric index marks that enable you to adjust the tolerances of your joints by simply twisting the eBush left or right to increase the collar-to-router bit offset. This way, eBush allows joints to be fine-tuned in .001″ increments.
The RTJ400's base will accept workpieces up to 16″ wide, so while this jig doesn't accommodate unlimited workpiece width, it will tackle anything from small boxes and drawers up to moderately sized carcasses. The template's 6″ x 27″ footprint, combined with sturdy handles on both ends of the fence, also inspires confidence when machining even long or heavy workpieces. But, you'll need a router table to use this jig. It also only works "template down" and not with a freehand router.
Leigh includes a 3/8″ straight bit with the standard kit, so you can cut either 3/8″ or 3/4″ box joint patterns, plus many sizes of through and half-blind dovetails with other included bits. You'll need to buy accessory bits for routing 3/32″ or 3/16″ box joints. It won't cut other common box joint sizes like 1/4″ or 1/2″.
A clearly illustrated spiral-bound manual, and an instructional DVD, provide excellent help. I was able to cut glue-ready 3/4″ box joints on my first try. But, keep these reference materials close at hand when using the jig — setting it up isn't intuitive. Who would pay $359 to only cut box joints? Not many. But remember, box joints are only the tip of the iceberg of joint-making options here.
Rockler Box Joint Jig
Street Price: $84.99
Joint Sizes: 1/4″, 3/8″, 1/2″
Compatible With: Router table
Web / Phone: www.rockler.com / 800-279-4441
Rockler's Box Joint Jig has a 1/2″-thick MDF base that's positioned over the router bit on a router table, then locked in place using two 3/8″ x 3/4″ metal miter slot bars and star knobs. Make sure the miter slot on your router table is within 4-1/2″ to 6-3/8″ from the center of the router bit; more or less span will exceed the base's range of adjustability.
A plastic 3″-tall backer sled rides in a pair of grooves cut across the jig's base. It functions like a double-bar miter gauge: the sled supports your workpiece while cutting pins and slots so you can slide it over the bit accurately. Three blue anodized aluminum indexing keys, sized 1/4″, 3/8″ and 1/2″ wide on top, mount to the jig base with a pair of tiny Phillips screws. These keys, when used with router bits of matching diameters, enable the jig to cut three sizes of box joints with minimal changeover. To switch to another joint size, just swap the index bar and bit to the size you want to cut, then loosen and shift the jig base over accordingly to match the bit and key size. It's simple to do.
Given the 3″ x 6″ size of the backer sled's vertical fence, this jig is best suited for making small boxes or drawers with sides not much wider than around 8″. Fasten a sacrificial fence facing to the sled to improve support further and to provide wider handholds.
The MDF base works well, but I do wonder how long the backer sled will slide in its grooves before it starts to gradually widen them. Accuracy depends, in part, on this sled moving smoothly with minimal side-to-side play. An aluminum or phenolic base would extend the life of this jig further.
The strength of Rockler's design here is simplicity: if you've never cut box joints before, its four-page manual won't intimidate. Thanks also to quick setup, you'll be making box joints in less than an hour. I was able to cut a snug-fitting 1/4″ box joint on the first try, using a 1/4″ spiral upcut bit (bits aren't included). And, if you should happen to misplace the manual, the jig's design is intuitive enough that you probably won't need the instructions anyway.
Woodhaven 4556 Portable Box Joint Jig
Street Price: $119.99
Joint Sizes: 1/2″ to 1-9/16″
Compatible With: Handheld router
Web / Phone: www.woodhaven.com / 800-344-6657
Woodhaven's second jig option for cutting box joints clamps over the end of a workpiece. So, rather than passing the jig and workpiece over a router table or table saw to make the slot cuts, you use a handheld router equipped with a 3/4″ O.D. guide collar and 1/2″-dia. bit (not included) to make the cuts, moving the router over the jig's top surface.
Two black phenolic plates serve as a router base, but their spacing also sets the cutting width for the guide collar and bit. A pair of adjustable aluminum "stop arms" underneath the top supports provide the index to start the box joint cuts, then they fit inside the joint slots when working across the end of the board. Each subsequent slot cut involves unclamping the jig, fitting the stops into the previous slot, and re-clamping the jig before cutting.
The jig's construction is stout: a 12″ aluminum slotted track serves as its spine and the connection point for a pair of included workpiece clamps, melamine-coated sacrificial boards, top supports and the adjustable stops.
Woodhaven provides five helpful plastic joint setup blocks for cutting 1/2″- to 1-1/2″ box joint patterns, in quarter-inch increments. Dialing in the jig for use involves loosening and adjusting the aluminum stop arms and one of the top black supports, inserting the appropriate setup block, spreading the stop arms to fit the setup block and retightening some screws. Easy.
After making one round of test cuts, then following Woodhaven's recommendation for refining a loose joint fit, I was able to cut a nicely interlocking joint on the second try. The clamps worked well to hold the jig securely, and the 4-1/4″-long top support platforms provided ample stability for guiding my mid-size router through the slot cuts.
This jig's clamp-on design makes it ideally suited for cutting box joints on large chest panels, because there's no limit to how wide a panel can be. If you want to build sizeable projects, like hope chests or decorative carcasses, here's a good pick. Plus, the 4556 will cut the largest box joint patterns of any jig here, up to 1-9/16″. On the flipside, it isn't well suited for use on narrow or small drawer parts, where clamping width for the jig is compromised. And, look elsewhere if you want to cut tiny box joint patterns: the smallest pin-and-slot pattern possible with this jig is 1/2″.