Here in Minnesota, the weather is trying to lull us into the idea that spring has come. Warm days, melting snow and birds flying around like crazy. It is a lie.
March has the reputation of being one of the snowiest months of the year. Heavy wet snow that will bring on a heart attack in short order when shoveling. But even so, this cruel joke of warm weather has got me started thinking about some outdoor building projects that I have planned. A rustic outdoor bench formed from a section of tree trunk and power-carved to shape. An outdoor kitchen that has been ruminating for a couple of years. With luck these hopes and dreams will keep me warm and dry when March merrily drops eight to 12 inches of "partly cloudy" on the driveway.
But what about you? What sort of outdoor project plans are on your docket? Perhaps I can dream of them in the coming blizzard!
Rob Johnstone, Woodworker's Journal

Building a DIY Wall Shelf
Rob Johnstone takes you step-by-step through the process of creating a simple wall shelf. He explains the tools, jigs and techniques you'll use to create
this project
accurately every time.

Making an Adirondack Chair – Part 1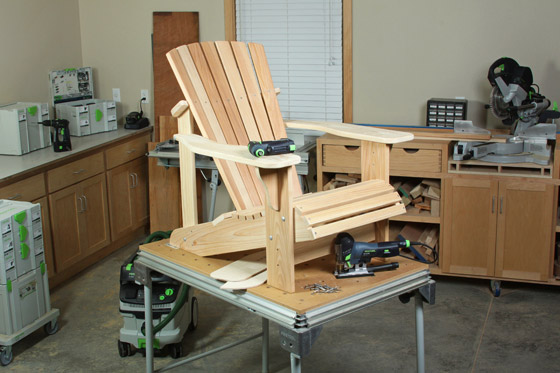 Complete plans and video show you how to build a classic Adirondack chair. This project is fun and easy to build for woodworkers of all skill levels.
From Our Sponsor