While an 18-gauge brad nailer can tackle most of the pneumatic nailing needs for woodworking, a 23-gauge pin nailer is also a really handy tool. It can drive stickpin-thin headless or slight-head brads into delicate moldings and hardly leave a mark. You can use it for attaching glass re- tainers to cabinet doors, cross pinning dowels or tacking trim to projects and cabinetry to hold it securely while the glue sets. So it's handy, but you probably won't need a pinner for every project. And, while the market is full of options, I chose a test group that I thought would meet our occasional needs best: nailers that can drive fasteners long enough to hold 1/2″ or 3/4″ stock securely while being affordably priced at around $100 or less. You can spend more for premium models or as little as $30 for "bargain" brands with a 1″ nail length limit, but I think this group of eight is probably your wisest value for all-around use.
Testing Goals
Pin nailers should be capable of driving the longest nails their magazines will hold into hardwood. To test their mettle, I set my compressor to 90
psi and fired 400 nails per gun (either 13⁄16″ or 13⁄8″ long, depending on the tool) into 8/4 maple. While it's a tough challenge, all eight tools did the job without a single jam.
But brawn is not where a pin nailer will earn its stripes most of the time: you want it to nail carefully without flawing the work surface, which often happens with brad nailers. So, I drove another 100 pins per gun into soft, quarter-round pine to test for nailing finesse.
Some 4,000 nails later, I've learned a few things about these pinners, and I've got a favorite here. Read on to find out which gun gets top honors.
Bostitch HP118K
Street Price: $119
Weight: 2.17 lbs. / Exhaust: Rear
Fastener Range: 3/8″-13⁄16″
Pin Type: Headless or slight-head
Accessories: Case, nails, belt
hook, oil, air fitting cap
Web/Phone: www.bostitch.com / 800-556-6696
Seven years ago, I tested this Bostitch pinner in our first- ever pin nailer review, and it left me with mixed impres- sions. Aside from the tool now having an adjustable belt clip, it is otherwise unchanged. So, my sentiments are largely the same after trying it out again.
The nailer has a pointed steel tip that makes it easy to locate fasteners exactly where you want them, but at 90 psi, it left pock marks on both pine and maple around the nails. Not good. There's an adjustable high/low pressure switch above the trigger, but flipping it to the "low" setting didn't help.
Pin nailers typically have two triggers: the rear is a safety to prevent accidental firing. Squeezing it readies the primary trigger for use. On this Bostitch, there's barely enough grip space behind the safety for two fingers. My nat- ural inclination when picking up a nail gun is to grab it with three or four fingers; that deactivates the safety on the HP118K whether you're ready to fire or not. A shorter safety trigger or a longer grip would make this a much safer tool to grasp.
The gun has a solid feel to it, and Bostitch provides many extras, including a hard case, 1,500 nails, oil and an air fitting dust cap. It's priced at the top end for this group at $119, but it includes a 7-year limited warranty.
Cadex CP23.30
Street Price: $99.95
Weight: 1.95 lbs. / Exhaust: Front
Fastener Range: 1/2″-13⁄16″
Pin Type: Headless
Accessory: Oil
Web/Phone: www.cadextools.com / 604-876-9909
Compared with Bostitch's pinner, the Cadex CP23.30 offers a roomier grip but instead, only one trigger. The safety here amounts to a steel tab that pivots out of the way to free the trigger. Once it's flipped clear, every trigger squeeze fires the gun. Two-trigger styles on other nailers are a safer setup.
This mid-sized, rugged gun will hold two 100-nail clips in its magazine for extended use, unlike some others that are limited to one clip at a time.
Cadex's steel tip is more rounded than that of the Bostitch gun, and that helped reduce the incidence of denting on pine. Marring was harder to see. The CP23.30 blows exhaust air forward, which could be annoying if you're nailing into a corner, but it was a nonissue for flat-board work.
This gun requires occasional light oiling to lubricate the internal parts, and Cadex stamps an "Oil" indicator into the tool near the hose fitting — it's a helpful reminder.
For $100, I wish the Cadex came with more extras than it does: you get a bottle of oil and a cardboard storage box.
Hitachi NP35A
Street Price: $83
Weight: 2 lbs. / Exhaust: Rear
Fastener Range: 5/8″-13⁄8″
Pin Type: Headless
Accessories: Case, oil, safety glasses, air fitting
cap, spare nose tip
Web/Phone: www.hitachipowertools.com /
800-706-7337
Hitachi's pinner has three solid features going for it that attracted my attention right away: first, when I picked the tool up, its overmolded rubber grip fit all four of my fingers without also brushing the safety trigger. Second,that safety hugs the primary trigger closely and points down, so you have to deliberately reach for it with your index finger — and thinking about engaging the trigger means safer nailing in the long run. Third, the orange plastic nose tip en- sured blemish-free nailing on both hardwood and softwood. Every pinner should have one of these protective tips.
From the top of its piston housing to the nose, the tool measures 61⁄4″, and that com- pact size could be quite handy for tight-quarters nailing. Once loaded, it will shoot up to 100 nails at a time. A red indicator on the magazine tells you when you're running low.
The NP35A comes with a hard case, oil, safety glasses and a 5-year limited warranty. At around $83, it's not the cheapest tool here, but I think the extra cost is merited, given its sensible features.
Porter-Cable PIN138
Street Price: $119
Weight: 2.1 lbs. / Exhaust: Rear
Fastener Range: 5/8″-13⁄8″
Pin Type: Headless or slight-head
Accessories: Case, nails, belt hook,
air fitting cap, spare nose tip
Web/Phone: www.portercable.com / 888-848-5175
While priced on the high end with Bostitch at $119, P-C's PIN138 is better designed. Its grip is easy to handle, and the two-trigger system offers good precaution against misfires. It delivered decent performance, but some of the fasteners set only flush or slightly proud on both pine and maple.
My favorite feature of this gun is its dry-fire lockout, which prevents the gun from firing when you are within a few pins of emptying the magazine. This way, the tool's driver blade can't damage the workpiece by firing without a nail, and you'll never have to guess if a nail has actually been driven into each pinhole or not.
This is the only test gun that features an oil-less, mainte- nance-free design, and a belt clip and two no-mar tips are other useful goodies. PORTER-CABLE also includes a sturdy plastic carry case, 2,000 nails and safety glasses.
There's a 90-day money back guarantee and a three-year lim- ited warranty with this tool. All in all, if you're willing to spend a bit more on a pin nailer, this complete kit is a good choice.
RIDGID R138HPA
Street Price: $99
Weight: 2.1 lbs. / Exhaust: Rear
Fastener Range: 5/8″-13⁄8″
Pin Type: Headless or slight-head
Accessories: Nails, belt hook, oil, swiveling air fitting, spare nose tip, safety glasses Web/Phone: www.ridgid.com / 800-474-3443
RIDGID also offers a 13⁄8″-maximum nail-length pinner that bears some similar- ity to Hitachi's gun. From top to bottom and front to back, though, it's smaller and the tiniest gun in this group.
The R138HPA did a fair job of driving long pins into both maple and pine, and its no-mar tip prevented divots. But it didn't countersink them as well as others, and some nails were left slightly proud
of the surface. Trouble is, it's impossible to drive these pins in farther and straight by hand.
A two-trigger design, nail viewing windows in the maga- zine and a belt hook round out the accoutrements on this gun. For $99, there's no plastic car- ry case, but you do get 1,000 nails, oil and safety glasses.
It also includes RIDGID's lifetime service agreement.
Rotek RPN0635
Street Price: $89
Weight: 2.2 lbs. / Exhaust: Rear
Fastener Range: 1/2″-13⁄8″
Pin Type: Headless or slight-head
Accessories: Case, oil, spare nose tip Web/Phone: www.floydtool.com / 800-882-7060
There are numerous, less- er-known pin nailer brands on the market, including Rotek. While you don't get a warranty or even a printed manual with it, this $89 gun comes with a plastic case and a bottle of oil.
In testing, the RPN0635 drove and set pins consistently and neatly into both maple and pine. It features a no-mar tip plus a spare, a well- designed two-trigger system and a stepped magazine that could help you fit this tool into tighter corners than some others with long, straight magazines.
The gun blows exhaust air out the front, which isn't as user-friendly as rear exhaust styles. It otherwise seems du- rable and very well-designed. In fact, I happen to own a GREX P635 pinner, which sells for more than twice the Rotek price, yet this RPN0635 visually and functionally could be its crimson-colored twin.
Spotnails SP2340 The Striker
Street Price: $99.99
Weight: 2.75 lbs. / Exhaust: Front
Fastener Range: 1/2″-19⁄16″
Pin Type: Headless and slight-head
Accessories: Case, oil
Web/Phone: www.spotnails.com / 800-873-2239
Another lesser-known brand, Spotnails actually makes several nailer styles, including its SP2340. While the body casting on this tool doesn't have the refined fit and finish of other nailers here, its steel tip surprised me by driving pins into maple without mar- ring the surface. On softwood, tip denting was slight but happened routinely.
The tool's long, straight magazine could make it awkward in tight quarters, but it holds two clips at a time for less reloading. Exhaust air blows out the front — not ideal — and oddly, it lacks an air fitting; you'll need to buy that separately. The grip space is snug, and my fourth finger often scraped the edge of the safety lever, which projects straight back from the trigger.
Spotnails rounds out your $100 purchase with a plastic carry case and a bottle of oil. The tool also includes a 90- day warranty and a year on its major non-wear components.
Surebonder 9710CB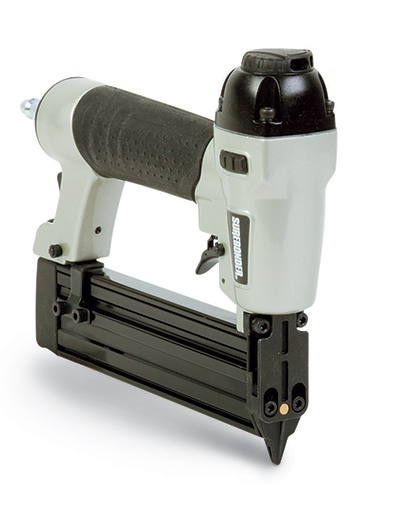 Street Price: $49.42
Weight: 2.05 lbs. / Exhaust: Swiveling
Fastener Range: 1/2″-13⁄8″
Pin Type: Headless or slight-head
Accessory: Oil
Web/Phone: www.surebonder.com / 800-860-3838
For an extremely affordable way to get into pin nailing, Surebonder 9710CB offers a no-frills, $50 solution. The gun has a spacious grip, because there's no safety lever. The safety amounts to a tiny flip-down latch behind
the trigger: once it's clear, the gun fires at every squeeze. During use, you can decide where the exhaust air blows, thanks to a swiveling air port on top. That's a nice detail.
Its straight magazine holds up to two clips, and the gun drove them adequately, al- though there were occasional fasteners that didn't set below the wood surface. The narrow steel tip left noticeable mar- ring on pine but not on maple.
Out of the box, I had to fix a gasket air leak by tightening the tool's Allen screws, but then it worked normally. Besides oil and a 90-day war- ranty, there are no other extras with this budget-priced tool.
Three Premium Nailers
Pin nails up to 2″ long are available, but to drive them you'll need a full-size nailer. Currently, there are three premium options: the Cadex CPB23.50 ($269.95), SENCO's FinishPro 23LXP ($229) and GREX's P650 ($288). These high quality guns will also fire all of the shorter pin nail lengths, but having the convenience of full service does come with a higher price that is common to high quality tools.
Who Nailed the Win?
My all-around "Best Bet" pick goes to Hitachi, which offered good performance, is sensibly designed and fairly priced. If Rotek came with a warranty, this affordable dark horse could have stolen the "Best Bet" win here. Still, it earns a close second for an impressive showing in the nailing test.