We tested and reviewed eight of the top mini and midi lathes. Each includes a variety of features that will satisfy woodturners of different skill levels. Find out which of these is the best benchtop lathe for your shop.
During the last decade of the 20th century, a number of manufacturers brought out versions of their standard 1″ x 8 TPI lathes with a short bed. Aimed at the rising tide of pen turners (the first pen kits came out in 1987), they were dubbed "mini lathes." To machinery producers' delight, these small lathes also found great popularity with model makers, teenagers and those just wanting to try turning without spending a fortune. The first mini lathes sported 8″ to 10″ swings and 12″ to 15″ between centers.
During the first 10 years of this century, many manufacturers beefed up the bed of their mini lathes and raised the spindle height to yield a 12″ swing. Delta was probably the first to dub these upsized machines "midis," but the terminology of mini as 10″ or smaller and midi as 12″ and bigger is now part of the popular lexicon.
Lathe makers have all added bed extensions that take the midi back in the direction of the standard workshop lathes of my youth (which had an 8″ to 10″ swing and 29″ to 36″ between centers and were intended to be placed on a workbench or shop-built stand). Typically, adding one extension extends the nose-to-nose distance between the spindles to between 37″ and 45″. This makes midi lathes a good choice for furniture builders who want turning in their repertoire. Additionally, most midis and minis now have variable speed, usually with a DC motor and controller. Today's midi lathe makers also offer good quality stands with more than adequate height adjustment — a good thing, as putting a modern midi on a workbench may make the spindle too high, especially for a young person. (Ideally, the center of the spindle of a lathe should be at elbow height. Past workbenches, designed for hand tool woodworking and shorter statures, were typically 33″. Today's benches, designed more for router use and taller people, have grown to as high as 36″.)
Lathe Capacity Factors
For this article, I had a chance to test out eight of today's midi and mini lathes. I took each one for a drive with identically sized spindles from the same plank of wood. This enabled me to experience how each machine feels and behaves, which I believe is more important than raw specifications.
That said, there are some important factors in the capacity of a lathe: the center height, the height of the banjo and the distance between centers. Manufacturers will list swing as twice the center height: what the machine will swing over the bed. The true swing of a lathe, however, is center height over the banjo, because this base for the tool-rest has to be under all spindles and most faceplate work. Two lathes with the same swing could have different banjo heights.
Likewise, between-center distance is often listed as the spindle nose to tailstock nose distance. The necessary drive and live centers to hold a spindle would lessen this amount. For this tool review, I have provided the distance with the back of the tailstock even with the end of the bed and the same set of low profile centers for all the lathes. (You can usually gain a bit more distance by hanging the tailstock an inch or so off the bed.)
A Word About Speed
Variable speed has become a standard feature in all but budget priced machines, which retain belt and pulley speed adjustment. If you are on a budget, there is nothing wrong with changing pulley groves to change speeds; it was done that way for centuries.
All manufacturers have gone from V-belt/pulley power transmission to poly-V. Poly-V belts are far superior for steady speed and power delivery, eliminating the surging and slippage common to the V-belt. All variable speed machines in this review retain step poly-V pulleys as part of the control package.
Liken the steps to the gearshift in a car and the speed controller to the accelerator. Putting the lathe belt on the smallest diameter motor pulley is equivalent to first gear in your car. This gives you more torque at the spindle and more control over that speed range, ameliorating the danger of going too fast in faceplate work. All but one of the lathes had DC motors with DC controllers. Turning a knob clockwise increases speed; counterclockwise slows things down.
COLT SML-350
Motor Size: 1hp (true)
Speed: 80-100 / 170-1,700 / 560-3,700 rpm
Digital RPM Display: Yes
Swing Bed/Banjo: 14″ / 10-3⁄8″
Center to Center Distance: 16-1/2″ / 38-3⁄16″ with Extension
Street Price: Lathe $1,000 / Ext $250 / Stand $280 / Total $1,530
Web / Phone: www.colt-tools.com / 49 (0) 2266 1266
The COLT lathe had the biggest swing of all the lathes in the test, with 14″ over the bed and 105⁄8″ over the banjo. It was also the only lathe with a frequency drive, used in tandem with an induction motor. Frequency drives take normal, single-phase AC current at 60 cycles/hertz (50 Hz in Europe) and deliver three-phase current at any cycle rate between 2 and 70 Hz. Since cycle rate controls the speed of a three-phase induction motor, this allows a 1,725 rpm motor to run anywhere between 57 and 2,800 rpm with practically no drop in torque at slow speeds. Frequency drives are seldom seen on lathes under 1-1⁄2hp, so COLT has a first here. The DC motors with a DC controller used in the other lathes have a significant fall-off of the torque curve at lower speeds.
This was also the only user manual that cautioned on the noise level of the lathe — 79 decibels. All lathes are this noisy; the danger comes not from the lathe itself, but from the work hitting a spindle roughing-out gouge or a bowl gouge during the interrupted cuts involved.
The COLT's digital speed control actually reads the speed of the headstock pulley with an LED sensor. It also has a quality live center, a high level of fit and finish, and is one of only two lathes in the test with a 1″ tool-rest stem diameter. It's a dream to turn on, with plenty of power and no vibration.
The COLT stand had a leg that attached to the end of the extension but was not tied to the rest of the stand with a cross-member, which makes removing the extension and leg easy for those wanting to save floor space except when turning long spindles. A lifting handle can be moved to the extension. If you are not going to buy the stand, this makes lifting the lathe on and off the bench much easier.
The stand could, however, use some slight improvements, such as putting plastic plugs in the ends of the support tressels.
As is, and if price is no object to you, this lathe ties for my overall first pick.
Motor Size: 1/2 hp
Speed: 760 / 1,100 / 1,600 / 2,200 / 3,200rpm
Digital RPM Display: No
Swing Bed/Banjo: 10″ / 7-1⁄4″
Center to Center Distance: 17-1⁄4″ / 37-3⁄4″
Street Price: Lathe $300 / Ext $75 / (no stand) / Total $375
Web / Phone: www.rockler.com / 800-279-4441
The Excelsior is a 10″ mini lathe true to the original concept of a mini lathe — a simple, portable lathe that works well and does not take up much space. It has all the basics: good fit and finish, decent controls and an induction motor with five-step pulley speed control, for a very affordable price point. The banjo, tool-rest and tailstock levers worked easily.
Its small size and modest weight give it great portability and the ability to store easily when not in use. I know an avid woodturner who keeps an Excelsior in his motor home to turn at campgrounds. Like the Penn State Turncrafter Commander and the Steelex, it does not have reverse — which, again, in my opinion, is not very important.
With five speeds, anything within its capacity can be safely and efficiently turned. One advantage of step pulley speed control is that there is great low speed torque, which is not the case with DC motor/controller equipped lathes. If your turning will be confined to miniatures or pens, you will be doing most of your work in the 1,600, 2,200 and 3,200 rpm belt steps.
Adding the $75 bed extension would turn the Excelsior lathe into an adequate lathe for all but the largest furniture spindles. The Excelsior is a great lathe for a young aspiring turner or anyone wanting to turn miniatures or pens.
DELTA 46-460
Motor Size: 1hp
Speed: 250-750 / 600-1,800 / 1,350-4,000 rpm
Digital RPM Display: No
Swing Bed/Banjo: 12″ / 9-1⁄2″
Center to Center Distance: 16-1⁄2″ / 42″ with Extension
Street Price: Lathe $580 / Ext $130 / Stand $160 / Total $870
Web / Phone: www.deltamachinery.com / 800-223-7278
I really appreciated the clean, industrial design of the DELTA 46-460. It's an overall design concept, from the instruction manual to the color choices and logo, with great graphics. The manual, with lots of photos and good information, was the best of the bunch.
To bring safety to reverse direction, most of the lathes have setscrews in the faceplate, which tighten into a groove just ahead of the spindle shoulder to lock the faceplate on the spindle during reverse operations. The JET, along with the COLT and the DELTA, also had Nylok® grub screws, which are akin to using a lock washer with a nut and will not turn without some force being applied to the hex key.
This lathe also has a first-rate fit and finish. The stand was well thought-out, with a built-in tool rack that can hold up to six tools. Area for improvement? I wish it had digital readout.
It's very pleasant to use, with good power and enough center-to-center distance (with the extension) for any furniture spindle.
Motor Size: 1hp
Speed: 60-900 / 110-1,800 / 220-3,600 rpm
Digital RPM Display: Yes
Swing Bed/Banjo: 13″ / 9-1⁄4″
Center to Center Distance: 18-1⁄8″ / 38-1⁄8″ with Extension
Street Price: Lathe $800 / Ext $199 / Stand $518 / Total $1,517
Web / Phone: www.jettools.com / 800-274-6848
This Jet 1221VS lathe has a super-heavy construction and a high level of fit and finish. Its very solid stand is absolutely first-rate. I was very impressed with the stand, which has been redesigned. We received one of the first for this article. All of the bolt holes aligned perfectly with top quality fasteners threading into tapped holes. All of the fasteners on the stand itself are chrome-plated socket head cap screws, while the lathe is affixed to the stand with contrasting black oxide cap screws.
While I still encourage turners to build a wood stand for their lathes, OEM stands in general, and especially the JET's, have gotten so good as to warrant serious consideration. Stands, shop-built or purchased, make the lathe more accessible while preserving precious bench space. The JET 1221VS lathe  has very clean design, which has been a big thrust of the company. All parts move smoothly and locking handles are stylized and pleasant to use. Many niceties are included, such as metal racks that screw to each end of the bed for Morse taper accessories and the knockout bar. A wire rack holds chucks and faceplates but allows chips to filter through.
The JET JWL 1221VS, exclusive of price consideration, ties for my first pick. If it had a frequency drive and induction motor, at least as an option, it would be my absolute first pick. There is a reason why so many of my students, as well as turning clubs, rely on this machine. They back up the machine with a five-year warranty and long-term replacement part supply.
Motor Size: 1hp
Speed: 80-800 / 170-1,700 / 360-3,700 rpm
Digital RPM Display: No
Swing Bed/Banjo: 12″ / 9-3⁄8″
Center to Center Distance: 16-1⁄2″ / 42″ with Extension
Street Price: Lathe $580 / Ext $130 / Stand $160 / Total $870
Web / Phone: www.novatoolsusa.com / 866-748-3025
NOVA is the brand name of Teknatool International Ltd., a New Zealand company that has its own plant in mainland China. NOVA was the first company to bring a reliable and innovative four-jaw chuck to woodturning, and they now make a wide range of chucks and jaws. They supplied a G3 chuck with the lathe for review. DELTA also offers the G3 as an accessory for their lathe.
The NOVA Comet II bed sections are modular, meaning that more than one can be added to get extreme between-center spindle distances. I do feel the stand is incomplete, as there is no leg available for the single extension we requested for this review. That is the reason I did not attach it for the photography. This is a deficiency I would strongly urge Teknatool to correct. The lathe also has no digital readout and no set screws in the faceplate to prevent unscrewing when the lathe is in reverse. Overall, the Comet II is a smooth machine with adequate power, pleasant controls and clean industrial design.
The NOVA Comet II outboard grinder brings back a common user practice of the past: mounting a grinding wheel, either outboard or inboard. The practice was never sanctioned by any manufacturer because of the lack of containment if the wheel exploded. Many did it, however, because of the advantage of low cost and variable speed: you had a low-speed grinder for the price of a grinding wheel.
Installing NOVA's VersaTurn™ Coupler to the outboard side of the headstock allows an enclosed and guarded grinding wheel to be quickly bayonet locked in place. With a street price of $135 for the two pieces of hardware, this puts the price of sharp tools where it should be. It's a great improvement on an old idea — that now needs a CBN (cubic boron nitride) wheel to match.
Overall, the Comet II is a smooth machine with adequate power.
Penn State Turncrafter Commander
Motor Size: 1hp
Speed: 500-1,800 / 1,950-3,800 rpm
Digital RPM Display: Yes
Swing Bed/Banjo: 12″ / 9-1⁄2″
Center to Center Distance: 17-9⁄16″, with extension 44-9⁄16″
Street Price: Lathe $650 / Ext $160 / Stand $280/ Total $1,090
Web / Phone: www.pennstateind.com / 800-377-7297
The Turncrafter Commander is one of only three lathes in this review without reverse (the others are the Rockler Excelsior and the Steelex), a feature I have always considered dubious. The slight, if doubtful, advantage in sanding in the opposite direction is outweighed by the danger of unscrewing a heavily laden faceplate during sanding.
Lifting the midis in this test on and off a bench with a bed extension required two reasonably strong people, which is why my friend and fellow turner Scott Butler helped me with assembling these lathes and their stands. A feature we appreciated on the Turncrafter Commander is that it had handles for easy lifting.
The Commander is a house brand of Penn State Industries, who, for the most part, sell direct. To allow UPS shipment, the bed is shipped in a separate box from the headstock, tailstock, banjo and tool-rests. This makes some assembly necessary, but even the screwdriver is included. Everything bolts together in a straightforward fashion with clear instructions. The three wiring harnesses for the DC controller are easily plugged to the motor harnesses rolled up inside the headstock.
Once together, the Commander worked well with low vibration and adequate power. I really liked the digital readout having large, easy-to-read numerals and placements on the upper face of the headstock where the turner only needs to glance over to see the speed. Also included with this lathe are a quality live center, a rack for accessories and a work lamp — an unbelievable number of features for the price. With a bed extension, the Commander makes a great spindle lathe for the furniture maker with occasional turning needs.
RIKON 70-220VSR
Motor Size: 1hp
Speed: 200-750 / 550-1,500 / 1,300-3,850 rpm
Digital RPM Display: Yes
Swing Bed/Banjo: 12-1⁄2″ / 9-5⁄8″
Center to Center Distance: 20″ / 45-3⁄8″ with Extension
Street Price: Lathe $650 / Ext $160 / Stand $280 / Total $1,090
Web / Phone: www.rikontools.com / 877-884-5167
Except for the RIKON, lining up the extensions for any of the lathes in this review with the main bed is niggling, especially if working alone. An old trick is to get the bolts just shy of tight and align things as best as possible, then slide the tailstock until its hold-down (under the ways) equally straddles the junction between the beds. Tightening the tailstock brings both parts into perfect alignment, and the bolts joining the two parts can be bought to full torque.
RIKON's lathe eliminates the need for this trick with two grub screws in the extension bed that can now be The lifting handles on the brought tight against a ledge milled in the end of the main bed, guaranteeing no-hassle perfect alignment. This is a nice feature for furniture builders who may want to only install the extension bed when needed and save the space at other times.
The RIKON is also one of two lathes in this review with a 1″-diameter tool-rest (as opposed to 5/8″ for most). This adds a huge amount of strength and stability to this most important lathe component. It also meant that I could use the tool-rests from my full-size ONEWAY and Powermatic lathes in these machines.
It had a very nice fit and finish with a surface-ground bed, 3-1⁄2″ quill travel and a center-to-center distance of 20″ (45-3⁄8″ with extension) that has me over the moon. Furniture makers can turn the back posts for rocking chairs with room left over. With good power and easy controls that make this lathe a pleasure to use, if price is a key factor for you, this lathe would be my first pick.
Steelex ST1008
Motor Size: 1/2 hp
Speed: 480 / 1,270 / 1,960 / 2,730 / 3,327 / 4,023 rpm
Digital RPM Display: No
Swing Bed/Banjo: 10″ / 7-1⁄2″
Center to Center Distance: 15-13⁄16″ / 38-1⁄16″
Street Price: Lathe $330 / Ext $120/ Total $450
Web / Phone: www.woodstockint.com / 800-840-8420
Grizzly supplied this lathe from their Woodstock International brand as their Grizzly and Shop Fox brand models were sold out and unavailable at the time of the test. They wholesale the Steelex brand to woodworking resellers. It, along with the RIKON, is one of two that had surface-ground beds, rather than rotary ground, which can exhibit varying degrees of smoothness. It's doubtful that surface grinding makes a great deal of difference on a mini or midi lathe, but it does show an interest in quality. Surface grinding made sliding the tailstock and banjo very smooth and pleasing. The rest of the construction of this lathe is very solid as well; it's got a nice fit and finish for its price range.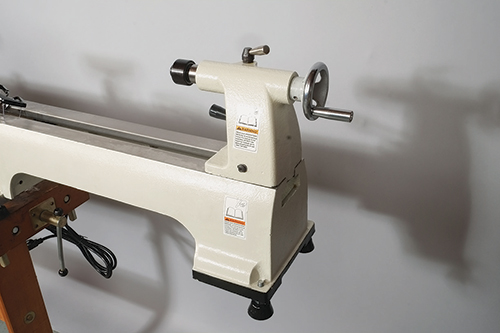 My two gripes about it: there is no scale on the quill, and the locking handles on the banjo hit either the bed or the tool-rest, so they need to be moved occasionally as situations change.
One of two mini lathes at an affordable price point included in this review, the Steelex is a great pen lathe or for a furniture builder with occasional turning needs.
Overall Gripes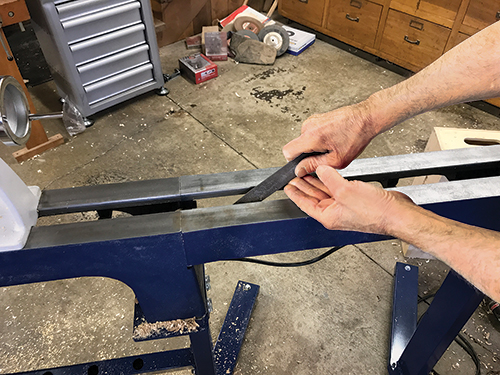 A few gripes applied to all the lathes in the review. In the past, machinery from both Taiwan and the People's Republic of China typically had sharp edges that had to be filed off. While this is, in general, no longer the case, the exception on all of these lathes was a sharp edge on the bottom corner of the bed ways. Not only could this cut you, it often impeded smooth sliding of the tailstock. It was quickly corrected by a couple of licks from a smooth, single-cut mill file.
Also, all of the banjos had commercially available steel locking levers that screwed directly against the tool-rest stem. This results in Brinelling (denting/work hardening of the stem's surface) of the stem, which, over time, results in constant slipping of the rest if extreme torque is not applied to the lever. A cam lock would be more expensive, but a much better option.
And, sadly, none of the lathes exhibited packaging that in any way could be termed green. Excessive plastic bags and crumbling molded Styrofoam™ were par for the course. I would urge all of these manufacturers to improve the greenness of their packaging.
Place of Manufacture
All the lathes reviewed were manufactured in Taiwan or mainland China. The lathes manufactured in Taiwan showed a discernible uptick in quality, but not so much as to make the Chinese machines at all unacceptable.
The centers supplied with all of the lathes except the COLT and the Turncrafter were nearly identical, leading me to think that they came from just two manufacturers, likely one factory in each country. The standard live center in this duo is clunky and warrants immediate replacement. The live centers supplied with the COLT and the Turncrafter were of much better design and quality.
Conclusion
I am spoiled with having turned on big lathes for most of my life. While wonderful for large bowls or big spindles, it is a chore to move the big banjos when turning small items. It has been liberating to turn on smaller machines once again. You can literally flick the banjo and tool-rest to a new position with one hand. The experience has made me totally rethink big lathe snobbery.
Mini and midi lathes are commodities, and you get what you pay for. In Chevrolet versus Ford fashion, you get about the same quality between manufacturers at a given price point, and spending more usually gets you more. It is up to the buyer to parlay specific needs against machine features. The pen turner, bowl turner and furniture maker all have different needs and will want to trick out their lathe accordingly. The pen turner can buy a basic mini, the bowl turner will want a stout midi, and the furniture maker will want a mini or midi with a bed extension for generous between-center distances.