Track saws are ideal for slicing up sheet materials cleanly and accurately, and they'll cut lumber and other materials, too. Which of these six saws edges out the rest for top honors in our test?
Track saws may look similar to a circular saw you can buy for a fraction of the price, but that's where the common ground ends. Their blades retract into a shrouded guard until you thumb a release lever and pivot the motor assembly down to begin cutting. It enables these saws to either plunge into a surface — a great thing for flooring contractors or remodelers — or be fed into the edge of workpieces conventionally.
But for us woodworkers, there are other advantages. A track saw's base fits over the channel of an aluminum guide rail and follows it for making laser-straight cuts. The edge or edges of the rail also have a pliable sacrificial strip that supports the workpiece where the blade teeth exit on the top side. It reduces the incidence of lifted fibers or chipping where an ordinary circular saw could leave a ragged mess.
Most of the motors on these saws have soft start, variable speed and electronic feedback circuitry like a good router, and a dust port on the blade guard whisks away debris before it has a chance to escape.
I use my track saw almost exclusively for sizing down expensive and cumbersome sheet goods, because it's easier to feed over 4x8s instead of wrestling the sheets across my table saw. And in truth, the cutting results are every bit on par with my cabinet saw.
VIDEO: Why You Need a Track Saw
Testing Track Saws
Five years ago, when I tested track saws last, there were only three contenders, but the category has grown to six options now for the U.S. market. While these saws aren't a cheap investment, I'll argue they're your best solution for sheet goods, and they'll cut lumber and other materials, too, with the correct blade. So, it's high time we take a closer look at the category again.
For testing, I connected these saws to a premium dust extractor and put them to work, slicing up 100 lineal feat of chip-prone melamine board, then cut across the grain of another 100 ft. of splintery birch veneer plywood. The test materials were resting on a fresh sheet of rigid foam insulation board. I wanted to compare cutting results, overall ease of operation, dust collection efficiency and general fit and finish. All these saws come with 48- or 60-tooth high quality carbide-tooth blades, so I tested them with their standard blade in place. Here's how this "track meet" turned out.
DeWALT DWS520K
Street Price: $548 with 59″ guide rail
Cutting Capacity: 21 ⁄8 " @  90°; 15 ⁄8 " @  45°
Weight: 11.5 lbs. / Bevel Tilt Range: 0° to 47°
Speed Range: 1,750 to 4,000 rpm
Web/Phone: www.dewalt.com  / 800-433-9258
If you've spent some time with other DeWALT saws, you'll feel right at home with the robust build quality of this DWS520K track saw. It features a thick magnesium base, sturdy and easy-to-adjust tilt controls and a pair of comfortable, rubberized grips. Setting depth-of-plunge on these saws is a simple matter of locking a pointer and knob on scale beside the guard, and DeWALT makes that easy to gauge, thanks to Imperial markings.
The only feature that isn't as user-friendly is the blade-changing system: it involves an eight-step process of locking and unlocking levers that makes the job fussy.
Once set up for cutting, there's a parallel linkage on this saw that requires you to push the saw carriage forward slightly on the base before plunging it down at an angle. It feels a bit awkward, because the other saws pivot down into their bases with one wrist motion, but it's easy to adjust to.
This saw's aluminum guide rail features two rubber edge strips — one on each side — enabling you to cut along the rail with the saw facing either direction. That's a helpful detail. Other rails limit cutting to one edge of the rail only.
When put to work, the DWS520K's motor never flagged on either melamine or birch ply, although the blade did leave tiny chips and splinters on the rail side of the cut. But, if I set the machine for a 1/8″-deep scoring cut first, then followed with a through cut, the trail of tiny defects improved. And DeWALT's dust collection was effective.
This saw is one of only a few with a spring-loaded riving knife and an anti-kickback stop in the base. Those two features make it safer for ripping solid wood, as well as making stationary plunge cuts while on the rail.
You can buy the saw and carry case alone for $469 or with a 59″ rail for $548. It's a fair buy but not the cheapest.
Festool TS 55 REQ
Street Price: $615 with 55″ guide rail
Cutting Capacity: 115⁄16″ @ 90°; 17⁄16″ @ 45°
Weight: 9.92 lbs. / Bevel Tilt Range: -1° to 47°
Speed Range: 2,000 to 5,200 rpm
Web/Phone: www.festoolusa.com / 888-337-8600
I'm no newbie to Festool's TS 55 track saw; it's been a reliable companion in my shop for years, and it has a proven pedigree of success with both pro woodworkers and tradespeople. Still, I found it interesting to test it against five other competitors. In terms of features, the "55" is fully appointed: it has a riving knife, it tips to -1° or up to 47° for beveling, and the plastic green splinterguard provides a zero-clearance slot around the leading edge of the blade to help ensure clean cuts. Blade changes are as easy as flipping a lever, plunging the tool and unscrewing the arbor bolt. Simple, and a task you may need to do in order to replace it with one of many available blade options.
When put to task, Festool's motor electronics kept blade speed consistent, regardless of the cutting load. Plunging action is smooth. Two textured adjuster knobs on the base control cams so you can snug the saw up on the rail's channel for zero side-to-side play. (All of these saws have a similar feature.) Once adjusted, the base glides easily along.
This particular test saw left very tiny chips along the rail side when cutting melamine, even with the splinterguard in place. A shallow scoring cut first, though, reduced those chip-outs. When I switched to birch ply, the TS 55 surpassed all other saws here, cutting it with no evidence of splintering on either the rail side or waste side of the cut. On both melamine and plywood, dust extraction was exceptionally effective.
For $615, you get the saw, a Systainer® carry case, a pair of clamps to anchor the rail to a workpiece, a stop block and a 55″ guide rail. The TS 55 doesn't lead the pack on depth capacities at either 90° or 45°, but it's a pleasure to use.
Grizzly T25552 Kit
Street Price: $245 with 55″ guide rail
Cutting Capacity: 131 ⁄32 " @  90°; 17 ⁄16 " @  45°
Weight: 11 lbs. / Bevel Tilt Range: 0° to 45°
Speed: 5,500 rpm
Web/Phone: www.grizzly.com  / 800-523-4777
Grizzly's track saw is a relative newcomer to this tool category. Compared to its competition, what's immediately compelling is the sub-$250 pricing. That buys you the saw, a 55″ track, two track clamps, a connector bar for securing tracks end-for-end and a rail stop for plunge-cutting. You can also buy the saw without the track or extra accoutrements as the T10687 instead, for $179.95.
But, saving hundreds of dollars over other track saws will require some compromise. It has a single-speed motor without soft start.
I like the overmolded primary grip and spacious trigger, but the plunge release above the grip is too far up and back to reach easily. The ergonomics of engaging that plunge release became tiring after 50 repetitive cuts. Plunge action, however, was very smooth.
The saw's depth-of-cut control sets solidly, and you'll read it in inches rather than millimeters. Its bevel tilt knob locks the upper carriage securely at angles up to 45°. There's a riving knife to make ripping safer, and the 9-amp motor was powerful enough, despite its seeming lack of feedback circuitry, to help keep torque output constant.
In terms of cutting quality, though, this rail saw fell behind its competition. A regular pattern of chipping occurred on the top face of melamine, despite the guide rail's rubber edge strip, and there was sporadic chipout on the bottom face, too.
When I switched to birch plywood and made my through cuts on cross-grain veneer, splintering was evident along the top and bottom edges as well. Then, I tried scoring both melamine and plywood first with a shallow cut, followed by the through cut. This improved the results on the top side, but obviously, not on the bottom.
Dust collection was somewhat effective, but the saw blew debris forward during cutting and left more of a trail behind it than the other saws.
All in all, will this saw make cuts that are straighter and cleaner than a hand-guided circular saw? Definitely. Did it leave sawn edges that were as crisp as its competition? Not for me. But, with reasonable expectations, here's an affordable way to cut down sheet stock and lumber at a very good value.
Mafell MT 55 cc
Street Price: $945 w/ 631 ⁄2 " guide rail
Cutting Capacity: 21 ⁄4 " @  90°; 15 ⁄8 " @  45°
Weight: 10.4 lbs. / Bevel Tilt Range: -1° to 48°
Speed Range: 3,600-6,250 rpm
Web/Phone: www.timberwolftools.com  / 800-869-4169
Mafell, like Festool, is made in Germany, and it quickly became clear during testing that its engineers have left no stones unturned when designing a premium plunge-cut saw. The MT 55 cc has a powerful and smooth-running 10-amp motor with soft start, torque control and variable speed. It didn't fade when pushed hard through 200 feet of test cuts.
One bevel-tilt knob, rather than two on other saws, controls tilt settings, and the saw tips from -1° up to 48°, then holds the angle securely. To help you find the blade's position when tilted, a red tracking pointer moves as you tip the machine. Depth-of-cut reads in metric, and the saw will handle deeper cuts than Festool, up to 21⁄4″ (57mm) at 90°.
Changing blades on the Mafell couldn't be easier: push one button, flip a lever, and the guard's outer half flips open like a car hood. The arbor locks automatically, too.
This saw features a 3mm scoring function with a knob to the right of the grip. Nudging it with a knuckle, I was able to score melamine, then cut it with only a scant chip lifted now and then. There was negligible splintering on the rail side of birch plywood, too, provided it was scored first. All in all, an exceptional cutting performance here. Dust collection, through the saw's 35mm dust port, was tidy.
The only downside to this top-shelf saw is its price: $802 for the saw and a Systainer-style case, or add the aluminum guide rail for another $143. But once purchased, I highly doubt you'll regret this investment.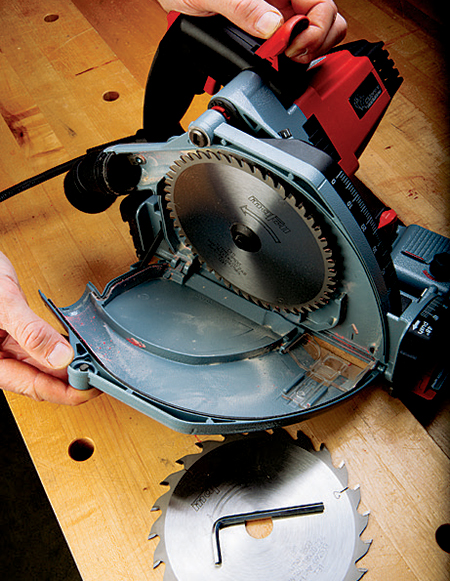 Makita SP6000J1
Street Price: $399 with 55″ guide rail
Cutting Capacity: 23 ⁄16 " @  90°; 19 ⁄16 " @  45°
Weight: 9.7 lbs. / Bevel Tilt Range: -1° to 48°
Speed Range: 2,000-5,200 rpm
Web/Phone: www.makitausa.com  / 800-462-5482
It doesn't always happen, but it's fun when, in a tool review, a dark horse emerges from the herd. This time, it's Makita's SP6000J1. For standard goodies, the saw has some of the same features as Mafell and Festool: a 3mm scoring setting, -1 to 48° beveling capacity with presets at 22.5° and 45° and a blue Systainer-type carry case. Squeeze the trigger, and it surges to life slowly, thanks to soft start.
This saw is compact, and rubber overmolds make its twin handles comfortable. The scoring feature is easy to activate — it's a push/pull knob next to the grip. Blade changes are easy, too, in just a few steps.
But, all this said, the icing on the cake was Makita's cutting performance. Using the scoring feature first, no other saw could match it on melamine. The cuts were flawless; so sharp, in fact, that I was afraid those fresh edges might actually slice my skin.
It did a good job on splintery birch veneer, too: the rail-side edges had a light fuzz, and the waste side results were better than most.
There was some dust left on the table and workpiece after cutting, but overall efficiency was above average. I have just one gripe about this saw: its 8 ft. power cord is too short.
Triton TTS1400
Street Price: $399.98 with 59″ guide rail
Cutting Capacity: 21 ⁄8 " @  90°; 157 ⁄64 " @  45°
Weight: 12 lbs. / Bevel Tilt Range: 0° to 48°
Speed Range: 2,000-5,300 rpm
Web/Phone: www.tritontools.com  / 855-227-3478
This was my first opportunity to give Triton's TTS1400 a go. Tipping the scales at 12 lbs., it's the heaviest saw but well balanced. Proportionally, it's larger than Festool, Mafell or Makita but about comparable to DeWALT. Two overmolded grips provide a sure grip. Soft start and variable speed give it similar technology with others here. The plunge engages smoothly, and the release is an easy reach above the trigger.
Like DeWALT, there's a spring-loaded pawl in the base to stop the saw on the track in the event of kickback. While that's a good safety feature, I wish you could lock it out when you want to. You can with DeWALT's design; here, you have to turn and hold the knob to release the pawl whenever you set the saw on the track or want to back it up. It's kind of a nuisance.
Under power, Triton's 12-amp motor seemed to strain more noticeably under heavy load than others. Easing up on the feed speed helped.
Triton provides a handy 3/32″-deep scoring feature that can be activated by turning a barrel knob on top from through-cutting to scoring; a third position sets and locks the plunge for
easy arbor access to make blade changes.
Once score-cut, the TTS 1400 sliced melamine cleanly, with just a few chipouts here and there. And while there was splintering on the waste side of my plywood cuts, the "rail" side edges were almost splinter-free. Dust collection was pretty good. I'd like to see the tool's vac port swivel like the rest do: fixed as is, it directed the vac hose in and over the rail, where the hose's ribbing caught the rail's back edge occasionally.
For just under $400, you get the saw and 59″ rail but no carry case. As with the other saws, Triton offers many accessories and track lengths.
Our "Track Star" Picks
This time out, Makita's SP6000J1 deserves "Best Value" kudos. It cuts exceptionally well at a price far below some others. And for "Best Bet," Festool wins by a nose over the more costly but equally proficient Mafell. The TS 55 offers solid cutting performance and superior dust control in a user-friendly tool.