When Adrien Segal went to art school, "I was open to trying lots of things. Woodworking really worked for me because it could be very artistic and it could be very functional. I liked the ambiguity between the two."
Building upon that introduction to woodworking and to power tools, she now creates pieces that "use traditional techniques, but are also unconventional. "What I make is not overtly functional. I like to leave it open to interpretation," she said.
For instance, her Snow Water Equivalent Cabinet "is really about water storage," Adrien said. "I was playing on thinking about furniture in terms of storage and function, and how it connects to water storage, and how it relates to snow."
The cabinet does have aspects of traditional woodworking, in that it incorporates carcass construction and drawer slides, but every drawer is a different size. "I'm not trying to make things easy to fabricate," Adrien said, "I'm trying to make it as visually interesting as possible."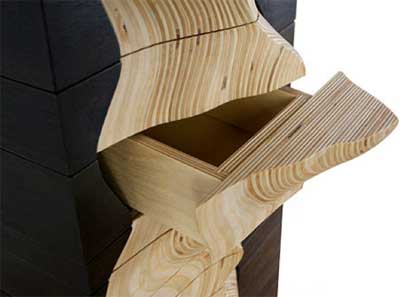 In this case, the size of the drawers was determined by the amount of snowfall recorded at Ebbetts Pass in the Sierra Nevada Mountains over a period of years, as measured by the National Water and Climate Center.
In creating her work, Adrien reads a lot of scientific reports and does a huge amount of research. "It's a way to combine my interests: I like making things, I like reading about scientific research, I like spending time in nature. All of these things kind of inform my practice."
All of her pieces also stem from a direct experience of being in a particular landscape. Her Tidal Datum "tide table," for example, was inspired by a place near San Francisco. "It's the first piece that got me going on this path. It's fairly overt in its use of data, showing a tide graph, that a lot of people have seen."
The first Tidal Datum incorporated data from National Oceanic and Atmospheric Administration tide charts from San Francisco Bay. She has since made a second piece using tidal data from the Louisiana coast and is currently at work on a commission for a third version that will reflect the tidal data of Homer, Alaska.
"Figuring out the form and construction takes quite a bit of time," Adrien said, while also noting that she enjoys being able to make a piece specific to its location.
She will often use CAD modeling as she determines a design to reflect the data, and recently finished a residency at a company which manufactures CNC [computer-numerically controlled] routers. "I got access to a lot of new technology, but I don't think I can ever just push 'start' and have a finished piece made," Adrien said.
The advantage of a CNC to her, Adrien said, is that a CNC can "cut parts more accurately, sometimes more quickly, so I can spend more time designing instead of spending four days cutting very delicate parts on the band saw." She also sometimes wants the greater accuracy of a CNC to stay true to a data pattern: in her Molalla Meander piece, for example, some of the segments were a quarter-inch wide: "very hard to cut with a band saw," Adrien noted.
Still, Adrien said, "I'll never get a finished sculpture off a machine. It's definitely a balance between hand work and the technology I use as a tool." She does her own welding and metalwork, carves with angle grinders and die grinders, and does finish sanding by hand.
Most of her work is currently in metal, hardwood or sheet goods. Sometimes sheet goods work well, she said: "They're great for layers, although they're fairly limiting for aesthetics." The layers can be helpful when she is creating three-dimensional graphs, and using a layer as a timeline; or, as in a recent project, creating a sculptural bench inspired by a trip to Death Valley, with its geological layering and strata. "There's a clear connection between that kind of layering and the effect when you layer plywood and carve through it."
Ideally, Adrien said, she wants the materials she uses in a piece to be related to its theme. Her Cloud Seeding Structures, for instance, incorporate redwood reclaimed from a water tank to represent the crystalline structure of ice: the wood, which once held water, now represents a form of water.
So far, almost all of her work relates to water or a lack of water, including her Trends in Water Use table currently on display as part of an exhibition at the Houston Center for Contemporary Art. "I'm not really sure why," Adrien said, "except that it seems very pertinent; water is necessary for life."
As a whole, Adrien said, her work incorporates what's actually happening in nature and our method of understanding these processes through scientific research – as well as a critique of science. "I'm finding gaps between how we study the natural world and how we remove ourselves from it by studying it."
And, as she incorporates these pieces into physical forms, Adrien said, she is trying to make the objects "visual, sensual, voluptuous, tangible: I'm trying to bring it back to a more emotional response to these things."