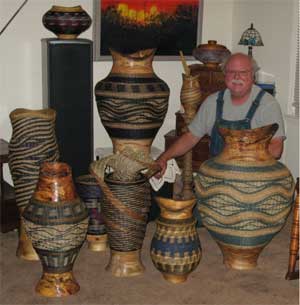 Jerry Maxey says, "I weave baskets because I have to. I have a desire to make things that I've had since I was a child." His baskets also incorporate wooden bases and rims. "Sixty percent of what I do is basket weaving; 40 percent is woodworking," he said. Jerry originally started making baskets when he was living in a Greenville, South Carolina apartment and going stir crazy because the space limited his ability to make things by hand. After a friend gave him a couple of books about basket making, "I became obsessed with it. You could do it anywhere, with a limited number of tools."
That was in 1987 and, in about 1991 or 1992, Jerry acquired a Shopsmith tool with a lathe. "I immediately started turning bases to make baskets on," he said. The reason? "For one thing, I love working with wood. I always have," said Jerry, who, along with his brother, experimented in his dad's woodshop as a child. "I love the process, the feel of wood, the texture. As a natural product, you never know what you're going to get."
All of the wood Jerry uses is found wood: he buys none of it, but acquires it from downed trees, construction sites, friends who have had to have trees cut down in their yards, etc. Because of this, the wood he acquires will often have distinctive markings like bark inclusions or twisted grain. He likes to use fruitwood and wood from nut trees, but has also turned a lot of poplar and a lot of sweet gum. "It's generally considered a trash tree, but if you get it at just the right stage, it has a really beautiful grain," Jerry said. His favorites, however, are pecan and maple, both for their ease in turning and for their appearance. "Pecan wood is beautiful, and maple, when it starts to spalt, has some of the most beautiful markings," he said. "I have turned green wood: you cut it one day and turn it the next day. It's kind of fun, but it extends the process, since you can't really sand it," Jerry said.
Other than a few things he learned from his father, Jerry is an entirely self-taught woodworker. "It's really not the best way to do it. I'm sure I don't know a lot of things a basic woodturner would learn," he said. That is not to say that basket making is easy. "Basket weaving is very labor-intensive," Jerry said.
"It's just your hands and a couple of hand tools. It puts a lot of limitations as far as the design. The challenge is to come up with original and interesting designs within the limitations." When making a basket, Jerry said, "You build up slowly. It's like a pointillist painting with all the little dots that build up to a picture. You build up slowly to a basket. One row may be at 1/8″ or 1/16″, and you do hundreds of rows."
The whole piece – the rattan basket weaving and the wooden base and/or rim is connected during the process of making a basket, Jerry said: "It's not made separate and then put together." He turns the wood, lets it sit for a few weeks, and finishes with pure tung oil to protect the wood during the weaving process since the baskets are woven wet after Jerry has soaked the rattan. He uses cyanoacrylate glue to hold the spokes connecting a base and a basket into place while he's weaving. "The first couple of rows of weaving hold the spokes in there; the glue is mainly to hold the spokes in place until I get the rows woven," Jerry said.
The spokes are drilled at an angle, and "the hard part is getting all the spokes into it. I typically work with 24 to 64 spokes," Jerry said. Making the bases, Jerry said, "is basically a bowl turning technique. A 1/2" bowl chisel with a fingernail grind is what I use 85 percent of the time. I have to turn it a little thicker so I have room to drill down to insert the spokes: I have to get it at least 3/16" thick." When he turns rims for his baskets, "it's essentially a bowl with no bottom," he explained. "That's a lot of fun. It's satisfying to turn a rim for a bowl."
"My happiest woodturning day was the day when I got my Powermatic lathe. It really revolutionized what I was able to do," he said. To create a basket design, "You have a certain number of weavers, and a certain number of spokes, and you get different patterns," Jerry said. "I don't always know how it's going to come out. Sometimes these baskets surprise me."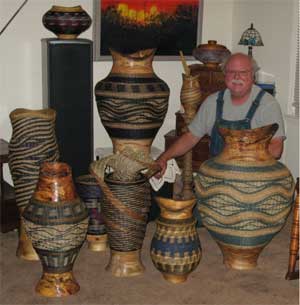 Jerry finds inspiration in looking at photos of baskets from friends around the world, but says he doesn't really follow any particular design tradition. "I sit around and think, sometimes even dream, of a design that hasn't been done before. It's a challenge, because people have been making baskets since we lived in caves." But, says Jerry, "As far as I know, I'm doing something you won't see anywhere else, and that's what's exciting."