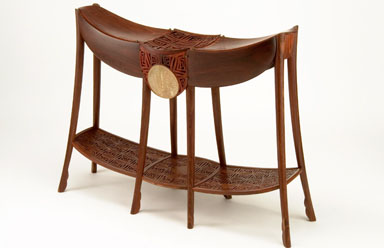 After spending the past ten years designing and building furniture in Japan, Brian Newell has returned to the U.S. He brings with him not only his considerable woodworking skill, but also a designer's eye influenced by his experiences on both sides of the Pacific. The result is quite astounding. His furniture is entirely different from what we normally see, yet not the least bit jarring or threatening. In fact, his pieces exude an almost organic calm.
"I grew up in a small Michigan town that had a lot of German woodcarvers," Brian recounted, "and perhaps that planted the seeds of my wanting to work with wood. I was about seven or eight years old when I first started carving airplanes from balsa wood. I still have my first scar on my leg from a curved X-Acto® knife that took off, but that did not stop me. In junior high, I got my first set of carving chisels and started working in my parents' basement making a relief carving of Icarus in a slab of walnut. It was a wonderful experience learning to make wings, feathers and muscles with tools and wood.
"In high school woodshop I was introduced to machines, and at 16 I got [James] Krenov's A Cabinetmaker's Notebook. At first, I was unimpressed with the cabinets because they were so plain, but by the time I finished reading his book, I was a convert. By then, I was making money carving signs, so I set up a shop in my basement and I started to do furniture. I went to college, but quit before my last semester and instead went out to Krenov's school, College of the Redwoods.
"Afterwards, I moved back to Chicago and took a job as a patternmaker creating original scale model prototypes. That taught me how to read drawings and follow directions, and not to be afraid of curves. I got an industrial space in Chicago, started collecting machines, and went out on my own building furniture in 1994. I met my wife, who is Japanese, while we were both visiting Italy, and we ended up going to Japan in 1996, where we got married. Shortly thereafter, we had a daughter and decided to stay near her family for the help it would provide. We stayed for the next 10 years.
"Once we got to Japan, I built a woodshop, shipped my machinery over from Chicago, and started building furniture there. However, studio furniture is not in demand in Japan. For one thing, they do not have a history of furniture. Traditionally, houses were small and fairly spartan in terms of furnishings. Typically they sit on the floor, obviating the need for chairs. About all they use are low tables and tansu. I sold only about four pieces in my 10 years in Japan. Most of my work sold here in America out of a New York gallery.
"Fortunately, my wife had income from apartment buildings, and that gave me the time and luxury to concentrate, improve my technical skill and work on complicated curves. I built and designed what struck my fancy with very little concern for saleability or commission. You can see interesting shapes and temples all over, and left to my own devices, I developed my esthetic sense. What keeps me occupied a lot of the time is the challenge of figuring out how to make wood do what I want it to do. I like to imagine things and see if I can make them in wood.
"For a decade, I had a nice comforting routine: finish up work in the backyard woodshop and then stroll down to the little grocery, a near-obsolete relic from the 50s, for a single can of Ebisu beer. I'd exchange comments about the weather with the sad old proprietor and then wander back up the hill, past the giant camphor tree and the little shrine housing some God or other, beyond the newer plastic houses with postage-stamp yards, and finally home to my wife and daughter. It was a lovely walk on the good days, and a good day was usually when I had faith in whatever contraption I was cooking up in the shop. On the faithless days, well, I might do something like dream of moving to America.
"We visited the States a lot, and my wife was growing tired of living in Japan on the family plot, so we decided to move to California last year. We are now located in Fort Bragg, though we still have a house and shop in Japan. She is both teaching and painting, and I set up a shop right down the street from the Krenov school. I do a bit of teaching, which challenges me to figure out how to put my techniques into words, but it is also rewarding when you see people learning from you."
When I asked him to talk about some of his favorite pieces, Brian began with yet another Asian influence: China. "The Peabody Essex Museum in Salem, Mass. had a show called 'Inspired by China,'" Brian explained, "in which 20 artists were invited to make a new piece inspired by older Chinese furniture. That was my impetus to go to China, where I stayed with some Chinese sculptors. One of my favorite pieces, the Cicada Cabinet, is the result of that trip, and is now a permanent part of the Peabody collection.
"Another favorite is the Cedar Wall Cabinet, which was made from one log that happened to be curved. I decided to use the curve to let the light in, so I put an openwork screen carving on the back, and left a hole in the front through which to view it. Once the doors are open, you can see that the entire back is open fretwork carving in a swirl pattern taken from a Japanese painting.
"The piece called Cedar Chest was all about a piece of wood. It all came from one irregular piece of wood that just barely yielded enough squares for it. Each piece is like a curved wooden tile attached with splines. I designed the hardware and had a man in northern Japan cast it.
"Zushi, a small, intricately carved table top cabinet for holding an icon of Buddha, does not follow the traditional religious iconography, so it was not well received in Japan. I'd like to try to do that piece again, but I'd give it more air between the swirls, and make it a bit larger. The Wenge Chairs were made to go with a table, but to be honest, I am not happy with any of my chairs yet. I need more time to develop them.
"The Ebony Desk was a challenge because it was only the second time I worked with laminated curved panels, assembled into a desk. There are two drawers in the very front, six drawers in back, and spaces behind the hinged screens. It is not particularly practical; it is more sculptural than useful as a desk.
"The Thorn Cabinet was designed as a fairly simple, light-colored piece. The openwork carving in the doors is reminiscent of overlapping hawthorn branches. The Rosewood Box was one of the first pieces I did in Japan. I had some leftover wood, did not have a shop set up yet, and this was a small, compact piece I could do mostly with hand tools.
"Beaver Bench came out with legs that looked very much like insects. It wasn't really intended to, but after I got it done I realized I must have had that influence in mind. I wanted a fur seat, and deer was my first choice, but the dealer told me it would not hold up. He suggested beaver, which I had never touched before. It was heavenly. I have one piece of beaver fur left, so I will probably use it for a show coming up. That's a bit of a problem, since some people have an aversion to using fur even though it is not an endangered species.
"In the art world, people seem to make things that need to be explained. That's the opposite of what I want to do. All I try to do is make something beautiful that people like, and that does not require an owner's manual. I'm not interested in making a political or timely statement. My pieces should be simple enough for anyone to respond to and understand. It's fine with me for the pieces to have many interpretations from different people. I want people to look at my pieces and feel connected to something, and if that is different for each person, so much the better. If everyone has the same visceral reaction to a piece, and it reminds everyone of the same thing, that's a total failure."
Though he is here now, Brian has not forsaken his Japanese connection, and has grand ideas for it. "I still have an excellent, fully equipped woodshop in Japan in the suburbs of Tokyo, along with a house," he points out. "Ideally, I would like to make it available to woodworkers here who are interested in spending a few months doing woodworking in Japan. I'd rather rent it to people like that instead of simply renting it to a Japanese woodworker because I think it would be more useful to Americans as a cultural bridge. I would even go over with someone to provide orientation.
"Getting studio space in Japan would be nearly impossible for most Americans, so this would present an ideal opportunity. In a sense, it is the ultimate woodworker's time share."