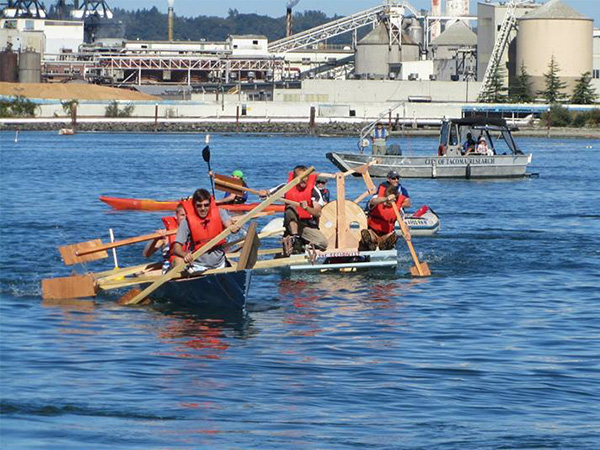 Imagine a competition where three-person teams must build a boat, put it in the water and race it, all within a seven-hour period; where one goal of the race organizers is to have as many boats sink as possible; and where one of the prize categories, announced in advance, is for "Best Bribe to the Judges."
Sound ludicrous? It is. Nevertheless, on September 16, yours truly had the dubious distinction of anchoring one of the competing teams in the Third Annual Quick and Dirty Boat Building Competition in Tacoma, Washington.
Our team, appropriately called "Poultry in Motion," consisted of me, my son Drew, and fellow Woodworker's Journal contributor Sandor Nagyszalanczy. I am proud to say that, along with two other prizes, our team won the coveted "Best Bribe to the Judges" award thanks to my daughter, Kaitlin, who baked peanut butter cookies for the officials. (Last year's best bribe award was won by a team of three sheriffs who handed out "get out of jail free" cards.)
Clearly, you will need some background to get a clear picture of this fine and foolish event. Here's the setup: each three-person team is given a 10 foot by 20 foot space, four sheets of quarter inch plywood, a half dozen 2×4's, 100 one-inch screws, two tubes of caulk, 50 nylon ties, and a surprise mystery material to be supplied on competition day. You must stay within your area and build a boat from scratch in six hours. For power, you get one 15 amp 110 volt line, and you may bring whatever tools you want, but I can tell you from personal experience that there is very little space for the boat, tools and teammates.
In addition, you may buy up to $16.23 worth of consumable materials, but must show receipts for everything. You also get a gallon of paint and three brushes, but no sprayers or rollers are allowed. You have six hours to build a strictly human-powered boat, from scratch, without any templates made in advance, using only those materials, and with no help from the peanut gallery.
Once the "tools down" is sounded, you have about half an hour to clean up and rest before your team, this time with as much help as you can scare up, must carry the boat several hundred yards to the launch area. The teams and supporters form a raucous processional, some in bizarre costumes, but once at the water's edge, only the three team members can launch and propel their boats.  In theory, they race around a set course of buoys until the fastest gets back to land, where one rower must run up to the timer and shake his hand.
Here's what really happened.
A gaggle of motley teams of all ages and both sexes descended on the waterfront, set up and, at the starting gun, swung into action. At first, it seemed quite organized, but as the day wore on, tempers and plans both started to disintegrate. Some teams, clearly experienced, built fast, simple boats and were done in plenty of time. Others, like us, built bizarre contraptions in bright colors with weird names and only the slimmest chance of staying afloat. One boat was actually held together with duct tape on all the seams.
What truly captures the spirit of this competition is the fact that the boat that won the prize for "Best Design" sank within minutes of being put into the water. The one that won "Best Construction" took on water and scuttled halfway through the race, and the team who took the prize for "Best Use of Mystery Material," which was a thin sheet of Plexiglas, used it to make oar blades that broke as soon as they tried to row with them.
What is the point of all this? Charity, of course, the main reason behind so many events steeped in absurdity. In this case, it is just a small part of a five-day extravaganza called Maritime Fest. The proceeds from our 50 dollar entry fee, plus all the fees from vendors and exhibitors for the entire Maritime Fest, go to the Sea Scouts. All the materials for the boat building were donated, largely by Paul Birkey, who was profiled in our last issue.
Paul's take on the event, and his reason for helping create it, reveals both his level of concern for the community and his penchant for the ridiculous. "We had more boats sinking this year," he said with obvious pride and delight, "which I see as wildly successful. It's pure entertainment for those who do it and those who watch it. Admittedly, I have tried to encourage teams from working waterfront companies but, fortunately, I've been unsuccessful." Why fortunately? "Professionals tend to make boats that actually float. Where's the fun in that?" Clearly, this year's event was a rousing success, since three of the seven boats sank once the race got underway.
"In the old days," Paul explained, "communities would actually do things together and celebrate all sorts of things. These days, we don't do that as much. I had thought numerous times about something to do with the community that was silly, fun and rewarding. I was talking to Joe Petrich at Delta Marine and, three years ago, we got it started. We made up the rules after a few conversations.
"We wanted to strike a balance between something which would require some boat building experience, and something that would be sufficiently liable to sink, which is a must for pure entertainment value. Your boat, Poultry in Motion, was a good example. The sillier the boat is, the better. If it actually floats, so be it. If not, it is still as much fun, and maybe more.
"People roll up their sleeves, work up a sweat, and feel rewards and frustrations. That's much better than merely buying a ticket to a good time as you would in a theme park. This is a real activity with elements of skill, risk and, most importantly, a huge chance of looking ridiculous. As an activity, that makes it pretty darn near perfect."
An added benefit is to draw attention to the waterfront and its history. "Many people in Tacoma don't have a realization of how critical the working waterfront was to the history of the city," Paul explained. "The Maritime Fest, of which this is a part, is very important in helping us to be in touch with our own heritage."
Speaking for my team, we had more fun than you can imagine, and by the end of the day, were already planning what we should do next year. But before we leave this year, I will grace you with the names of the boats and teams and the awards they won, grouped by those that made it around the race course and those that impersonated a submarine.
Race finishers – prizes won:
Miss Management – most seaworthy, race winner, people's choice, overall trophy
Poultry in Motion – best bribe to judges, best looking, most original
Tacoma Sea Scouts – best use of materials
The Pirate Queen – best use of mystery material
Boats that sank – prizes won:
Ship Happens – best construction
The Pioneers – best design, best parade to post
Tacoma Outboard Association
One last item; you must surely be wondering, as I was, about the strange dollar limit on what materials you could buy. True to the rules of journalism, I asked Joe Petrich, a judge and one of the founders of the event, "Why $16.23?"
"The number was chosen at random," he replied, "simply so people would ask the question 'why $16.23,' just as you did."