Somewhere along the way, Steve Johnson got sidetracked from simply using woodworking tools and started to accumulate them. The result is one of the finest collections of antique tools in America, amassed by a man who appreciates their worth on several levels. Like most of us, though, he started simply working wood.
"My first crude attempts at woodworking were as a child in Minnesota," Steve recounted, "where both my father and grandfather had workshops. My father's hobby was repairing automobiles, but there were enough tools for me to make myself a set of crosscountry skis when I was about 12, and some other wood items that would appeal to a kid. That was not woodworking as much as playing around."
It got more serious with necessity. "Immediately after buying our first house in Redmond 18 years ago, I started to get into woodworking, in part to make the furniture we could not afford. I'd go to stores and take discreet measurements and photos, then try to copy them. At one point, I decided I liked a Greene and Greene coffee table we saw at the Disneyland hotel. I did not have measuring gear, so I set a can of soda on it and took a picture. Back at home, I used the can to help me scale the drawings for it.
"I started to put together my first shop, which was half the garage, by buying modern tools and equipment. Fairly soon, I realized the quality was not what I thought it should be. Every time I bought a new machine I had to spend a day adjusting and fine-tuning it. Friends told me that they simply did not make things the way they used to, so about 16 years ago I started looking for old tools.
"The first old tools I bought were planes," Steve explained, "because I needed them for specific jobs. At first, I paid no attention to collectable value, only to utility. I wanted a tool that was good and accurately adjustable. Soon, I got involved with some of the people who sell such things, and fell in love with treadle machines. My first was a Barnes Velocipede Scroll Saw. These days I have close to thirty Barnes treadle-powered machines, including lathes, mortising machines, molders, grind wheels, and of course, a variety of scroll saws.
"Within a year, I found myself part of the antique tool culture and started networking with those woodworkers and collectors who value older tools. All sorts of opportunities for collecting offered themselves, and I started studying those few books that were available, leaning about the history, politics and mindset of the tool makers of that period.
"For several years, I'd spend every night reading about the Industrial Age and its effect on hand and machine tool development. By 1993, I realized that I had became more of a scholar about tools than a user. Before long, I found that I was far less productive as a woodworker as my time was taken up studying tool making history. Soon after, in 1995, I started a web site about antique tools to share my knowledge. I believe mine was the world's first web site devoted to antique tool collecting and woodturning.
"At that point I had a few old planes, levels and the Velocipede saw. I joined the Pacific Northwest Tool Collectors' club, went to meetings, and started buying tools at auctions. One of my first woodworking interests was turning, so I started collecting lathes. I found a few treadle-powered lathes, and one happened to be a Holtzapffel. John Jacob Holtzapffel was a descendant of a long line of ornamental turners from Austria stretching back into the 1600s. In 1794, he moved to London to set up a company producing ornamental lathes, which are capable of producing turnings of non-circular cross section.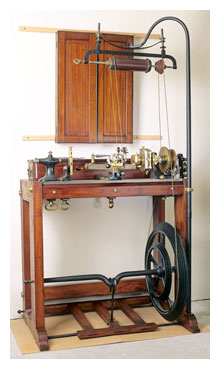 "At that time, England was the center of ornamental turning. Though the common people did not have time for such things, most royal courts had turners. In fact, many royals were ornamental turners themselves, including a Russian czar and even Queen Victoria. They would compete to produce the most complex and exotic turnings, usually in ivory."
"Holtzapffel catered to just that group, and each lathe was custom made. The engineering of his machines was beyond what anyone else could do, and his machines even to this day are regarded as the finest, and perhaps most complex, high-end ornamental lathes ever created. They were also quite expensive. Those that remain are more so. A working Holtzapffel in good condition these days will set you back between $75,000 and $100,000, with some well over that. I have one such lathe. I also have a Holtzapffel table saw and grinder which I believe came out of his shop, so it is very possible he worked on these machines."
Clearly, such collecting is not in the realm of the average woodworker. It was Steve's day job that allowed him this latitude. After a stint in the Peace Corps in 1983 to 1986, Steve went to school to study computers and software. In 1991, he started working for Microsoft and stayed there for 15 years, becoming a shareholder as well. The combination of salary and stock enabled him to buy the sort of tools he came to love. Last year, he left Microsoft to start his own company specializing in custom Internet business consulting.
"For about 20 years, I only accumulated tools, looking for just the highest quality and rarest planes, saws, lathes, hammers and measuring tools. As an investment, these tools tend to increase in value fastest. About three years ago, I realized I had more than one human could appreciate," Steve admitted, "and I was becoming obsessive about tools. At that point, I had over 3,000 tools, many of them locked away in old tool chests. I decided to go through my tools and keep only the top 10 percent. I came close: I have about 500 tools now, but the quality is such that each piece is either extremely rare, in super-high condition, or both."
About two dozen of his tools appear in The Art of Fine Tools by Sandor Nagyszalanczy, the seminal coffee table book on the best of antique tools. Many more are in Sandor's sequel, Tools: Rare and Ingenious. These days, Steve Johnson's name is well known in antique tool collector circles not only as a collector, but as one of the most knowledgeable people in the field, and one most agreeable to sharing that knowledge. In 2004, he started a web site that is essentially a catalog of American patented antique tools. There, anyone can go to both learn about and show off their own antique tools.
"I would love to instill my own sense of wonder and awe about antique tools to others." insists Steve. "You can learn a lot about the utility and function of tools by finding out more about them. For example, many people think they know what a hammer is, but in reality there are thousands of different types of hammers of all shapes and sizes and for all purposes and trades. Odds are you could find a better tool that does a better job for a particular job in this realm."
There's another agenda behind all this: that of making today's tools better. "I would like to encourage people to put more pressure on their tool manufacturers to study the history of tools. Most of the problems tool makers today are trying to solve have been solved in the past, often several times. A study of history could help take care of many of the common mistakes and focus more fully on real improvements."
Perhaps that will happen, but until then we can probably be assured that Steve will be out there collecting the best of the past.